Art of War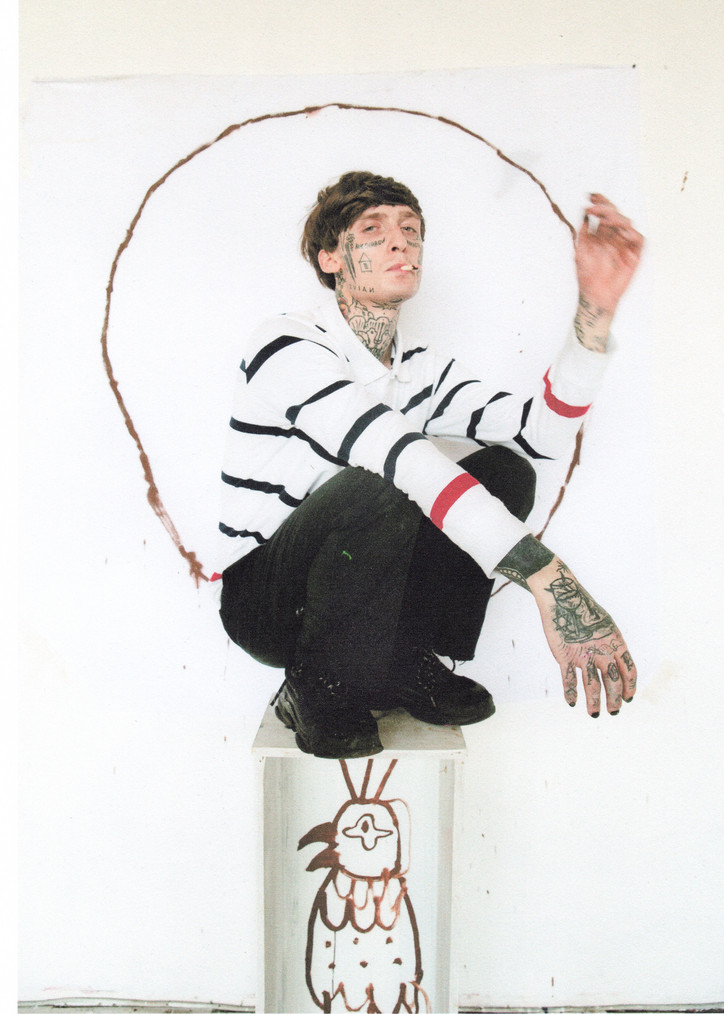 Moscow-based Koshkosh isn't just an artist. He graffitis; he tattoos; he models; he publishes; he photographs. He's even planning to transition into music. He's a bridge builder—not only between East and West, but Then and Now.
Abstract yet simple, his paintings are distinct in their unruliness—Orthodox imagery blurs with cartoons of his friends boxing, agricultural equipment and The North Face. They look like the result of Ivan Aivazovsky and Robert Rauschenberg, as commissioned by the ATL Twins.
What's more is, Koshkosh is transparent. On Instagram, he shares everything from what he's thinking, to who he's looking at, offering up a refreshing dose of authenticity and honesty in a part of the world where rampant corruption is still the norm, not the exception. That combination—of curiosity, thoughtfulness and a no fucks attitude—as well as his ever-expanding artistic process, has made Koshkosh one of Russia's most exciting new artists.
office had the chance to sit down with him in the Ukrainian city of Kiev, where he's currently working. Fresh off a collaboration with Russian streetwear brand Volchok, and a solo exhibition at Moscow's ART4, he walked us through his temporary studio and talked graffitti, Gosha Rubchinskiy and making art in war.
What you have been up to recently?
I moved from Mariupol, Ukraine to Russia three years ago when I was 20-years-old. I had to move because of the war. My parents got jobs in Moscow, so we went there. At the beginning, I was mainly taking pictures and publishing a magazine. Now, I'm painting. Back in Mariupol, I was mostly doing graffiti—not like the American style, the work was much more wild. I wanted to get some feelings from people—to create emotional reactions.
I was going to ask about the graffiti in relation to your paintings, which have such an immediacy to them. All of your work does.
From my childhood, I've always tried to be different from other people. It's very important for me to move quickly.
Were you part of a community of graffiti writers or were you doing it by yourself?
It was all friends. We were doing this together, thinking in the same way.
And are a lot of them still doing graffiti?
Yes, they're still putting their signatures on everything.
Your work covers a huge range of subject matter—sports, religion, fashion, even a little bit of politics. Where do you find your inspiration?
I paint everything that surrounds me. Religion is very present here, and I went to church a lot when I was growing up. So, it's in my mind. I want to show what's happening and deal with subjects that people see every day.
Religion isn't part of daily life for me in the States, but here in Ukraine, I get the feeling that the church has a major presence. I imagine it's similar in Russia.
One time, in Moscow, I was crossing the bridge and saw a huge crowd lining up to go to church. It made a huge impression on me, seeing them lined up to bow in front of dead saints and kiss their pictures.
You incorporate some familiar symbols in your work, as well. There are a few symbols that appear over and over again—birds, spiders, snakes, crosses. It's almost like you have a secret vocabulary.
Yes, maybe.
We're living in a moment where there's suddenly a big interest amongst Western audiences in Eastern European arts and culture. I'm thinking about things like Gosha Rubchinskiy and the Garage Museum of Contemporary Art, but also the likes of KM20 and Mystetskyi Art Arsenal here in Kiev.
That's true. But unfortunately, contemporary artists from Europe and the States are rarely on view here, despite the fact that there is huge interest—especially in the 14 to 30 year old age range. People are searching on Instagram, but they aren't seeing it in person. What we can see here was already trendy five years ago. I'd like to be an artist they can watch and learn from.
You could make the argument that since Ukrainians and Russians aren't seeing a lot of Western contemporary art here on the ground, there is more freedom to create your own style. But do you feel trapped by the more limited scene?
Sure, but I feel like as a byproduct, a lot of people here in Kiev and Moscow aren't ready or equipped to create their own style. The galleries are like fifty years behind.
A lot of people in the States are aware of the tension in the Eastern border regions of Ukraine, but only in a shallow way, as a press headline. So, I'm curious—how does that socio-political situation influence your practice?
It's totally changed everything. I used to live in a building that was shot at and shelled, and the ninth floor was completely bombed out and destroyed. It's depressing and shocking to walk outside and see dead people. And yet, I don't let myself feel like a victim.
I found your work through Instagram, which is clearly a big platform for you. I was just looking through some of the hashtags people use when describing your art, and they often add #YoungRussianArtist. But you're Ukrainian. Does that bother you? Do you feel like you have to set the record straight?
That's just the Russian spirit. [Kazimir] Malevich was from Kiev, but everyone thinks he's a Russian artist. Both of us are Ukrainian, but we're called Russian. And if I move to Berlin, maybe people will call me a German artist.
You seem to use your Instagram kind of like a sketchbook or moodboard. I was particularly fascinated by the pictures you shared of fossils from Ukraine's National Museum of Natural History.
I like communicating with stuff that is ancient. I'm trying to do the opposite of what's happening now amongst my peers, which is to focus on commenting on the USSR. Instead, I communicate with nature, biology and the distant past.
Right, and because of that, it's very hard to place your works in a particular moment in time. You've used Balenciaga and Nike symbols—the latter of which you're now collaborating with, on their new Tech Pack collection—which represent the contemporary, but you also incorporate a ton of references to antiquity. We live in a day and age where there is a 24/7 news cycle, but your paintings provide an antidote to that—they force us to pause and try to untangle them.
Two of the most important industries right now are art and fashion. Back then, visual artists were looking to poetry or literature for inspiration. But now, fashion is the language we're all speaking.
Besides Nike, what's next for you?
Right now, I want to make an album with a friend. We want to mix natural sounds like traffic and breaking glass with the piano. But mainly, I would like to move to Europe—especially Berlin. And after that, Los Angeles.
Special thanks to Ksenya Mikhyeyeva and Jana Woodstock.