I'm Enough (I Want More): Downtown Boys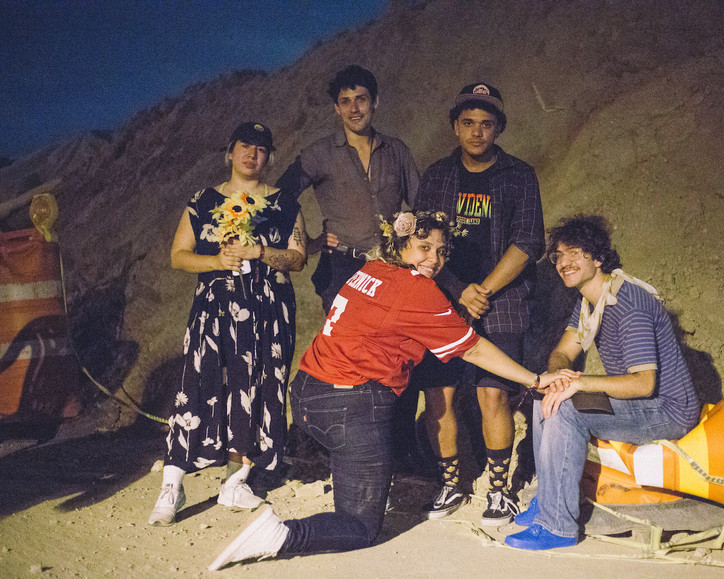 What can you tell us about Cost of Living, your first record with Sub Pop?
Joey La Neve DeFrancesco It's definitely the biggest production that we've been able to do...The songwriting, too, is more expansive. After making the last record, being able to think about the sonic direction to push things in. We were definitely able to add subtleties musically and lyrically and politically. We were recording it with Guy [Picciotto] from Fugazi and also Greg Norman, who engineered our previous record.
How did that collaboration come about?
Victoria Ruiz We actually had someone else in mind to produce, and they had to back out... We talked to a bunch of our friends, and they gave us really good ideas, but people were booked through the spring... Our bass player asked Allison Wolfe about ideas and Allison was like, "What about Guy from Fugazi?" as if it was so easy.
Allison sent an email and [Guy] was like, "This sounds great, but I'm already booked and I don't think I can do it." I just emailed him as if I hadn't seen the rejection, and asked again. He said yes, and his wife figured out childcare. He made it work, which was really nice.
What is your favorite part about touring?
VR The playing time is really my favorite part. It's just really cool to see people sing the lyrics to the songs better than I can. Getting to see new places. This country is so big. It's really a weird country.
JLND ...Our country is just so massive and muddled politically and artistically in so many different ways. To get to bring our [show] and go into these places can be intimidating, but also exciting.
Are their particular messages you've received from fans that stay with you daily?
VR When people post their own art and they'll use, "She's brown! She's smart!" and "Somos Chulas", to get at a feeling that they want to share about themselves, that's really galvanizing. Three years ago, a lot of people were finding out about us from a more underground scene. In the past three years or so, a lot of the people that do use the music and message to continue their own expression are finding out about us because of interviews like this... It's a really beautiful version of a feedback loop, and if you stop one side of it, the whole thing wouldn't work like it does. I think that's really inspiring.
You two also write and edit Spark Mag, a platform designed to "elevate radical artists and connect fans with organizing efforts."
JLND The original idea came from our friend and boss David Segal... [David] values and appreciates culture and its ability to change norms and organize people to take action... He asked us, because he liked our band, if we wanted to work on something with [them] to bring people into this kind of politics via culture. [We're] using Demand Progress' existing infrastructure and resources to lift up underrepresented artists, artists who are misinterpreted by the media or just aren't taken seriously enough, to elevate their work and their politics. [The site] launched last year... We continue pretty much every week premiering new songs, putting up features and interviews, and doing all sorts of things to try to redistribute the resources we can get to these artists who are doing this important work.
What are each of you reading right now?
JLND I work sometimes at this place called the Slater Mill in Rhode Island. It's the first factory in the U.S., so there's a lot tied up in the history of the slave trade in the United States, genocide against Native people, labor history. I'm reading this book right now called Ninigret, Sachem of the Niantics and Narragansetts. It's about a Native leader in Rhode Island and southern Connecticut from the 17th century who led various uprisings against the English in southern Rhode Island.
VR I'm reading this book called To Our Friends by The Invisible Committee. It's a book on anarchism, and it talks a lot about populism and fighting against capitalism. There used to be a Barnes and Noble by the hotel that we worked at that I would go to on my break, and I would always look for books in Spanish to give to housekeepers. They never had that radical of books, but they had this book on anarchism and I got really into it. I just picked up the sequel called To Our Friends. There's a part in the book that's really beautiful:
"To those for whom the end of a civilization is not the end of the world; To those who see insurrection first of all as a breach in the organized reign of stupidity, lies, and confusion; To those who discern, behind the thick fog of 'crisis,' a theater of operations, maneuvers, strategems—and hence the possibility of a counterattack."
I think it helps speak to the idea that we have to stop dealing in a series of different crises or problems and realize it's part of a war. That's the approach that I try to take to my politics, and to our art.
What are some rituals you subscribe to that make you feel better about the world?
JLND I probably need more of them. There's a Planet Fitness a block away from my house, and I don't take my phone or any kind of electronic. I'll go there for 45 minutes [of] forced non-connection time. That is really hard for me to totally turn off everything at any other point in the day.
VR I always have, but I've started to make more of an effort to pray. I'm working towards physical activity like Joey [laughs].