Indulge in Sarah Bahbah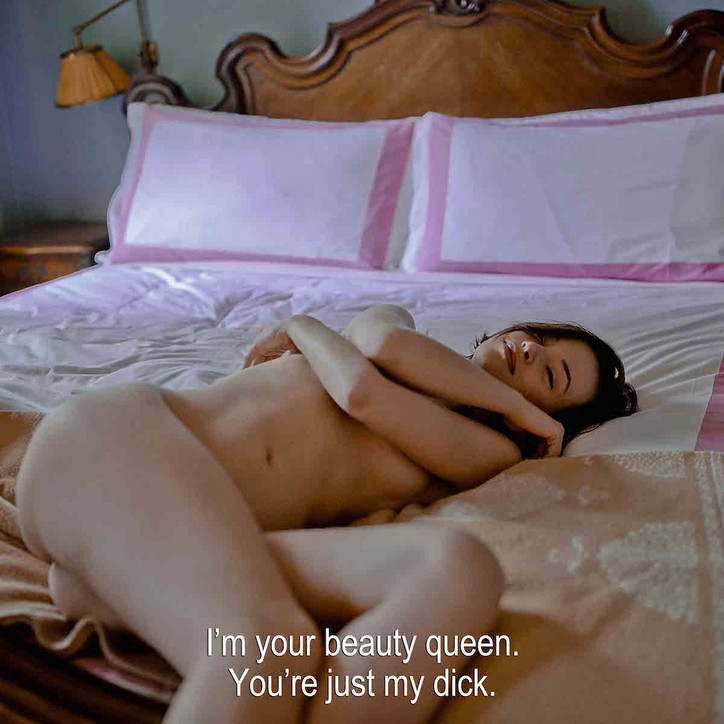 Your recent series For Arabella is very cinematic. The series takes on a full narrative – including text or dialogue on most photos. In what ways do you think photography is useful medium for narrative driven work?
In For Arabella, each photograph holds an intensity that would not have translated the same way had I created the series in a different medium. You can't really contain narrative in photography, but it is the spillover from what cannot be contained which makes it an interesting medium for narrative driven work. Narrative driven photography lets you create and maintain little snippets of the same "reality". The format of the photography is naturally disjointed, and it is ironically in those chasms of absence between the ending of one photograph and the beginning of another that helps to keep the narrative pulsing. With narrative in a photography series, the lines for expectation are far less which I think helps make the narrative seem alive.
The series seems to center on sex, lust, and indulgence. What story is being told in For Arabella?
Arabella is me… well not exactly. Arabella is an Alter-ego. She represents my existence if I had managed to say the things that I couldn't bring myself to say, she is the way I wish I had acted. This series was one of the most reconciling pieces I have created. I explored a particular desire I had harboured since my formative years. This series was me expressing my suppressed. For Arabella isn't exactly a story, it is a reminder to say what we are feeling without self-censorship. To me, those who worked on this project, and to many who engaged with this piece, Arabella embodies an emotional empowerment.
Your series Sex and Takeout also centers on indulgence. What ideas fueled this project?
My work is always inspired from a very personal place. I have become really active in overcoming my traumas and troubles, in this way the Sex and Takeout series came into creation. Many of us have inherited boundaries that are unnecessary and unkind, and I advocate for replacing over-thinking with that moment to moment freedom. I firmly believe that women and femmes need to feel reclaim ownership over our indulgences, our pleasures, and in teaching others how to please us. We need greater indulgence in our words, greater indulgence in our actions, and indulgence in our bodies.
You also recently made a video titled 'Unconditional Love' for Gucci. Given your penchant for cinema inspired photography, are you interested in making longer form film projects?
I think the expected and natural progression from my recent cinema-esque photography style does lead to longer form film projects. Up to this point, photography has been the most appropriate way for me to express my creativity and my emotions. As I develop my ideas, some of them seem to be best presented in different creative mediums. So yes, I am interested in making film projects. I am just more focused on working through the emotions, experiences, and insights that make up my life and particular stories before I swear to long form film. 
Unconditional Love' revolves around the ways in which people interact with technology. What stance are you taking in the video?
The Gucci Guilty series was all based of contemporary love that is not represented in mainstream media. It fits in with my ideals for indulgence in our emotions, regardless of how impulsive they may seem. With Unconditional Love I wanted to give space to the under represented beauty of long-distance love; a love that is engrossing, hypnotising even, and made more accessible by the internet and social media. There is a lot of shame around online love, but that shame, born out of an outdated romantic ideal, restricts our capacity to love. Heck, who hasn't experience love through the screen. 
When making a narrative heavy series, like This Is Not for You or For Arabella, do you focus first on the visuals or on the story?
For the subtitle series, I am a writer first and a visual artist second. I work heavily with ideas of transparency, indulgence and emotion, so the dialogue is really personal and is what I use to navigate the series. The dialogue is inspired by conversations I have had with once significant connections. Over a period of months I will continuously replay these conversations in my mind, opening myself up to and taking on whatever comes up the internalisation process. It is the unspoken dialogue in those real life conversations that become part of my art.
Your photography tends to interact with the models very intimately, often showing people in their bedrooms. How does this intimacy serve your creative vision? 
The bedroom is the most commonly assumed space for intimate experiences. I use the bedroom more as a prop and not as the setting. I aim to capture the human experience of intimacy in all its forms and complexities. I am quite vocal in my belief for transparency and truth in our emotions, and working with intimacy has been the most connected way for me to convey this. Be it from within, between people, places, or crowds; Intimacy is both my reference point and what I desire to share with the world.