It's Rich The Kid's World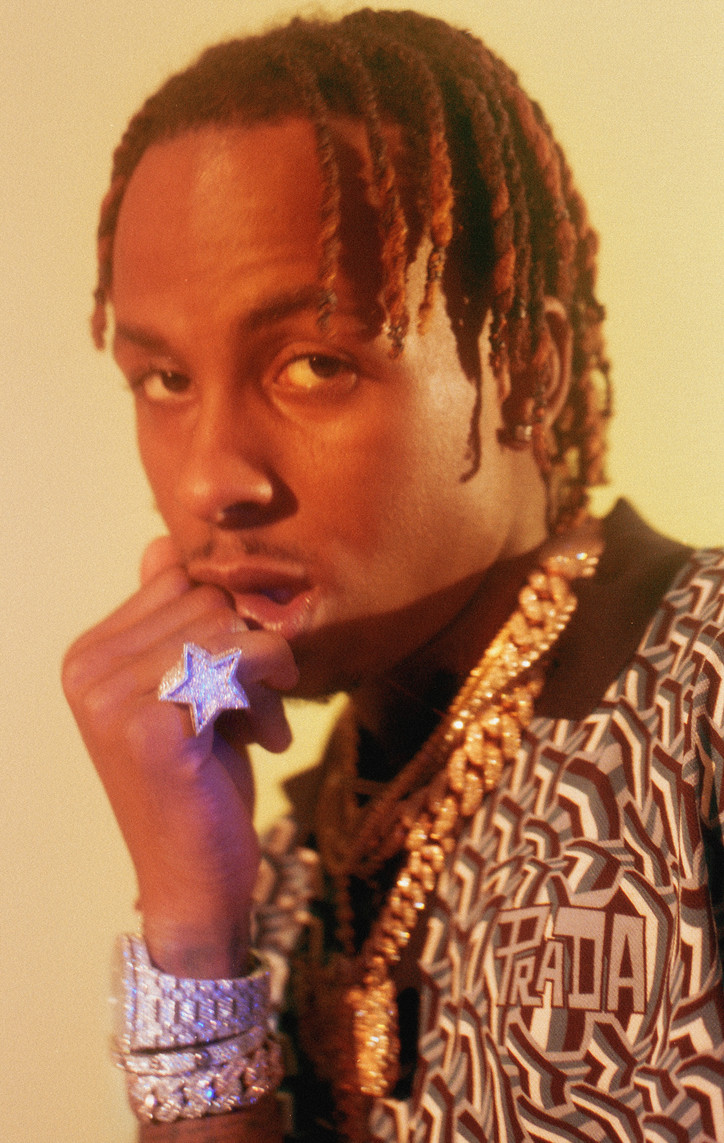 Sitting upstairs, we talked about growing up in the city, starting his label, Rich Forever, and his rise to the top.
You grew up in Queens, right?
Yeah, it was cool. My grandma watched me a lot because my mom was always working. So, I was pretty wild, just running around the streets, stealing bikes, jumping fences, running from police and stuff.
What was your first job?
When I was 16, I got a job at Wendy's—I only worked there for like two weeks.
Did you quit?
I got fired—I went into work too high. There was just so many people at the register, and I just couldn't do it. I didn't like it—Wendy's wasn't for me.
When did you get into music?
About two years after that. After that, I was still kind of getting into trouble. But when I started to stay away from trouble, I got into music.
Not long after getting into music you started your own label, Rich Forever. I feel like it's so rare that people begin their own label at such a young age.
For sure. I started the label when I was 18 or 19. I just wanted to help other people, you know what I'm saying? I realized that I had the opportunity to give other people a platform, too.
So, I assume it wasn't easy when you started recording?
No it wasn't. I was pretty much doing everything myself until I signed Famous Dex. Then, I got a label deal through 300.
How do you know if someone is the right fit for Rich Forever?
They gotta have originality. They gotta have character. They have to be doing it for a reason—I don't want anyone just doing it to do it.
What's your reason?
It's all for my family—and nice stuff, but you know, that's not as important.
You weren't signed when you first started. Do you prefer being with a label or being independent?
Being signed is cool. You get a team and support—more people work on your stuff.
You've always had amazing collaborations since then, too.
Yeah, but that's not apart of being signed—that's a personal thing.
How did you team up with Kendrick Lamar on "New Freeze?"
I was just bored in the studio one day here in New York. I was recording with [A$AP] Ferg and when he left, I just kept recording. Then I recorded "New Freezer" in like 10 minutes. That's when I was transitioning from being independent to being signed to Interscope. Manny Smith, my A&R for Interscope is also the A&R for Kendrick, so he introduced us to each other and when I showed him the track, he instantly wanted to get on there.
Did you guys know it was gonna be a smash as soon as it was done?
Yeah. It's definitely all about the energy of it, before the song even comes out.
What about your upcoming album—how do you feel about it?
I feel great.
What can we expect?
It's like the second half of The World Is Yours—The World Is Yours 2. I've been ready to drop [it], I'm just waiting for the clearances.
What's your take on fame?
It's okay. Online is one thing, but most of the time I'm just home laying down with my kids and my girl [Tori Brixx]. I got one girl, one boy and another boy on the way.
How did you and Tori meet?
I knew Amber Rose's security did security for her sometimes. So, I called them and I was like, 'Can you tell her to come to my show? I wanna meet her.' He hooked it up 'cause then she came and met me at the club.
Was it an instant connection?
Nah. She was cool, but she wasnt really like, texting me back or nothing.
You had to work for it!
I know. I was like, 'Damn she's not texting me back. I don't know what to do.' But after that, it was cool.
Do you have any secret talents?
I can skateboard. I started when I was in Georgia. I don't really do it too much anymore, but I can do a 360 and everything.
I heard you don't write any of your lyrics before you go into the studio.
Yeah, I don't write nothing—I think it takes too long.
Are you pretty impatient overall?
Yes, exactly. Exactly! Like "New Freezer."
Does that mean you freestyle a lot then?
I tried to freestyle, but it was a bunch of nasty, rude stuff and my mom found my book and told me to never write like that again. I was like, 'Shit, sorry mom.'
What's one thing that people get wrong about you?
That I'm high all the time—sometimes I'm not high.
How many days of the week do you smoke?
Seven!
'The World Is Yours 2' will be out this year.