Kenzo's New Paris Store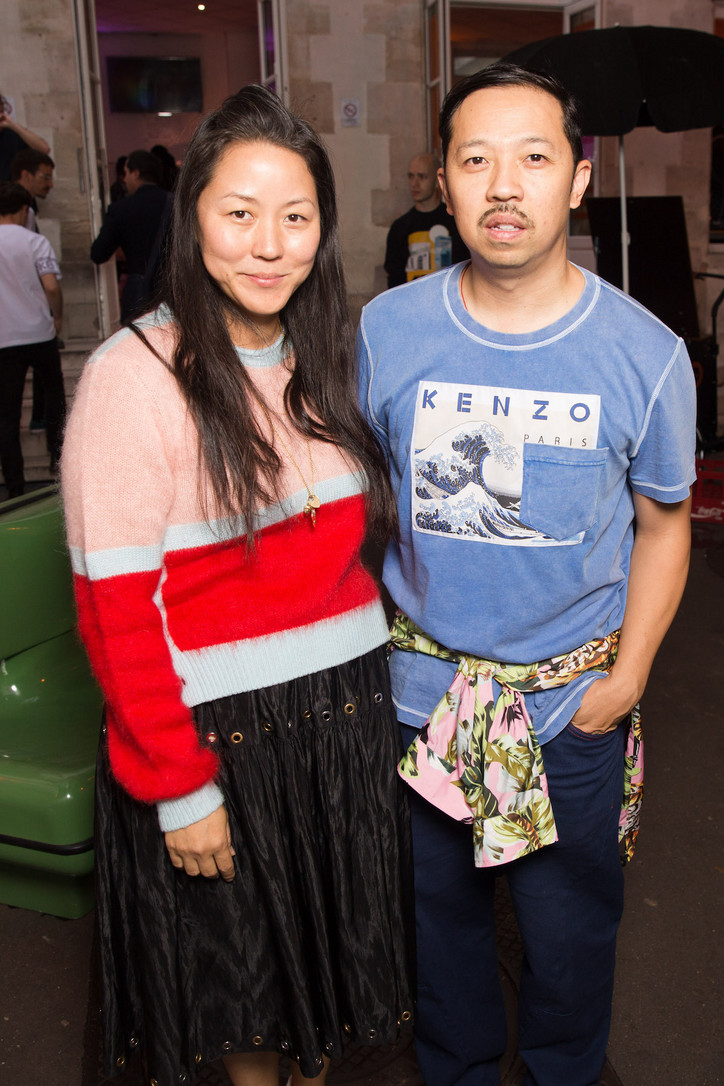 What was the unifying idea for the space?
Carol Lim We basically met with Fabrizio and said we wanted to create something very warm and inviting—things that are part of what the house is. And he took those words and interpreted them and came back with a really incredible concept.
And how would you describe that concept?
Fabrizio Casigrahi To me, it's very Kenzo. Every single color of the material and the texture of the furniture—it's all handmade for especially Kenzo. The color of the wall was one of the first used by Kenzo. And even the sunny color for the top of the furniture, it's something very joyful, very young, and that was used by Kenzo too. And normally I use a lot of brass, but I feel that chrome is the only material to use for this brand.
Are there any small details you'd want people to pick up on?
FC The floor. I think it's one of the strongest details in the boutique. It's very strong, visually. I had the same floor in my school when I was a child, and so it reminds me of my childhood. It's linoleum, which was used a lot in '50s and '60s. It's quite soft.
Humberto Leon And he lives in the neighborhood, so it was important for us to do something that made sense for the locality.
CL I think [the Marais] is one of the rare areas that's open seven days a week, so there's a lot of foot traffic. And the shops are quite cozy, so there's almost this feeling of being welcomed into someone's home. I think that's executed quite well in the shop.
If you had to pick, what are your favorite elements of the store?
HL I would say I love all the furniture pieces. All the chrome, and the sunny yellow color. And when you go in the dressing rooms, it's almost like residential meets David Lynch. And this is the first time we've done this [tiger tapestry] and that was really exciting.
Are there plans to open many more shops?
CL Yes, definitely.
HL We're a really big fan of retail, even though the world is like retail? Emphasis on the question mark. You have to have a really strong point of view, and I think that the space and the foundation that the clothes are in are really important, so it's so important to work with great architects. And then also the content—we're programming the store, so right now we have archival pieces that we're selling. There's a lot of one-of-a-kind pieces that we sprinkled throughout the collection that we made specifically for the store. It's about storytelling, and programming, and just doing things that make sense.
The SS18 show was just this week, and it involved a performance, as have the past several Opening Ceremony shows. Could you explain why you prefer your shows to have a theatrical element?
HL We're just into culture, and I think we've never been one-dimensional. We love to collaborate—whether it's collaborating with Fabrizio or the Kagura dance troupe. I think it's about bringing fashion, art, culture, and design all together, holistically. We're also two people we really talk about these things, so I think the programming is really authentic.
What is it like to revive an iconic house that somebody else started while balancing your own successful brand? What are the differences and challenges between Kenzo and Opening Ceremony?
HL I mean, they're two different stories. Carol and I tell the Opening Ceremony story through our own lens, and this is an amazing story because we're telling the story of the founder [Kenzo Takada] who founded this house fifty years ago. He was the first Asian immigrant to really make it big in Paris, and he paved the way for everybody who came after him. It's a really important part of history, and I think he really opened the doors of ready to wear to all the really big maisons, YSL, Chanel, and everybody else. He plays a really important role in the history of fashion, so we're just lending our thoughts and ideas in a modern way, and every now and again with the memento collection we are back to the past to tell that part of the story.