Kinbaku @ Museum of Sex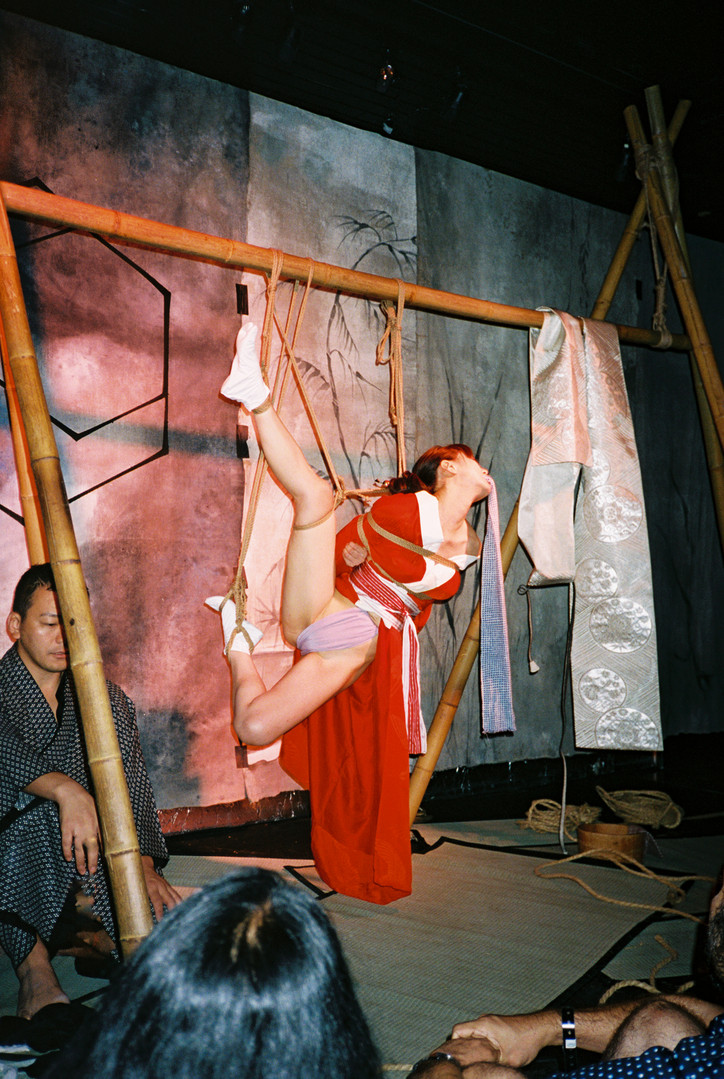 What's the difference between Shibari and Kinbaku?
In the Japanese dictionary, Kinbaku means "to bind tightly," while Shibari means "to limit someone's movement so they can not move freely." But the way I think about is: Kinbaku is to tie people in the way of BDSM, and Shibari is to bind people, but also bind something that's not human. I think Shibari has more variety.
How did you get into it?
I started to learn Shibari 20 years ago because of my ex-girlfriend. She liked it, so I wanted to be able do it for her. [At the time], I was working in a fetish bar, and there was a customer named Yumeko who taught me how to do it.
Do you see your practice as strictly sexual?
No, I see Kinbaku as art. But sexuality is an essential element for Kinbaku, [in order to] give it great depth as an art form.
What does the act of physically tying and knotting ropes feel like for you? Is it empowering?
When I bind people, something interesting happens. Like, when I bind an energetic person, I also feel energetic; when I bind a person with negative feelings, I get negative. Tying people is a way to for them share their hearts and bring our senses closer together.
Still, in most of your pieces, it's women being tied up. Do you see the submissive (the person being tied up) and dominant (the person doing the tying) roles as equally empowering?
Many people have master and slave relationships in Kinbaku, but in my case, the model and I have an equal relationship, or if anything, I am the inferior — the woman is the main subject, and I am just a supporting role.
So, you consider your work to be a celebration of the female body?
Yes. I do Shibari because I like to make women feel beautiful in that form.
Your works are so much more detailed than a lot of Shibari/Kinbaku performances I've seen. They also often take on obscure forms, like that of a spider web. What's the goal behind that?
In Japan, people think Shibari is abnormal. It's discriminated against by the Japanese media and the public. But Shibari is very beautiful and an important tool for people to build loving relationships. So, I want people to know about it. But I also believe it's important to [show] a strong beauty when I'm sharing Shibari. That's why I make my work so detailed — to express a connection; how everyone is connected with someone, somewhere, and never has to be lonely.
What do you want people to take away from your work?
Power.
Event made possible with the support of HEAVENSAKE.