Last Call: January '20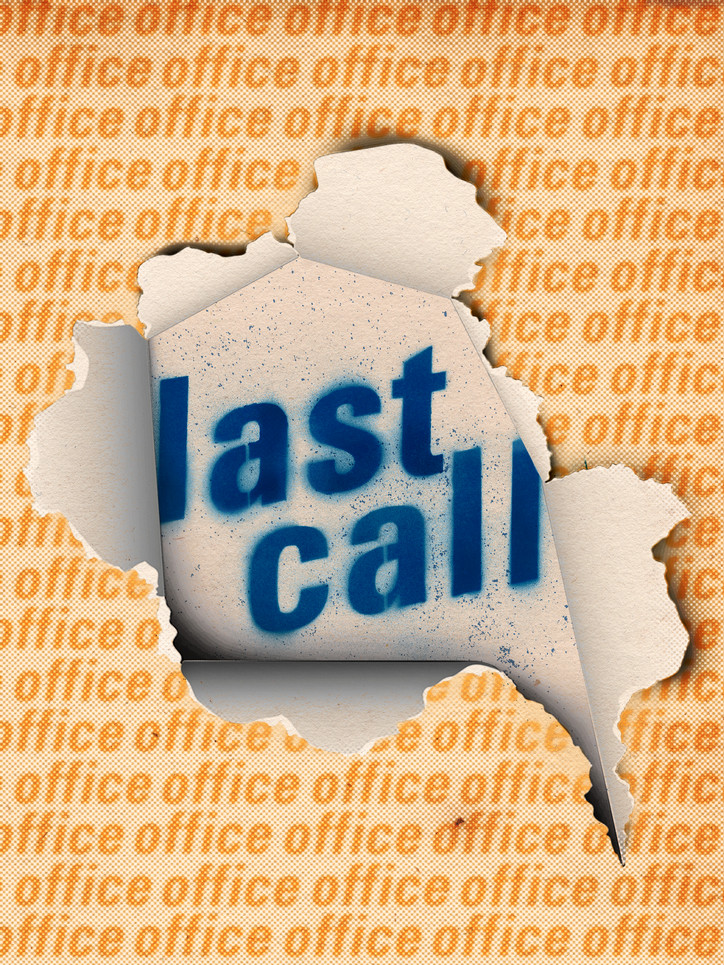 Palace of Errors — Closes February 2
Lila de Magalhaes — Deli Gallery
In a small, nearly-bare gallery space, the Brazilian-born, LA-based artist Lila de Magalhaes accomplishes something special—a deconstruction of consumption, abundance, and longing. 
Palace of Errors is as playful as it is erotic, tackling mass production within the context of sensual desire through a series of embroidered, dyed bedsheets and two sets of ceramics. One mother-of-pearl glazed group, titled Milky Gummy, offer curious little creatures, while another set of slate-gray sculptures, named Sssssss, Sssss, Sss, and Ss, are all, well, snakelike coils that wind into piles on Deli Gallery's floor. Each snake stares up at the lush tufts of vibrant fabric and the scenes threaded into soft-hued sheets.
de Magalhaes' show is precious and precocious, whimsical and unnerving all at once.
Photo courtesy Gustavo Murillo Fernández-Valdés
Insurgency of Life — Closes February 8
Goldin+Senneby — e-flux
When the Stockholm-based artist group Goldin+Senneby talk health care, it's a little more abstract (and compelling) than what you'll hear at the Democratic debates. At e-flux Gallery, they're reaching deeper underground, to examine the parasitic fungus that blooms from the head of a cicada; back in time, to the moment the artists' left foot went numb; and into the future, when robots perpetually shake phones in order to confuse, and ruin, the patient pedometer data harvested by insurance companies. 
Don't get that glazed-over look just yet—this isn't a health exhibit per say. It's about the reality of the human body, our relational dependencies, and the commercialization of conditions. And it's more off the wall than your average gallery, so to speak. Credential line ups for the exhibition cite x-ray physicists, biologists, mycologists, musicians, designers, and YouTube machines. Plus, if you see Insurgency of Life on January 30, you can also catch Triple Canopy's event Crying Pine Tree hosted by the artists.
Every Crack, Every _ _ _ _ — Closes February 9
Martin Beck, Amy Lien & Enzo Camacho, Elle Pérez, Charlotte Prodger, and José López Serra — 47 Canal
How do you quantify emptiness? What noise do you make in a quiet place? How gentle can (should) you be? Maybe more than anything else, 47 Canal's latest group of artists want to know the answer to the question: "What's been overlooked?" 
Every Crack, Every _ _ _ _ hosts a wide range of artists, including Martin Beck, Amy Lien & Enzo Camacho, Elle Pérez, Charlotte Prodger, and José López Serra, interpreting a variety of landscapes with an open mind. On the whole, it's an optimistic show. The artists each offer their own approach to trading ignorance for possibility, withdrawal for integration, eradication with regeneration.
There's something for everyone here. Perez's' intimate photography, collage work by Serra, Beck's sculptures, and videography by Prodger are all worth seeing on their own, but are only made more exciting in conversation with the work of their peers.
Currents: An Overwhelming Response — Closes February 9
Mimi Bai, Sera Boeno, Nikesha Breeze, Becky Brown, Caryl Burtner, Bernadette Despujols, Priscilla Dobler, Debora Hirsch, Elektra KB, Nsenga Knight, Le'Andra LeSeur, Nikki Luna, Stefana McClure, Rosemary Meza-DesPlas, Nelson Morales, Pamela Rush, Alicia Smith, Caroline Wayne, & Connie Zheng — A.I.R. Gallery
As you can imagine, an open call for artists to submit work on gaslighting in 2019 might get An Overwhelming Response. The 19 artists that Brooklyn's A.I.R. Gallery chose to show in their latest exhibition show work under a title referencing Le'Andra LeSeur's videos, which examines resistance to Black women who report sexual assaults. 
The entire exhibit is a multimedia homage to experiences of manipulated realities, and it's as full as you would hope and expect. Expect to be vindicated. Expect to feel hurt. And, breathe a sigh of relief, because Currents leaves us hopeful of healing. 
LINEAR MOMENTUM & THIS MUST BE THE PLACE — Closes February 16
Stephen Somple, Russel Tyler — The Hole
Stephen Somple and Russel Tyler, at first glance, have very little in common. But visit both solo shows at The Hole on Bowery and you'll find yourself happily exhausted by the endlessness of either artist. 
Somple's Linear Momentum is a room lined with gold and black brass hunks, one even dented by the weight of his own body. Tyler's fluorescent painted colorfields stand in stark, contained contrast, yet almost every single canvas is graced with the same line and circle forms. In either show, there's something physical at work echoing throughout the gallery space that's worth seeing for yourself in person.