Live Simple, Train Hard, Be Honest.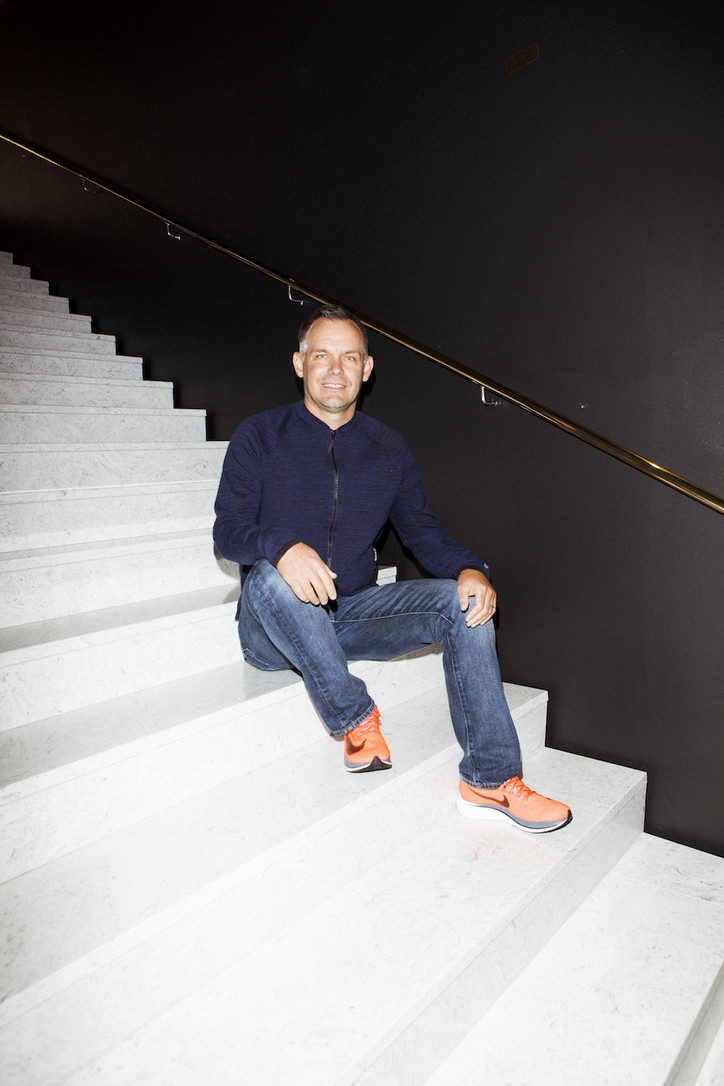 The project was about breaking barriers; setting goals and doing what everybody thought was impossible. It that sense, it is about much more than shiny, new running shoes (even though the new Nike Zoom Vaprofly 4% is as slick and quick as they come) – it is about being human and moving forward.
At the event in Copenhagen this Saturday the movie Breaking2 produced by Nike and National Geographic premiered. It's a great movie full of beautiful, trademark National Geographic shots of the three runner's hometowns, the torments of preparing and the race itself shot in super slow, which makes the intensity even higher.See it for all of that, but mostly see it for this bit of advise to living a happy life that Kipchoge offers: "live simple, train hard and be honest".
Back to Brad Wilkins.
During preparations Eliud Kipchoge was talking about going to the moon? Could you please tell the story?
When we officially invited Eliud to join the project, and be one of the three runners involved, we approached the discussion with him as a "moonshot". The idea that we would work with him (and Zersenay and Lelisa) to do something special. We would control all that we could and create the circumstances for them to make history by doing something that human has done before or "go to the moon". Eliud completely bought in to this idea, and said several times, he wanted nothing short of "going to the moon".
If you could take one thing and only one thing from this experience then what was the biggest revelation?
A group of passionate people working toward a singular goal can move mountains.  
What is your next project? Giving sub 2hr another try or?
We always have projects going on in the lab. There are several that my team are working on. We are helping Eliud, Zersenay, and Lelisa with their fall Marathon goals, as well as other Nike runners.
Currently, there is no plan to give a sub 2hr marathon another try. We feel that we have shown that it is humanly possible to achieve, and we have been successful in what we set out to achieve. Part of which includes, if you put a concentrated concerted effort toward a singular goal, you can do amazing things. Second, if the 2hr marathon record is broken any time soon, it will be because we did this. Because Eliud did this. We showed the world, and most importantly the next generation of young runners, that this is possible. Humans can run that fast for that long.
How did you achieve 4 % improvement in running economy in the new Nike Zoom Vaprofly 4% shoes?
This is probably a better question for the product team. But the short story is: A combination of innovations in the foam that was used and the carbon fiber plate geometry. The foam is super light weight and returns more energy than conventional foam. In addition, the plate geometry helps increase the stiffness of the shoe so that energy is not wasted from the joints in the foot. Important to note, there is nothing in the shoe (foams or plates) that has not been used in other shoes.
Do you have any tips or recommendations to runners who wants to improve their personal best based on this experiment?
Set a goal, and understand what it will take to reach that goal. Understand the barriers in front of you, and break down the problem into pieces. Then start solving the problems in front of you. What do you need to do today? That could be a simple as getting off the couch to do a run. Or as complex as understanding how much carbohydrate to replace following a long run. In short: clarity of the objective and a path to get there. Then start solving problems.