Lost & Found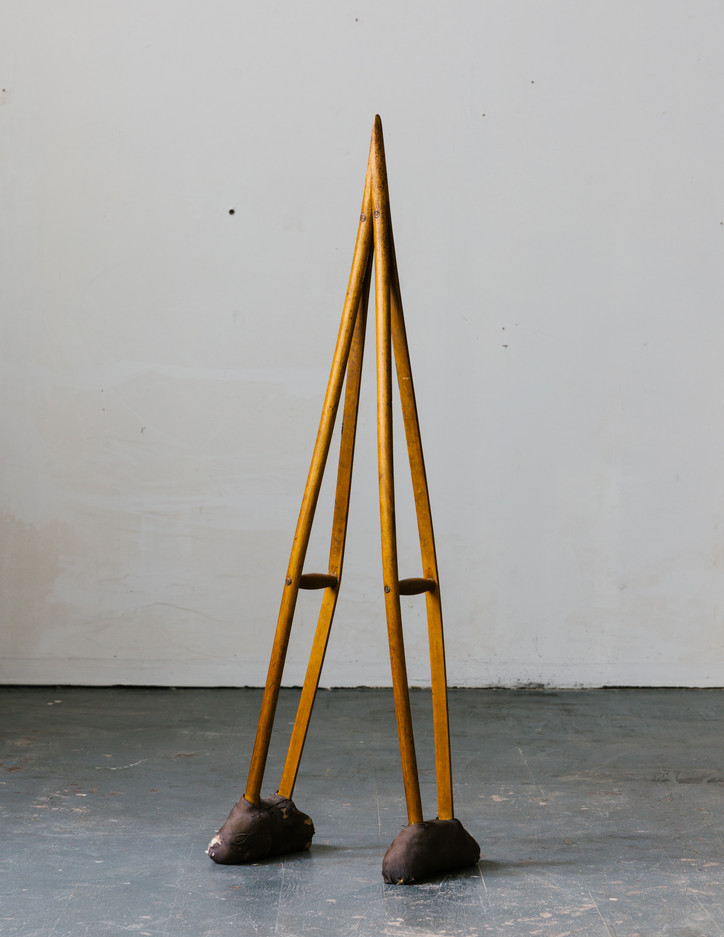 Read all about our studio visit, below.
Where are you from, where did you study and where are you now?
I was born in Minnesota, but grew up on a farm in River Falls, Wisconsin. I spent some time living in Minneapolis in middle school, but moved to Vermont for high school. I really only studied art in middle school, as my high school didn't offer art classes and I went to college for Digital Media at Hyper Island in Stockholm, Sweden. Now, I'm in Brooklyn. I've been in BedStuy for seven years.
Are there any other artists in your family?
Directly, no. My family is very big—I have like 25 first cousins. Mom is one of nine and Dad one of six. Unfortunately, I'm not very close with my Dad's side. They are all older and have kids my age, but they seem to have the creative drive. One is an actress that's doing very well.
Did your parents support creativity when you were growing up?
Always. And their support now means the world to me. My Dad might not always get it, but he has always backed me. And my Mom gives me the courage to keep going. I've pretty much made all my gifts for them since I was a kid and they seem to appreciate it. I think my Dad still has a terrible wood carving of a horse I made when I was twelve that got covered in blood from cutting myself too much.
Where do you find inspiration for your work?
Traveling. I've been fortunate to be able to experience a lot of beautiful places around the world and all that comes with them. I take solo antiquing trips that mean a lot to me. I use that time as a joint collaboration of experience and try to mutate that into my studio practice. Also, other artists close to me or practices I admire: Heidi Bucher, Dieter Roth, Liza Lacroix, Jannis Kounellis and Uri Aran.
Tell me about the antiquing. Where did you go on your last trip?
This last trip I went through Texas, Louisiana, Mississippi, Alabama, Tennessee and Kentucky—three were states I hadn't been to before. Randomly, I found out that I was in the area of the World's Longest Yard Sale, the 127 Sale. It runs across 6 states and is almost 700 miles long running along Highway 127. That was wild, I spent two days following it. I buy "art supplies" so everything I get is cheap and my daily budget is $40. I've got little secrets I use when I deal with antique shops to see if they are worth my time. Price points on certain objects you can find pretty much everywhere and communication with the owner. It's strange when it starts to make sense. Like pricing objects from the 1800s under $20.
Whoa, the World's Longest Yard Sale? It sounds like the perfect scenario for you. And you just stumbled on it? Fate!
Yeah, it was funny. I went to a diner out in the countryside of Tennessee, but it seemed like everyone there was from Alabama. It was busy and everyone kept yelling, "Roll Tide!" after everything. I think it's called the Mustang Diner. They told me about it. Anyway, the owner heard from the waitress that I was looking for antiques. He ran out to my car and we chatted a bit. Soon, I'm following a yellow Mustang convertible down a dirt road to his home to check his collection. He really had nothing, but it was so nice. We chatted, he had a hard story of why he had to sell most of his belongings in order to fight cancer. He won though. Roll Tide!
When working on a new piece, do you have a clear idea before starting? Or do you let it unfold as you go?
I can sometimes come in with some clear idea, but it will never come to fruition. It doesn't need to. It's like copying my own idea or vision. I already "made it." I have to just start moving and making as I go. I have fun working in the studio but it takes a serious and personal effort to make objects matter. That's where the traveling experience comes in. Coincidence would have been an effort to say the least.
How do you decide when a piece is finished?
I've always liked the idea that an object I've made has the option to keep going, as it did when I found a piece of it at some antique store. The energy that comes with it keeps moving. When I finish something, it's not mine anymore. Time to let it go and move on. Send the kid to college. It kind of decides on its own.
Let's talk about your studio. How long have you been here? Does this specific space play a role in your work?
I've had three studios in BedStuy. One live-work, one shared and one solo. I learned quickly in the live-work how dangerous it can be in the studio for me and my roommate. Lots of toxic material use. I've gotten smarter and better over the years, but still have the place as a total mess. It's just what works for me. So, yeah, the space plays a role in material use and work size. Plus, I can get loud and dusty here.
Do you have any rituals or routines when you get into the studio for the day?
Turn some music on. It just acts as noise, I don't really listen to it. Also, I've always had a space to lay down. I have a hammock now. It's important.
That hammock is so crucial!
It's a game changer.
Do you ever get stuck on something? If so, do you power through it or do you move on to a different project?
Without any vision at the beginning I'm pretty much always stuck, so I just try to power through it. It all leads to the next.
Are your works ever functional, or are they strictly made to be observed?
I have a functional sculpture in a rural town in Japan called Onishi. I like the idea of permanent pieces being functional. I've heard stories of local women using the structure for nude meditation. It's cool to see something like that function as a safe space without any intention on my part to do so.
What's next for Moch Hahn?
I'm just excited for the fall—studio weather. Also, my sister is getting married and I get to be the "maid of honor." Hopefully a once-in-a-lifetime opportunity.