In The Studio With Bil Donovan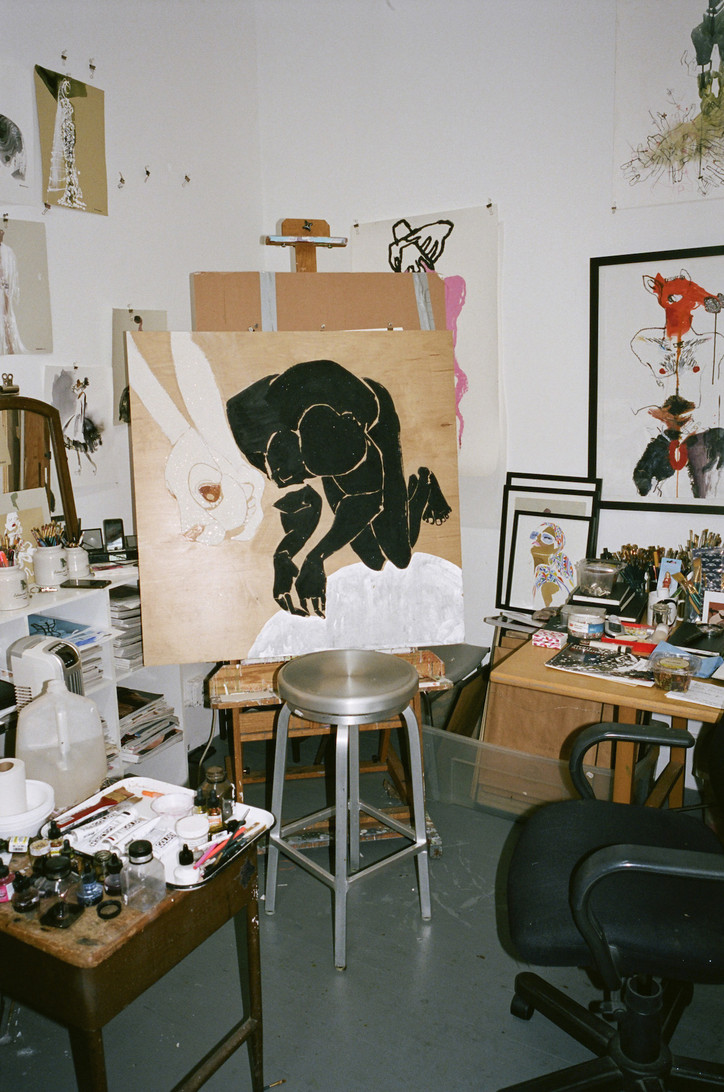 "I have a strong work ethic inherited though my parents that taught me that hard work is the key to achieving success. I was not born talented. I had creativity but not the gift of draftsmanship, I had to train to achieve that goal, and I realized that practice nurtured the skill set and passion fueled that motivation. Not an overnight success story."
Do you work in London or New York?
New York is my home. I have lived and worked in Europe for seven years, Milan then Paris, but mainly I developed my art in Italy— an experience that shaped my vision and style.
In regards to fashion, which city do you like better?
All cities have their charm and in regards to fashion, Italy and Paris have an edge on style. New York has freshness but as far as personal style, Europe has the edge… I am attracted to the designs that are unique and challenge my perceptions of how to communicate that design though brush and ink.
Do you still sketch live during [fashion] shows?
I go to only one show, Rosie Assoulin. I met Rosie when I was documenting NYFW for New York Magazine. The next season I was invited by Rosie to come to her show, and when I mentioned that I was not doing the documentation for New York Magazine, she replied, "Just come, we like having you here!" Her creations are amazing, beautiful shapes, and she has an intuitive sense of what works on a woman. They are spirited, yet elegant— an illustrator's dream to draw. I was invited by Ralph Rucci to draw at his presentations and shows several times. His work is sublime… I created work [there] that was a departure from what I would usually do… An experience I cherish today.
How do you pick what looks to draw?
Shapes… What can be captured quickly and with a minimal amount of information. Some looks jump out at you and others slowly seduce you. The subtle ones are unexpected and force you to think in a different capacity. I like to be forced outside of my comfort zone.
What's your favorite medium?
Watercolor. Hands down.
Where and what do you teach?
I teach at several schools. Currently I am teaching at the Arts Student League this Summer, a first. In the Fall I teach at the Fashion Institute of Technology, and in the Spring I teach at the School of Visual Arts.
And what [can you tell us] about your personal work?
My personal work is driven by personal life experiences. It is dark in nature and serves as the polar opposite to my fashion, which is light.
Did you pick this career, or did it happen organically?
I grew up in a blue collar, working class environment in South Philadelphia. I wasn't aware that there was a profession such as fashion illustration. I began drawing a comic strip called Brenda Starr, a glamourous reporter created by Dale Messick. I eventually saw Audrey Hepburn in Sabrina. I was mesmerized by her debut in a Givenchy gown in a ballroom scene. I kept playing that scene over and over in my head, I had never seen anything so beautiful. I attempted to draw that look over and over to no avail… That was the moment that changed my life.
Did you go to school for illustration?
There are gifted people who might not need schooling, but I was not in that mix… I was driven to learn and I took every class I thought would nurture my work.
Do you like teaching?
I love it. It's an amazing experience and challenge. It's a grave responsibility to teach. In a brief amount of time, you and you alone are responsible for directing, encouraging and nurturing the creative path of your students. I remember my first class, I was asked to teach a class at FIT, I was indecisive and my partner said, "Do it". I hate to admit it but he is usually right. I entered the class and the students seemed disengaged… I was petrified… I started to walk around the room and thought to myself…what do I do…and a voice said, "BE A TEACHER." [So, I then] shouted out, "Silence!" and the room went silent. I began by saying, "I am very serious about what I do and I expect anyone in my class to be as serious as I am; If not you can leave right now."
...And I began on my journey to learn how to become a teacher… It is an incredible experience and most teachers are undervalued in our society in the United States.
What [else] are you working on right now?
I am working on an editorial for Fall Couture 2017 for Luxure magazine. Valentino, Schiaparelli to name a few... A spread for Harper Collins for a book on Iris Apfel, a couple of cocktails for the St. Regis, illustration for a limited edition shopping bag for South Coast Plaza, three additional scarf designs for Bil Donovan Limited... Personal appearances for Dior Beauty, and facilitating drawing events at the Society of Illustrators…
Tell me a bit about your pop-up show in September!
It's called Drawing in Style curated by Gray M.C.A., leading dealers internationally in original fashion illustration. This is their first exhibit in the in New York during Fashion Week. The show is comprised of three fashion artists: Kenneth Paul Block, Jason Brooks, and myself. KPB's work influenced the style and world of fashion illustration for over half a century, Jason Brooks, [a] leading fashion illustrator [today] who incorporated digital technology into creating contemporary fashion illustration, and I round out the group as perhaps a bridge between the past and the present, incorporating both a traditional technique combined with digital media.