Meet Beau Young Prince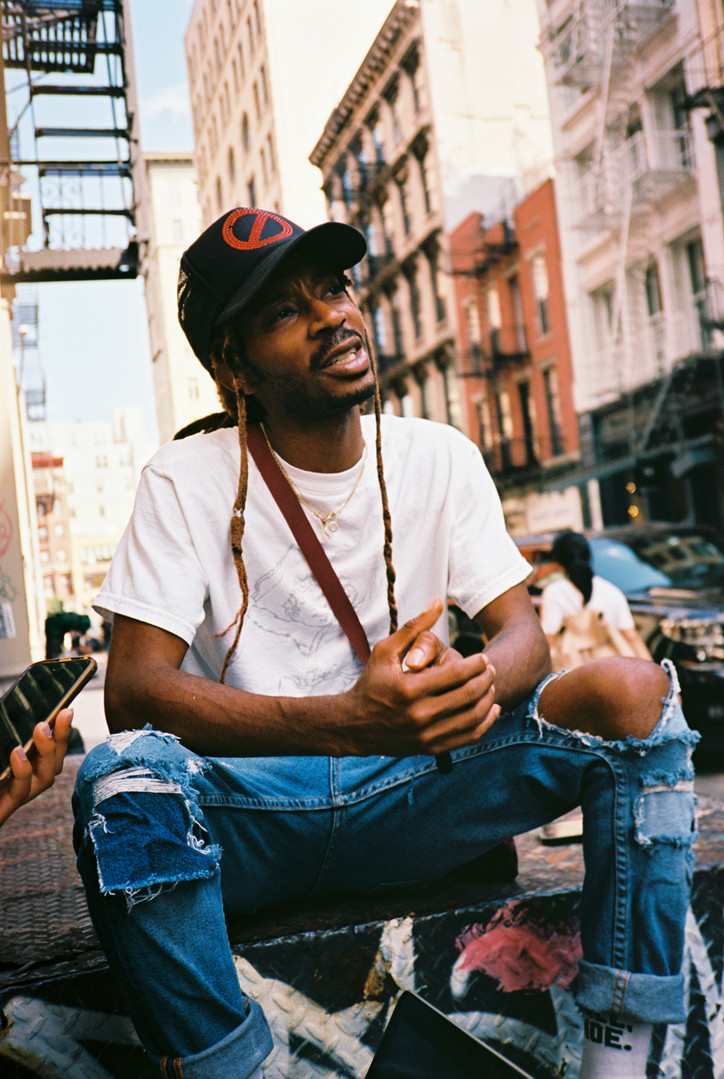 Tell me a little about yourself, what you've been up to, how you got into rapping, etc.  
Well, first off, I'm Beau Young Prince. I'm an artist from Southeast Washington D.C., land of the go-go, home of 'The Bounce.' Rapping honestly started early in maybe third or fourth grade when I did plays. I was Rooster in Annie, I played the Wiz in the Wizard of Oz, so I had a love for the performing arts. In-stage, left stage, right, front and back became home to me. So naturally that lead to writing poetry, I won a few poetry slams in elementary school. And then I had a composition pad, and in high school I used to freestyle battle all the time, and some people kept telling me, "You got something, you might as well do it!" So I started going to the studio, my brother Wayne took me there for the first time, and he was like, "Yo, you know you can put this on disk format", and I was like, "For real?" So we go to the studio, and the first time I heard my voice on the track, I was like, "Uh, it's Young!" cause I was real youthful and childish haha. So that's what I used to say, 'I'm Beau Young Prince,' now I'm 'BYP.' 
You fall in love, not only in a narcissistic way with your own voice, but with the fact that you have an outlet for your feelings and emotions. So I honestly think that it went from acting, to writing poetry, to recording in the studio. I wrote BYP on the disks that I burned and started passing them out all through high school, and made about a thousand dollars, and that's when I was like shit, I'm going to be a rapper. I was in college at that point in North Carolina, and I thought to myself, "They don't know me, this is a fresh start, I'm BYP, Beau Young Prince." I just kind of took over that scene in college, I put myself on tour over nineteen different states, I was even my own booking agent. People were talking to me in the third person, and I'm lying talking about, "Beau's fee is this and that", ha, you know, you gotta hustle.
Now my new single "Kill Moe" is out, released through Def Jam Records, who I signed with about a month ago. It's just been super dope to actually have my record pushed and recognized by such a prestigious record label, the same one who did LL Cool J, The Beastie Boys. This is real black, this is real hip-hop, and it's a true honor to carry that torch along. No disrespect, we got Wale and a bunch of other OG's, but right now we're in a new day and age, it's the next generation, and you need that happy balance between that old school and the new school sound. That's what I feel like I'm bringing, with the punk, the go go, the hip hop, and the bounce all in one. That's me, and that's what D.C. is. I'm a little bit of everything. My shit bang, but I'm not talking about all that wild shit, we're just having fun, smoking weed, and living the groovy life baby that's all it is.
Describe the aesthetic or the narrative quality of your new album.
What I'm feeling with this album is making a name for DC, so breaking out, origin story. I'm not going to tell you where I'm about to take you because that's for the next couple projects to tell. This is the BYP origin story. I want you to know why I say the things I say, why I'm talking about the predicaments I'm talking about, why I dress the way I dress. Ultimately I want my listeners to see what made me who I am today, and those are the things you need to take from this album. My style is unique, I'm from Washington, D.C., and I'm here to push the social norms in terms of what we're "supposed to" look like as rappers, how we're perceived as rappers, and so on. I have two degrees, I'm smart as hell. This generation is about to change it all up. But in the music, you're still bouncin' and crankin' up with me.
Hearing your answers has got me thinking, how does your environment (mental, physical, etc) inform the work you produce?
Shit, my environment is kind of everything. I went through a heartbreak, and it inspired an album titled Until Then about getting over that heartbreak, and it helped me get over it, and many other people, too. My cousin just got shot on the night of July 4th, so I went to the studio the next day and wrote a song about hope, wrote a song about when you're feeling at your lowest, how to get back to your highest point. And then there are other times when I'm rapping about a kickback, which is just a good night smoking, chilling, keepin it groovy. D.C, it's the capital, it's the politics, it's the gangster shit going on, all of that is reflected in my story precisely because I'm a product of what is around me. I'm just trying to give you my spin on what I call groovy world, and groovy world is nothing more than D.C. through my eyes. I feel like District 22, which is my collective, we're like the Dungeon Family Outkast back in 1997; they didn't know what they were on, they didn't know what they were about to do, they were so different coming out of Atlanta, and that's the same vibe for us coming out of D.C. right now.
How did you come up with your rap name?
Well, my name is Beau, B-E-A-U, and they pronounce it "BO" in France. My real name is Beau Young, and my rap name is Beau Young Prince, but they call me BYP because it's easy to say. My name changed, obviously, from the name I was given at birth. I am one of four siblings, and I'm the only boy, and I don't know my father. I live with my mother and my three sisters. I grew up with women, so they used to call me 'Prince Young' of the house. So I went by Beau Young Prince. Maybe later on it'll just be Beau, you never know. I'm going through a transitioning growth process right now, and I'm just going with the flow, and trying to live my best life. All of this is new to me, and I'm trying to be humble about it, enjoy it, and take it in. It's tight to even be choppin it up with V-Files right now. I am a huge fan, I used to get my Hood By Air over there in D.C. before kids knew what the fuck that was, and it's cool to even be chillin with office right now, so thank you.
It seems like you dabble in all sorts of things, so I was just wondering what's the last thing you read or heard about that has really resonated with you?
The last thing I read was The Outsiders by S. E. Hinton. I actually re-read it, and I just read To Kill A Mockingbird, and then I watched the film in black and white, which had even more of an impact on me because the time period was so visible. I read a lot of art magazines as well for inspiration. Also, a lot of Manga, I'm an anime geek, not gonna lie.
Favorite scary movie?
Honestly, shit doesn't really scare me anymore, so I'm into more of the grotesque shit. I just watched Gerald's Game on Netflix and it got to me just because of the creepy, tall motherfucker. I was downstairs in the basement about a week ago, and I thought I saw that motherfucker in the corner! I'm into the shit that questions a human's ethics and moral code. Real shit that's really fucked up and makes you question our own humanity, cause that's the shit that makes you think.