Meet LES creative PosterBoy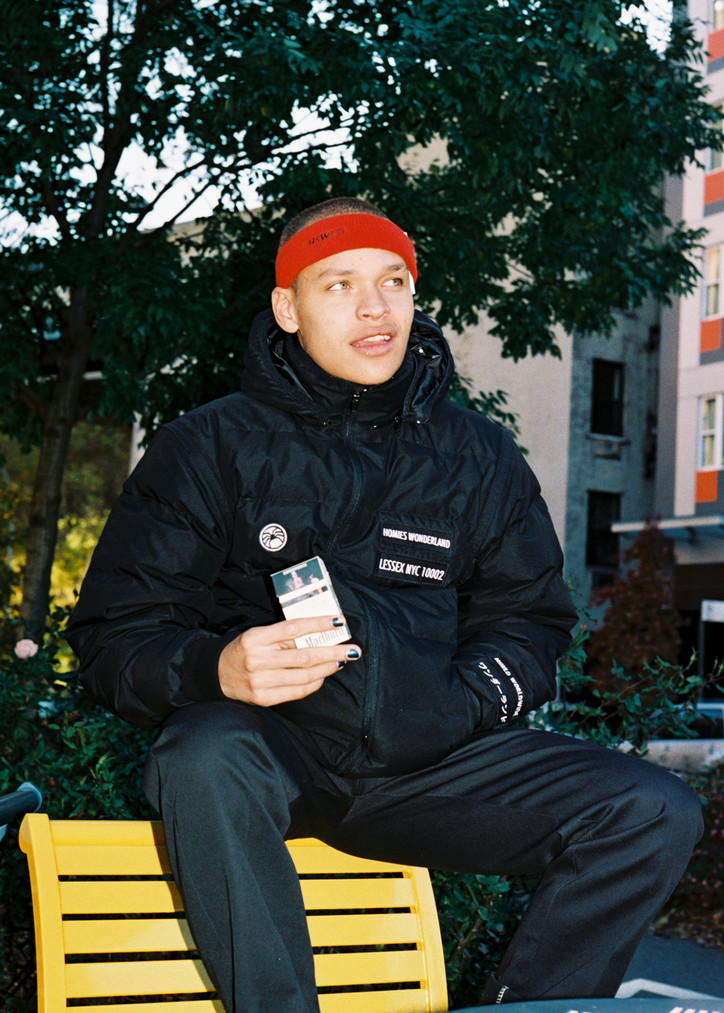 What was it like when you first moved to NYC?
When I first came to NYC, I knew no one but my mother agent. I was working wood floors and carpentry in Jersey, and I was saving money. My boss was Mexican, and he inspired me because he came here with nothing and built a business out of nothing. I had nothing. That inspired me to build that kind of view, but then I was fed up with that job. And then one day I saved up two thousand dollars, quit the job, and got in the NJ transit and arrived at my grandma's, the love of my life, and stayed there for four months. I just recently signed to Wilhemina models, and hopefully that will be a smart step for me.
When I came to Homies Wonderland, I had no clothes. Every gear I have on now is from them. That's all I gotta say. This is a movement. I built the studio in the basement of the store. I did some paintings on acid, me and three other people. My best friends. And now there hanging on the wall here. Frank [Kunert, the HSWLD CEO] is teaching me about business. Fuck college.
What do you think about high-end fashion?
I never gave a fuck about that shit. All I wanna do is make music. And a nice Goyard bag.
What do you talk about in your music?
I talk about my life. Hip-hop now—I'm not going to drop names—but it's all in-the-moment rap. Nothing about childhood or pain, it's more about drinking and smoking. I do stuff that people can relate to. I'd like to be someone that helps people through my music.
Tell me about the brand/store that you represent.
Basically, the brand was made about two or three years ago by OG skaters from Europe. They built a culture through the kids in New York, not just skaters, but all sorts of creative people. I feel like this is my home. All my clothes are from here.
What do you all day when you hang out at Homie's Wonderland?
When I hang out? I chill. I drink some beer, smoke some weed, create some music.
As a brand ambassador, what does your job entail?
I'm the one that goes out of the way to speak for it. Coozi, he's the designer, he designs all the dope shit. I'm in charge of getting us out there. I'm also an artist myself, and through all the plugs I meet in the industry, I use that to build the brand.
How much weed do you smoke?
I smoke weed every day. We've gone through an ounce in 3 days. Everyone in this generation smokes weed. It's just come to the point where alcohol is the main choice for drugs, but look at how many people have died because of it. How many people statistically have died from weed use? None.
Do you pick and choose who you want to work with?
I've never been a dick rider. I'm just trying to create the real way. They all align with my style. I walked into Nike shoots and I style myself. I always pull up with two tabs of acid.
Listen to more of Derek's music here, and visit HSWLD at 15 Essex Street.