Sign up for our newsletter
Moonwalk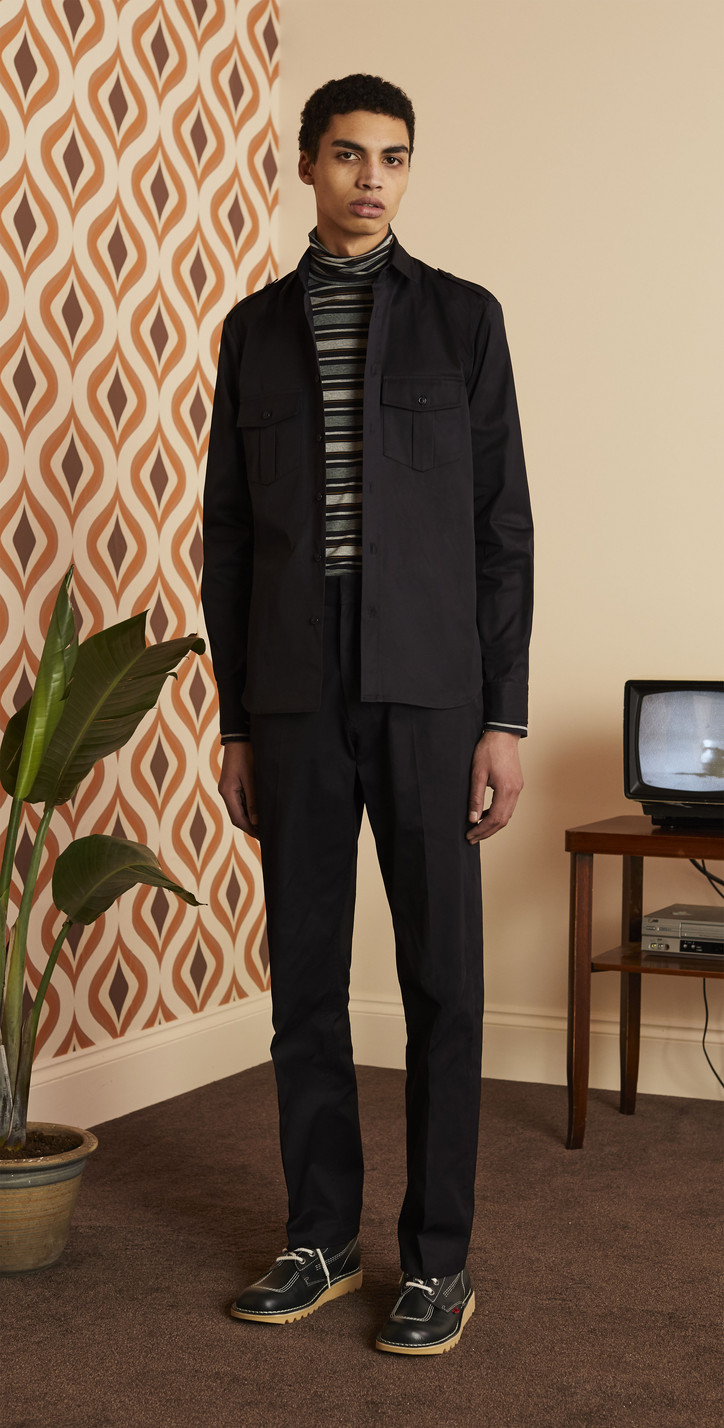 Peep our favorite looks from the collection, below.
Photos courtesy of the brand.
Fashion East S/S '20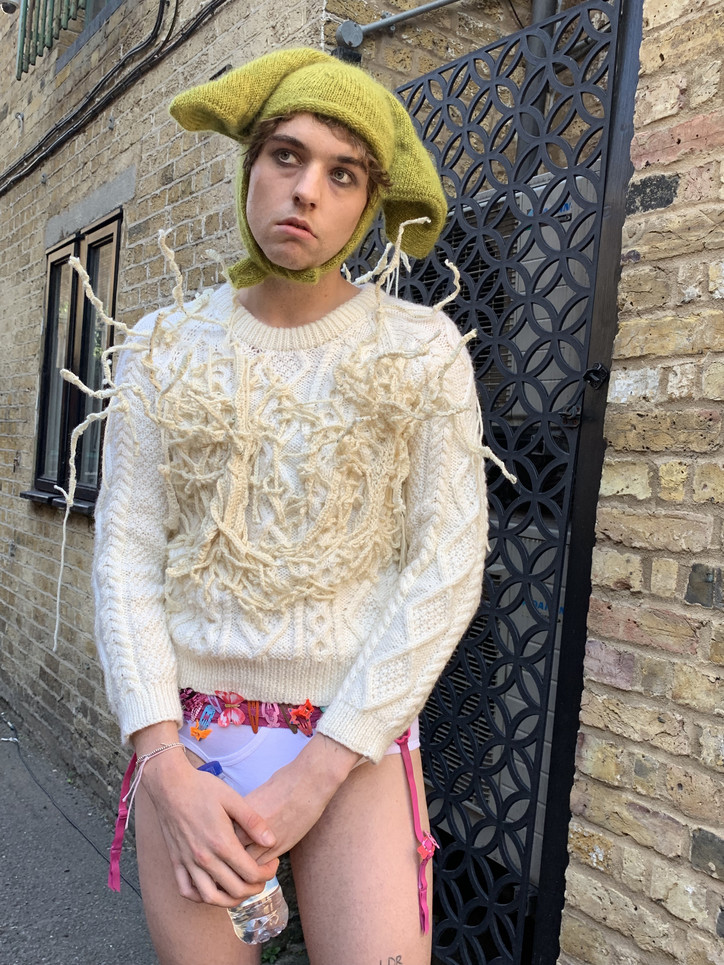 Gareth Wrighton gave us a provocative "Virtual Unreality," complete with a bonsai headpiece made entirely out of Cheetos and a viral tee that read, "MY OTHER TSHIRT'S A CUMRAG." Wrighton, a Central Saint Martins student who garnered attention for presenting a video game rather than a fashion show upon graduation, spoke of the collection as a reflection on the sometimes dark nature of cyberspace. And it was a presentation as messy and deranged as the Internet itself, with outfits that could have easily been attributed to several different designers. One airy ensemble was simply a sundress paired with frilly socks and oxfords, while the next model stalked across in a pom-topped knit black onesie, only to be followed by a Sailor Moon meets Harley Quinn skirt and hair combo.
If Gareth Wrighton was a force of chaotic evil, Yuhan Wang infused the last bit of the show with some lawful good. The Chinese-born designer's final Fashion East collection gave us another delicate taste of Wang's consistency, replete with dreamy satins, ruffles, and ruching fit for a spring picnic. A picnic served in the shade at a lace-tablecloth covered table, with a printed tea set and tiny berry chantilly cake. Each piece—ahem, dress—was elegant in a traditional sense, and Wang's own tendency to sketch out print plans in watercolor came through tenderly. But her modern cuts and draping conveyed the originality and brilliance of the designs. See for yourself below:
Slow Friction
Catch the vibe for yourself and check out the collab below.
(Left) Hassan wears shorts by OAMC
(Right) Klara wears jacket and sneakers by Margiela, bag by Ralph Lauren Polo Sport
(Left) Søren wears button-up by Head Mayner, pants by And Wander
(Right) Pardis wears sweater by Margiela, jacket by Gosha Rubchinskiy, pants and skirt by Nike; Niki wears body suit by Nike, coat by Helmut Lang, sneakers by Margiela
(Left) Niki wears jacket by Margiela
(Right) Magnus wears button-up and shorts by J.W Anderson, bag by Off-White, belt by Meanswhile
(Left) Villads wears coat by J.W Anderson, sneakers by Nike
(Right) Tobias wears sweater by OAMC; Søren wears button-up by Head Mayner, pants by And Wander
(Left) Klara wears waistcoat by Meanswhile; Emma wears pants by J.W Anderson
(Right) Magnus wears jacket by GMBH, pants by Guilty Parties
Pardis wears jacket by Kapital
(Left) Tobias wears sweater by Margiela, shirt by Neighbourhood
(Right) Pardis wears sweater by Margiela, jacket by Gosha Rubchinskiy, pants and skirt by Nike; Niki wears body suit by Nike, coat by Helmut Lang, sneakers by Margiela
(Left) Tobias wears sweater by Dries Van Noten
(Right) Klara wears waistcoat by Meanswhile, button up shirt by Crag Green
 bag by Margiela
(Left) Hassan wears parka by Bianca Chandôn, pants by Sacai, sneakers by Nike
(Right) Emma wears pants by J.W Anderson, bag by A.P.C
(Left) Magnus wears shirt by OAMC, pants by Guilty Parties
(Right) Hassan wears shirt by Our Legacy, pants by Adidas Y3, jacket by North Face, shoes Clarks x Wu Wear, bag by Margiela
(Left) Klara wears jacket by Margiela, bag by Ralp Lauren Polo Sport
(Right) Søren wears jacket by Gosha Rubchinskiy, pants by Our Legacy; Wilhelm wears t-shirt by Stone Island, button up by J.W.Anderson, Pants by Margeila
(Left) Wilhelm wears sweater by Stone Island, jacket and boots by Margiela
(Right) Emma wears t-shirt by Margiela; Klara wears t-shirt by Richardson
(Left to Right) Villads wears sweater by Stone Island, coat by J.W Anderson, pants by Guilty Parties, sneakers by Nike; Tobias wears sweater by Margiela, shirt by Neigborhood, shoes by Clarks x Wu Wear; Søren wears jacket by Gosha Rubchinskiy, t-shirt by Richardson; Wilhelm wears t-shirt by Stone Island, button-up by J.W.Anderson, pants and boots by Margeila
Lead Photo: Niki wears sweater by Moncler, hat by Neighborhood