No Time to Waste for No Sesso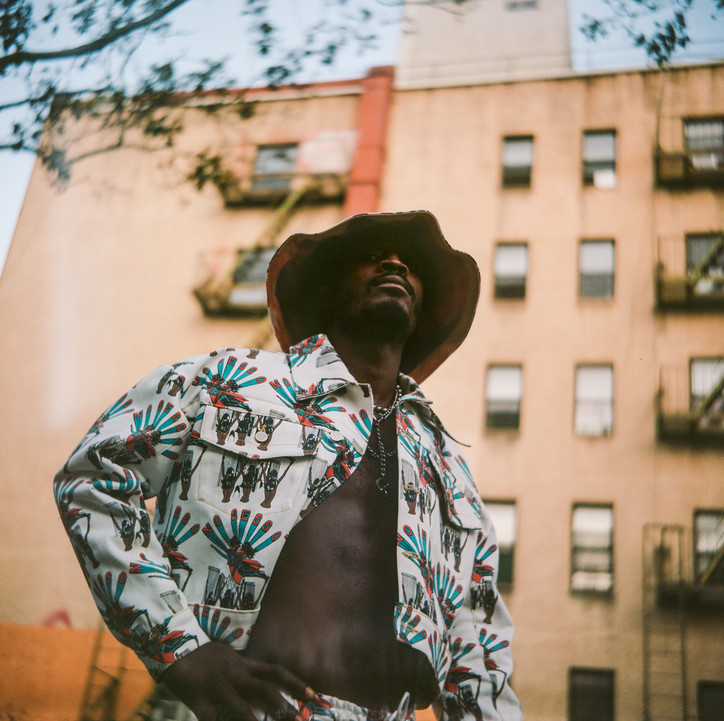 Just last season, the brand, which is Italian for "No Gender," beat all odds at their first NYFW by ringing in as the first collection produced by a transgender designer. Since 2015, the team has risen through the ranks of the tight-knit fashion industry, building a world saved from convention by fashion.
Yet the team is grounded, balanced. Hayes is a double Taurus, keeping their feet on earth. Randolph is a fiery Aries with a loud laugh. Davis is the mellow water element, smoothing their differences with the seductive charm of a Scorpio.
office caught the whole crew in the Lower East just after this season's NYFW shows and just before they jetted back to L.A., where they'll lounge in Pierre's garden to relax, but probably will end up talking about work. It's all too easy when the job at hand is to make the world a better place. That kind of work never ends.
Are you an optimist or a pessimist?
Pierre Davis - Both. I definitely feel like I have the mentality to think things are always going to be okay, because we have to make it okay. There's no 'No's.' You have to keep moving all the time. Especially when it comes to fashion week, we're working and trying to put on something big. Things happen, and we just have to keep moving forward.
Making 'yeses' for yourself.
PD - Exactly.
Arin Hayes - I feel like I'm a realist but an optimist as well. I tell myself everyday: "the god of the universe has your back and everything has been worked out in your favor." That really just keeps me grounded. I believe it actually, because it always works out.
PD - You have to believe it anyway, because in order for it to be alright and to be an optimist, you have to make it happen.
Autumn Randolph - If you can't make it happen, and you're still trying to be an optimist—it just works hand in hand. You can't be a pessimist and be trying to make it work.
AH - Right, like what's the point? The energies are going against each other.
Where would you feel most comfortable?
PD - We talk about this all the time—in a cozy house, with a floor for each of us. We need lots of room and lots of blankets. My house is in Silver Lake area in LA, and it's cozy there for sure. There's a fab garden. We sit out on the porch and smoke cigarettes all day.
AH - Lies. We work all day. I smoke weed; they smoke cigarettes. 
PD - But it's like a really beautiful garden, and we just hang out on the porch and find our creative juices flowing all the time.
My vision for No Sesso is world domination.
Do you have any guilty pleasures?
PD - I'm a granny right now. I'm watching American Horror Story. I love when people can have the styling and set design actually fit the era.
AH - Getting high in bed and watching TV.
PD - Right now, I'm on a little break from fashion. My break is like a couple of weeks, a vacation before I start the next collection. Then we start getting things in rotation. Fall/winter collections are a little bit more luxe for us. This collection was more luxe in the sense that we used really nice silks, and I dyed all of the silks from that collection.
Every piece is a labor of love?
PD - Yeah. We embroider pieces together, but it's at least a hundred hours. It's crazy.
You've talked about embroidery and sewing as kind of meditative and peaceful, but on the flipside—what gets you going?
PD - Gets me going? Night life. We throw fab parties. New York, LA. We've DJ'd in Tokyo, Mexico City. Night life gets me going a lot. I love night life; I love the beats; I love to see people dressed in fab garments and people just letting it all out and doing what they want to do.
You guys just had a show, I'd Rather Rescue Myself. Where does the name come from?
PD - Well, the name is a play on a Cheetah Girls song, "Cinderella," and then on top of that, it's just also our life in a way—having to always be there for others but also make sure you're there for yourself. And not depending on anyone in a sense as well. You have to rescue yourself in order for others to want to rescue you as well.
AH - I think it goes back to the optimist question, because sometimes we don't have help, so we have to make it happen. That's what we really mean by I'd Rather Rescue Myself. Yeah, of course we want help, and we accept as much as we can get. But sometimes it's not there, so we just have to do it ourselves.
What's your vision for No Sesso?
PD - My vision for No Sesso is world domination. We just want everyone to be able to access No Sesso. And we want it to be a platform for everyone to be able to see themselves and go to the next level.
For example with our models that we use. A lot of our models come from our same community, our friends and family. And we use that as a platform for them to get more work in a sense. We want people to be able to identify with their take on fashion and see themselves in fashion, because fashion can be very, like, mainstream and white.
More brands are using similar tactics right now as a strategy to get a wider audience, but it's more about a commercialization of the use of queer people and people of color.
PD - I think it's fake, because it's like a trend in a way. At the same time, I'm very happy that more brands are doing that, because it's important that people are seen. But I just want these brands to actually be doing it for a purpose and not for clout, and not to just take more money away from people.
Like, you're having a bunch of queer people in these campaigns, and you're a multimillion dollar company—let's talk about what you're giving back to these communities, other than taking their bodies for your pleasure. I want people to see themselves inside these garments, to see themselves wearing pieces but not struggling to get them. Because that's what society is saying that you have to do.
AH - On a positive note, it is great that like people of color, black artists, black creatives are finally getting a voice. Whether they're being used or not, they're still getting a check, and they're also getting the exposure they weren't getting before. Eventually, I hope that as it becomes more ubiquitous, it wouldn't be something that's a trend.
PD - It needs to be normalized.
AR - They should also know that it's so obvious, too. Even though they don't care, we kind of also just don't look. We're creating our own lanes, which means we kind of have to dismiss the fraudulent aspects of what they're doing and really push forward to project what we're about regardless of who's trying to do it for shits and giggles.
AH - Only we can do what we can do with ourselves. But we need the resources. So just give it to us—the power and the capital. That's what we want.