Pillow Talk with Gabriette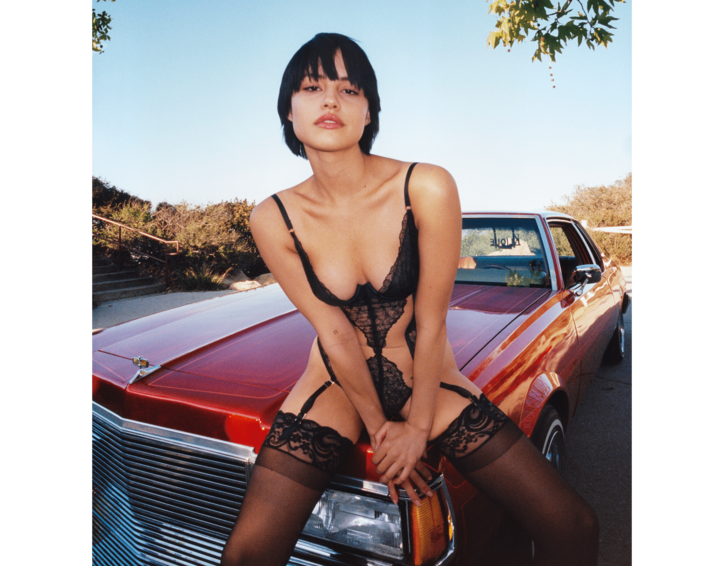 For many people the Savage x line means a lot in regards to empowerment, representation, and challenging beauty ideals. As a model for the line, what's it like being a part of that conversation?
I'm thankful that it IS a conversation…and that all types of beautiful creatures were able to participate in this campaign (being included and accepted. The images we are left with tell a story about women today and the women of our future... We aren't overly sexualized in our lingerie, rather owning our sexuality whatever that means to us. I love how it's a big Fuck You, like, this is all me all mine and I'll do what I want in or out of my lingerie.
You've said that you feel sexy when you look a bit 'masculine', what does masculinity and femininity mean to you?
I don't think that in order to feel sexy or confident, one has to identify with one or the other. We all have both masculinity and femininity qualities within us - no matter your gender or what you've been told. The older I've gotten the more comfortable I've become with not having to live up to this idea of femininity. I enjoy discovering different sides of myself.
How do you interact with those roles in your day to day life?
There are still total ideas of what each is and what makes up each role individually, like behavior, success, appearance, and it affects how we're treated daily. We're on the path towards a non-discriminatory, open, non-sexist world, where these roles aren't roles but qualities of any given human.
What's your go to lingerie choice?
Black panties, black bra. Or nothing at all...
How do you balance dancing, acting, and modelling? Do they intersect with one another or are they their own separate creative outlets? 
They intersect. I used to think modeling was really boring until I made it what I wanted it to be. From dance I developed a certain awareness of my body that I know I wouldn't have otherwise. It's made *posing* quite fun like improv. I take on each shoot as an opportunity to be someone else, develop my own stories and create worlds or make the director's vision come true. They are also completely separate outlets that I do apart from modeling, dancing really brings me home.
How was stripping down and modeling for Rihanna herself? 
Who wouldn't strip for her...
What do you think is the best part of the Savage x line, why? 
The representation of different kinds of women, the women themselves and their stories, the range of colors and sizes (hopefully more to come), how unique and free the images feel thanks to Tyrone Lebon and his team.
What do you do off set when you aren't working? 
Read, watch movies, re-watch movies, take dance classes here and there, work on a personal/photography projects, and try to quit smoking. Exciting stuff.