Reese LAFLARE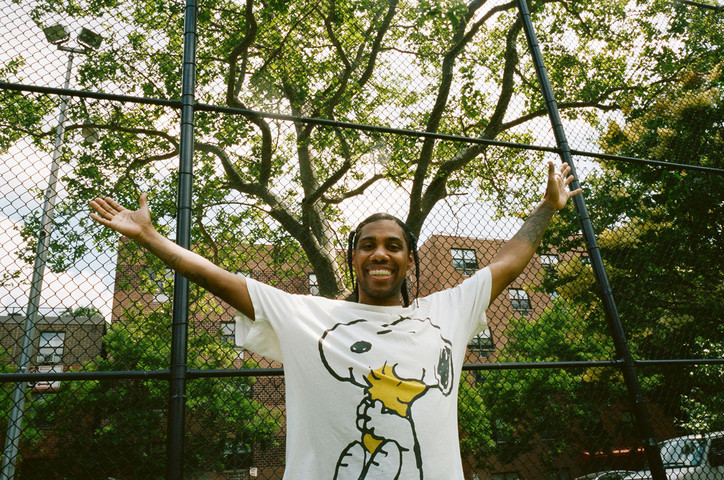 Off the record, we talked about velvet Fila tracksuits and repping brands important to our cities. On the record, you can read about the movie inspiration behind his last music video and his plans to tour his upcoming album across the globe.
Green pants by Balenciaga
I just wanted to start by asking you about your videos –"1UP" and "180secs" both have those video game visuals and seem to tie together lyrically, too. Was that an active choice to maintain the gamer aesthetic? 
It wasn't an active choice. "180secs" is funny because it's actually a diss song to another rapper. The whole concept of that video is just kind of like a fighting game, so those texts at the top were real shit he was texting me. And then the rest was just like on my whole Reese vs. the World shit, it was like Street Fighter. "1UP" was one of the first songs that me and Key recorded for our project, and I heard the coins in there and I was like, "What up! Video games!" But they have nothing to do with each other, no correlation. The video game aesthetic is just tight.
In your latest video, there's a trunk full of Supreme clothes – you're always dressed wavey on your Instagram and in videos. What influences your style?
Well, I've been skateboarding for 18 years, so I'm not a poser. A lot of trends come from skateboarding, so I always combined that with street fashion. My cousins and people I know were drug dealers, and they were fly people. And my mom and my aunt were pretty fly, so I take all that stuff and mix it with skateboarding and voila! The reason for the Supreme clothes in the trunk is – did you ever see that movie with Master P, I Got the Hook-Up? You've got to watch it, it's an old movie. They're at this street market and they had this van and they were selling everything out of it, so that's where that concept came from.
Can you tell me more about Been Had Boys and your collaboration with Key? How did that come about, and what's different from performing as yourself or as part of a pair?
So, me and Key were formerly in a rap group together called Two-9. Me, him, and this other kid named Curtis Williams, that was our crew in Atlanta. So, Key and I already have the history of making music together. Key made the beat for the very first song and music video that I ever put out that everybody fucked with. We already know how to work with each other, so it's pretty easy. Me performing by myself is great. And then Key is fucking goofy and shit so when we perform together the energy is just on twenty.
Denim shorts by Supreme; Full look by Gucci
What sets you apart from the other Atlanta rappers out there?
Just me being myself. In the case of old Atlanta rappers, they're all themselves. But the new shit is all washing machine versions of me and Key and all the rest of my friends. We've been there, we've done it already. I just try to push the envelope all the time. Whether it be sonically or visually or whatever, that's what sets me apart. I can be imitated, but you can't really be me. I evolve so you can't beat me, man.
Can you tell us about any big plans? Your EP came out recently - where and when can we watch you perform it?
Me and Key actually just had a show in Paris on the 22nd during Fashion Week at this crazy ass party that they're doing out there. I just dropped my album on June 21st called Reese vs. the Universe, and I'm going on tour in August for that. And I'm going on tour in Australia from June 27th to July 3rd in Sydney, Perth, and Melbourne, so if people are there, pull up.
Follow Reese LAFLARE here.