Resuscitating Deadstock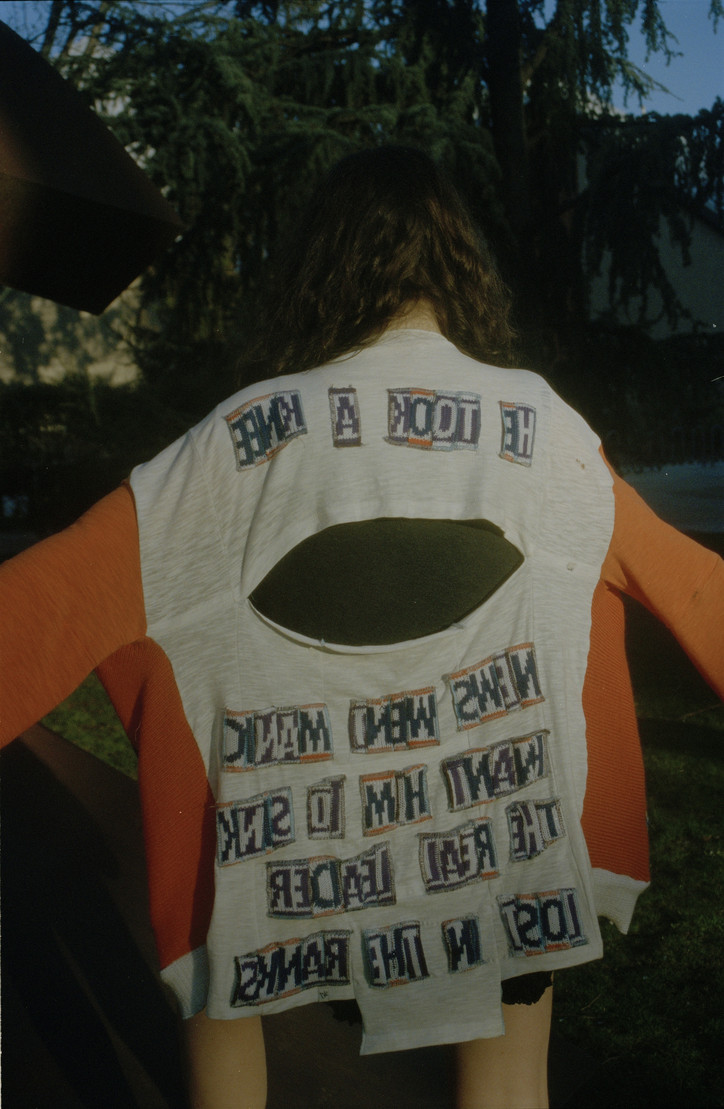 KT, 20
Massachusetts native KT uses design to counter set fashion styles. Her look (literally) reverses the boundaries of a co-ord, stuffing plastic pockets with the knit her piece was made from. A testimony to the standing up "or I guess sitting down" of Colin Kaepernick during the NFL's National Anthem in 2016.
Do you think less resources makes you more creative? By this I mean the challenge of working with dead stock?
Yes, I mean it forces you to be creative. I was the only person who got a bag of only beanies. So everyone was kind of like jealous but I realized, slowly, that because I was limited perchance, that I could explore more than they could. Because I think limits are what push people to break rules. 
What's the inspiration behind this look?
MoMA's Items exhibit. I was really moved by the fact the museum bought Colin Kaepernick's jersey from the 49'ers just for the exhibit, and because '47 represents teams like the 49'ers, I wanted my first look to speak for itself and for Kaepernick. The political turmoil in the sports industry that has risen as athletes speak out about racial equality is super interesting to me, so I saw it as an opportunity to use my freedom of speech through clothing like Kaepernick used his taking a knee during the national anthem in his last season with the 49'ers. 
Xiaowu Zheng, 19
Xiaowu left China to pursue "the gayest degree" he could think of in America. With his middle-finger out at convention, it's deconstruction he enjoys. And this gender fluid "dress coat" is the residue of hoodie fabric that's been stripped, bleached and then reconstructed.
What's the first thing you'll do if you win or the first thing you'll do if you lose tomorrow?
No matter if I win or lose, I'm just going to lay on my bed and order take-out, you know?
Do you design for anyone or anything?
I know we're doing this for a sportswear company but I'm like "mmmm, I'm doing it my way." See, there are lots of colors in the clothes they gave us and I want to make it look very pure and white-ish so I bleached the fabric and I like that very much. I love doing deconstruction work, I love the comparison of the classicism in fashion; high-class and low-class fashion, I like to mix them both and you know, I love seeing people in the street wearing boring patterns and boring clothes. I draw a lot of inspiration from everyday "boring" clothes. 
Hannah Thomas, 21
Hailing from Virginia, Hannah Thomas worked with '47 jerseys to create a look that channeled her colorful instincts and drag queen aestheticism.
Is there a moment, a person, a place, or a time when you first decided to get into fashion design?
It was after I had helped costume an event at my high school and it was one of the costuming moms who was like, "you're going into fashion right?" and it just kind of clicked in that moment and I was like "this could be a career." Before that point I was dead-set on being an engineer and playing viola, which was going to be my life.  But now I'm majoring at Pratt.  
Is your piece designed for a drag queen persona?
I don't see a big difference between drag and high fashion, both are extreme looks. Drag is something I want to start designing for though. I'd love to start designing for queens and I always think about movement in my pieces because drag queens have to perform.
Stefan Maier, 20
German born Stefan designs for his best friends, like KT. Using just jersey material, he drew inspiration from Marcel Duchamp's ready-mades and the concept of bringing dead stock back to life.
What are three personality traits you'd choose to describe your outfit?
Calm, outgoing and relaxed. Do these work? 
Will you be working with deadstock fabric again?
Definitely. You get to work with something that's premade, you're given an object and you make it something else. I think it's a really interesting way of thinking, taking a t-shirt and turning it into something that'll, later on, be a pant. I definitely think it'll be a thing of the future.
Find more information on Pratt Institute and the plethora of inspiring projects being pursued by the students, staff, and surrounding community on their show homepage.