Stretch Armstrong puts the FLY in FLYERS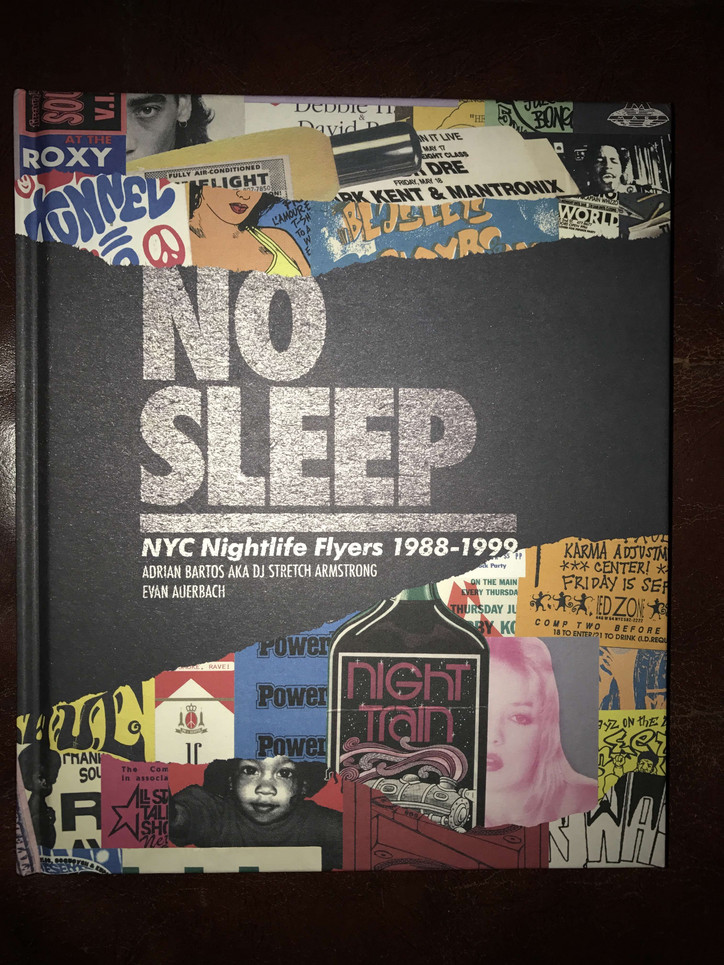 If you don't know Stretch Armstrong, you may want to check out the documentary Stretch and Bobbito: Radio That Changed Lives. You will, unquestionably, get some hip-hop knowledge.
Stretch's affinity for music has, more likely than not, influenced your favorite DJ's favorite DJ. The man is music history personified. Lucky for me, he's the big homie. So, when I found out that he published a book: No Sleep-NYC Nightlife Flyers 1988-1999, archiving New York nightlife through the visual artistry of party flyers, I was ready to be on the street team passing out…flyers!
Having been deemed a hoarder by my family and close associates, with no real way of proving otherwise, Stretch's book validates a like-minded notion: that one can turn detritus and collectables into art.  Do you hear that, Mom?!
Monday night, Stretch Armstrong (born Adrian Bartos) gracefully transformed the rather pretentious Ludlow House into a cozy, welcoming, real-music-playing nook, with the release of his new book. The 223 pages catalogue 11 years of NYC nightlife during an arresting period in expression and art, a time when things were both trendy and here-to-stay. My thoughts: this book has already got me emotional, and why wasn't I born earlier?
Some of Stretch's flyers were political. Most flyers, artistic; all captivating, well-thought out and special. Were the flyers, parties, and shows more grandiose back then? Or was I simply fed up with my generation for rarely pulling off super-fly dance parties? I tried to shelve my bias for bygone eras and talked to Stretch.
I asked him about his most memorable nights out. "As a DJ, seeing Clark Kent guest DJ at Mars at Trip on the second floor," he said. "Seeing Kid Capri rock the shit out of a building; being at Nell's in '88, '89; or just about any time Frankie [Inglese] was DJing. It was completely awe-inspiring, inspirational, and some of the best nights, I'd ever experienced in my life going out."
I concluded that the difference between now and then is the focus. Back then, the party revolved around the DJs. They were the source. Now, the party is dictated by who is going to be there.  And let's face it, most parties now are run by an AUX cord.
For me, if the music ain't hittin' at a party, I can't dance. If I can't dance, there's no point going. It's no wonder Stretch and I became friends at No. 8, his Wednesday residency: "Stretch and Friends." I would show up alone, prepared to dance. From then on, I would follow him and his tunes to SoHo Grand, Cielo, Santos Party House, Up & Down, Louie and Chan, Central Park, even the Museum of Natural History. 
The tangible card stock squares and rectangles led you to important details/information. Times were simple back then. You were either connected or not; no hiding behind the Internet. If you could finesse your way in, looked funky enough, or knew the DJ, you could have the time of your life.
Strech has had an unbelievable amount of longevity and relevancy. "As a kid I was so insane about music and didn't get any more pleasure out of anything than sharing music with other people," he said. "I've never been able to fake it. If I'm not feeling something I can't act like I am, and if I'm into something, I can't help but be really crazy about it. And that's extended into everything I've done, from doing a film with Bobbito, to this new book. [But] I still love DJing,"
I asked if he would consider DJing an office party. He said we could talk about it. 
Yes!
No Sleep-NYC Nightlife Flyers 1988-1999 can be bought online at Amazon and in stores at Opening Ceremony.