Sign up for our newsletter
Urs Fischer: Play
'Play' is open now, until October 13 at Gagosian Gallery in New York City.
Less is Bore!
In the middle of it all stands a blonde, native Texan woman with perfect pink lipstick, gazing, hand-on-chin, at the beautiful wreckage: the painter Rosson Crow, fresh from her studio in LA to New York's gallery space The Hole for a solo exhibit open November 21 to December 29.
I want to ask if there's something inherently Texan about your work, because of scale — that "everything's bigger in Texas" mentality. And also it seems like you work with the idea of myth, which is somehow inherent to Texas too. 
I think both—there is a go big or go home Texas attitude to these. And I think there's a brashness, there's brash color and almost a gaudiness. I don't want to say tacky, because I like this kind of stuff, but maybe some people consider an excess of neon colors tacky. You know, over the top. But I love that stuff.
Growing up in Dallas, I think that informed it. I think that my ideals of beauty and glamour are warped by a Dallas, Texas standard, which is just over the top in a lot of ways. 
So there's that, and then yeah, I think I'm very interested in myths. Especially myths about the American West, and that history, and cowboy culture, and all that stuff. I love it.
There's a lot to unpack there, which makes it such an object of interest. There's this double-edged sword to how glamorous the West is, and also how bad, problematic it is. Your paintings are also sort of dense and overwhelming, and I feel like that brings in the experience of living in New York and LA. 
They're definitely maximalist. They're just packed. I'm always like, I'm going to try to make a work that's more minimal, and I don't know, it just ends up like this.
Sometimes you want to scale down?
Sometimes, yeah, I don't know. It's really hard for me… [laughs].
Every piece is distinctly in your style, but each one is also distinct from the other. It makes me wonder what you have in mind when you start a piece. What are you trying to express when you start painting? 
Well, for this show I really wanted each painting to convey its own world in a different environment, but they all have a through-line of what they're about. In a way, I think about a show as a collection of short stories, and each painting is kind of a short story. But there's still a cool thread that ties them loosely together. 
This show is called "Trust Fall." It's about the dissolution of trust in society. How nothing can be trusted, it's so hard to have faith in anything, and institutions we believed in for so long are crumbling. What's real and what's not, and what's misinformation, and what's the truth.
So as I'm working on these paintings, as I start a body of work, I have little seeds of "ooh I want to make a show about this." I didn't have the whole thing totally planned out. But as I'm working and making things that tie into that, it becomes clear what the show is about. I wanted each to be a different kind of narrative but to have that underlying theme in different ways. 
Are you in a way asking a question when you're painting or answering a question, like showing someone an answer you've come to about how truth is a facade and how the world is ending?
I don't think I have any answers. For me, I'm interested in kind of creating an experience of an environment for a viewer to kind of enter and think about these things, because I don't ever want my work to be didactic in one way or the other.
I like things being more open. These paintings are political for me, but I think someone could come in here and be like, 'I don't know where she stands on certain things.' I don't know, I like that more than I like being like, fuck Trump.
It's much more open-ended.
Yeah. Because that's so obvious to me. It's like yeah, he's a piece of shit. But there are so many other things too.
We're edging into rightful cynicism here, but do you find yourself and your work optimistic? 
I think so. I mean I think that I enjoy the humor, and I find humor in the satirical. I don't know. I'm finding this period in American history very inspirational. I have so many painting ideas and creative ideas. So for me, there's just this never ending well of ridiculous stuff to draw from.
Like thank god, it's gives me this creative supply—
Yes, it's terrible, for, I don't know, the planet, but I'm finding inspiration in a lot of this stuff.
You've been described as an American History Painter, but we're talking more about the present now. How do you conceptualize how the past and the present are interacting?
I think that these paintings are definitely my most contemporary works about this moment, but they're also referencing historical elements, so a lot of the things in the paintings might be in the '60s or '70s, or the '80s of '90s, or different time periods, and kind of conflating time a little bit, but also making them about what's going on now. So it's more like these are history paintings about what's happening now.
How long does it take you to finish a piece?
About five weeks.
Ok, and how do you know when it's done?
I start making a collage, digitally and by hand, kind of cutting things out, pasting them and scanning, working on the computer. All these sources in the collage are from photos I've taken, photos from the internet, postcards, so there's just like tons of elements. That's how I construct them. Then I print out the collage and use photo transfer for elements of the painting, and then I use oil and enamel over the whole thing.
Because I start from a collage, I know what I want it to look like, even though things change in the process and that's fine—mistakes happen, and I like that in the painting. But I don't know, I just know when it's done. And then when I know that it's done, I never work on it again. Because I kind of work the oil wet into wet. Once it's dried I don't go back and retouch anything, ever. 
That must be nice to know you're totally done with it. Do you have a favorite piece?
I don't know. They're kind of like children, so it's hard to choose.
Is it hard seeing people work on them?
Kind of. I'm trying to be chill about it, but it's cool to see them being hung up. Like this one is a diptych, and I didn't have a wall big enough in my studio to work on them both together, so I've never seen them hung. I hope it looks good!
FRIEZ'ing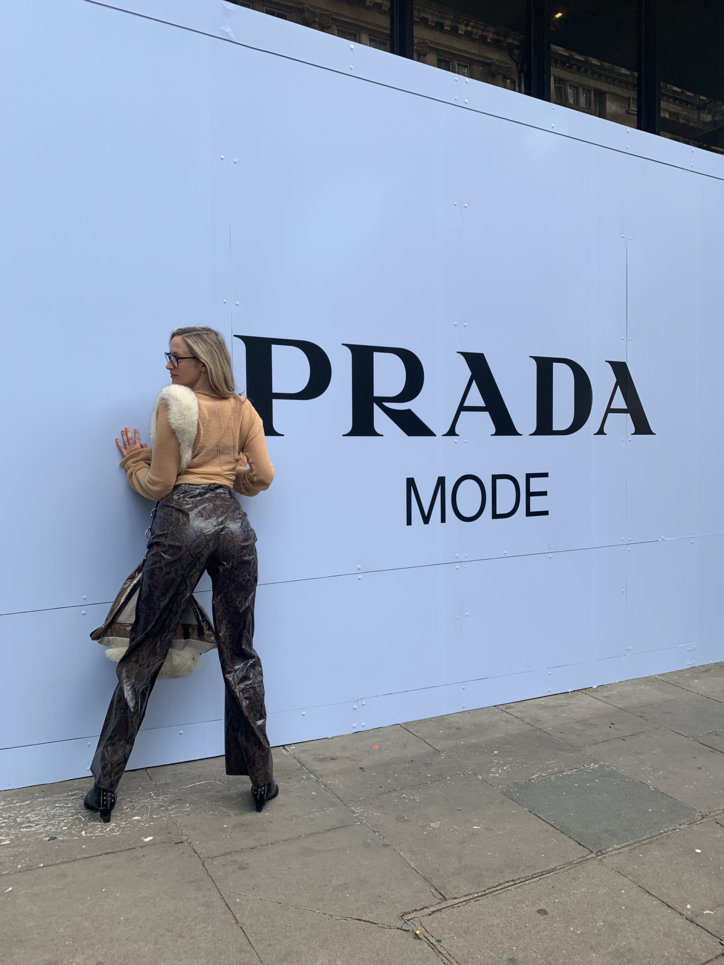 London truly capitalises on this cultural flux in the October calendar with satellite fairs, exhibitions, gallery vip brunches and fashion events, so we went deep into the friezing programme to gaige what London is thinking about beyond brexit and what stand point it was projecting to the multitude of global visitors that descend for this important week.
Here is a run down….
TRANSFORMER: A Rebirth of Wonder at 180 The Strand. December 8, 2019 Curated by Jefferson Hack, Transformer: A Rebirth of Wonder, features newly commissioned and debut works by: Doug Aitken, Sophia Al-Maria & Victoria Sin, Korakrit Arunanondchai, Donna Huanca, Juliana Huxtable, Evan Ifekoya, Dozie Kanu, Quentin Lacombe, Lawrence Lek, Jenn Nkiru, Chen Wei and Harley Weir & George Rouy. The title of the show is inspired by beat poet Lawrence Ferlinghetti's "I Am Waiting", which comments on the societal problems of contemporary America, and calls for a change of consciousness—the rebirth of a new wonder.
MATCHES - Fashion Show Symonds Pearmain's S/S '20 collection was showcased with longtime supporters Matches Fashion, who hosted them as part of Matches new partnership with Frieze London. Roksanda Ilinčić and filmmaker and activist Liz Goldwyn for a high tea and discussion on what it means to 'have it all'. Plus instal of The World Of Craig Green And Saelia Aparicio at 5 Carlos Place
PRADA MODE- Prada presents the third iteration of Prada Mode, a traveling social club with a focus on contemporary culture that provides members a unique art experience along with music, dining, and conversations. An installation by Theatre Gates at 180 The Stand featuring Collective Intimacy, a live programme in collaboration with The Vinyl Factory and The Showroom, London.  
CHISENHALE - Sidsel Meineche Hansen Welcome to End-Used City September 20 – December 8 2019. The exhibition brings together new and existing works to further explore Meineche Hansen's ongoing inquiry into virtual and robotic bodies and their relationship to human labor within the gaming, pornographic and tech-industries.
Here's the lowdown: with Frieze having over 35 countries participating it was set to be the most international Frieze London yet—it was like the galleries drove a mating call to the international dealers and collectors. Perhaps this flux of attendees from overseas was due to the weak pound. What is a better time to arrive than when Britain's back is broken by that devil that is Brexit?
The sales came fast on the first day and it was predominantly painting. Hauser & Wirth sold paintings by Mark Bradford, Cy Twombly, and Philip Guston, racking in a casual $14 million. The turner prize nominated artist Oscar Murillo sold for $400,000 at David Zwirner. Kerry James Marshall (Car Girl 2, 2019) sold for $3.8 million, and a figurative Neo Rauch piece (Die Wandlung, 2019) sold for $1.5 million. At Carlos Ishikawa, the painter Issie Wood was tipped off as a one to watch.
The satellite fairs, events and various fashion activationed also celebrated the influx of visitors. Between the action around London, backed with hard sales as proof, it seems as though Frieze London was not frozen out of the market afterall, but instead was celebrated in full regalia though art, fashion and culture.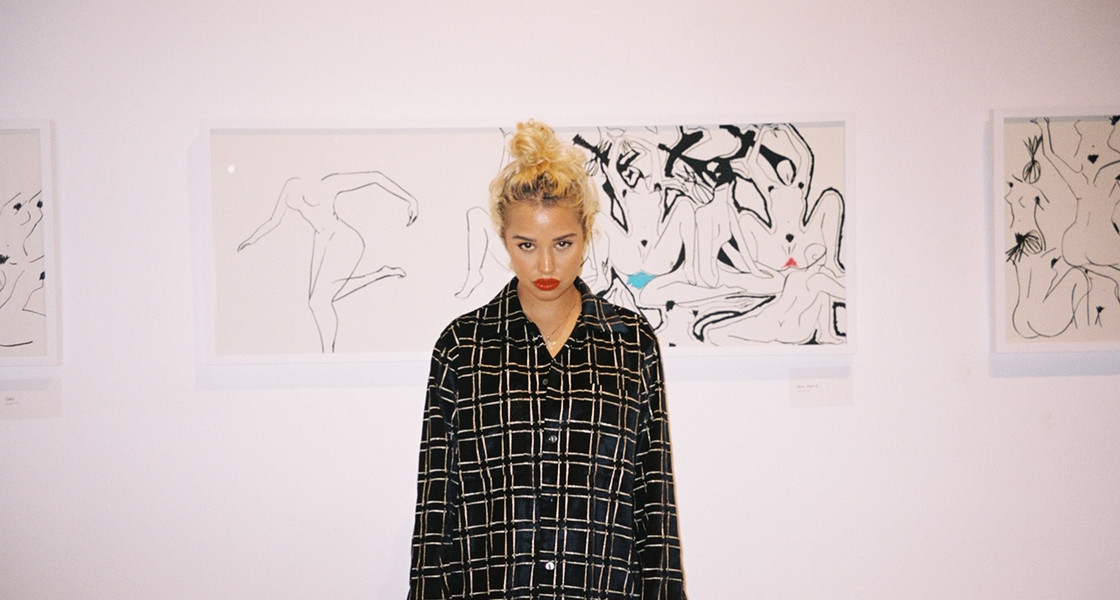 I Could Be Your Underworld
And for her first time showing them, she hosted a Q&A, and a very sweet one at that. It felt like a round table of family members, personal, jovial, and I felt especially included, even as an observer. After, we huddled in an alleyway behind the space and spoke for a moment. She was open, and sensitive—as one might be on reading someone their diary. In our discussion, below, I learned much about Tommy Genesis—and I believe that by simply seeing her sketches, you might too.
How do you feel now [that your show is up there]?
I feel good. I was nervous because everyone was like, "Oh don't be nervous, you always perform, you always do shows," but this is the first time I've ever shown my art.
Do you feel like this is more vulnerable?
I just feel like it's brand new. A new experience. I mean, these are things I make anyways, for myself, and then suddenly having them in a public space outside of my apartment…
It seems personal.
It is very personal, it's like pretty much all just from my mind, not from looking at anything. Sitting down, drawing. I feel like I tend to draw the same thing over and over again, and it's very repetitive, but that's meditative. Its crazy because you could have an art show and put literally anything on the walls, in the space. When I went to art school I took sculpture and film and I still use film a lot, but sculpture, not really… making drawings feels more natural.
Theres more freedom in it, it seems. How do you feel like it relates to your music, is it totally separate?
I think it;s something that I do for myself, that I do really privately. It really doesn't have to do with music, or anyone.
That's healthy.
It's basically my therapy. A meditation, what I do when I'm alone, and want to check out. It's not for sale because to me these are my kids, they're just for me. It's not that they're not good, I love them, but its hard to put them in a public space because they were never meant to be there.
You did have a lot of friends here supporting you.
Yeah. I didn't post it, I just sent invites to friends. But I'm glad you liked it. Art is so subjective sometimes. The aesthetic, and composition… but it feels really good.