Valeria from Russia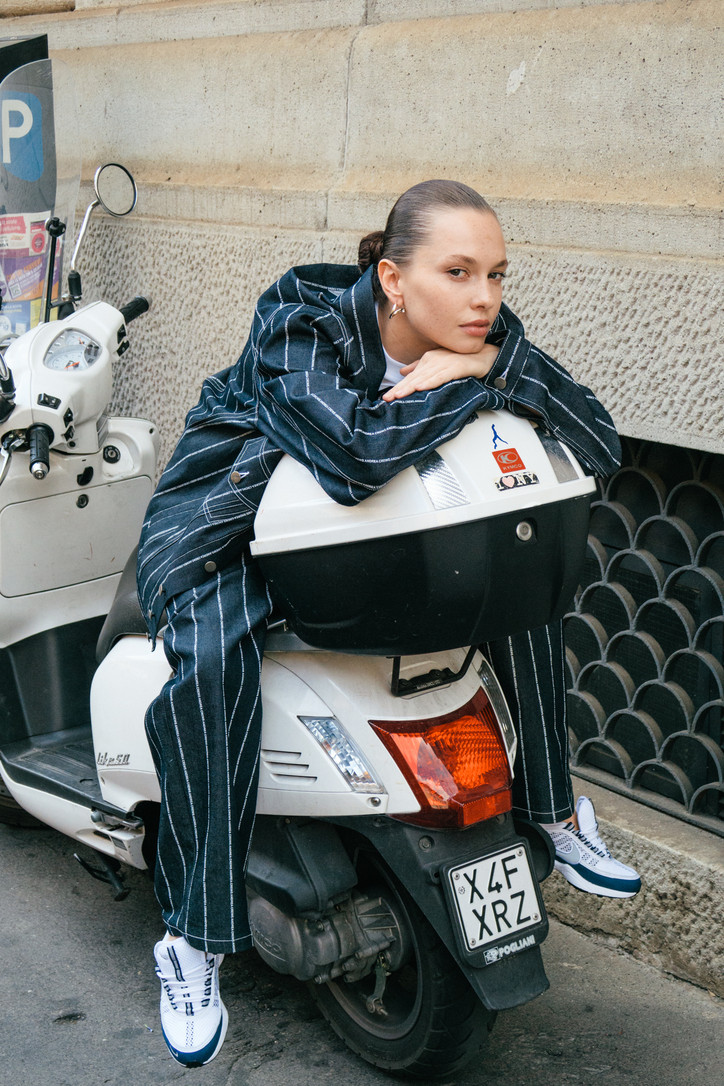 Tell me bit more about your background and how you ended up in Milan from Russia.
So I moved to Milan eight years ago when I was fifteen. I actually came here to study fashion; we, Russians, are fascinated with what Italy represent in terms of history and aesthetic and to us Milan is still the world's "Capital of Fashion".  I'm originally from Tomsk, Siberia, which is a pretty big city filled with history and tradition but still feels youthful and modern at the same time. I love my hometown but I've never really felt homesick because I immediately fell in love with Italian culture.
Is the attachment to brands and fashion something you developed while in Russia or did you bring that here? How has Milan shaped your vision and direction?
When I first moved to Italy I was into "Russian Glam" which are tight silhouettes and hi-heels shoes. After my degree I started to be more open and dive into different styles. Milano definitely shaped my vision and definitely has played an important role in my work as a stylist.
When we met in Milano at your place I remember exchanging a few words about the so called "Post Russian" aesthetic, which to be honest is something I was already familiar with, since it was sort of a uniform for the first wave of immigrants from North Africa in Italy in the early 90's.
I'm proud and surprised at the same time that the Russian verve has such a momentum now. That the Tracksuit uniform from the Russian stray kids is now in the Dior shows! Gosha has definitely sparked this trend that to me was a sort of turning point for style in fashion. I would've never imagined that the style of those bad boys from the 90's would have such attention now. I just remember how much people used to judge those kids back in Russia.
As a photographer I'm slightly overwhelmed by today massive consumption of images. I'm wandering how you're dealing with that?
It might be a generational thing but I fully embrace social media and the web, it's my primary source of promotion. I can just reflect my whole aesthetic on it also, social media also doesn't have geographical barriers and it's refreshing to know that people overseas in the US or even in Russia can see my work instantly.
Tell me more about your passion for painting! I've seen a few of pieces on your clothes at your home in Milan.
I've had this sort of obsession with Van Gogh and it might sound trivial but I was always painting his work at young age, copying his paintings over and over. While in Russia I used to attend these painting classes where this artist would help you sort out your own style. It was magical era for me in terms of discovering my creativity! Pushed by these new tools and the desire or expanding those skills, I told her about the idea I had to paint Van Gogh's style on my sneakers. She wasn't too into it but I still insisted. I actually paint on clothes exclusively at this point with oil-based pigments like Van Gogh!
What is one thing that you still really don't understand about Italian culture and one that you embrace fully?
I still really don't get the Italian pace. Its a really laid back way to live life, but its probably also what really captured me in the first place. Food, friendship, good wine, laughs, hectic talks, tons of caffeine!! There's a nice rhythm and I can manage time on that cadence. I couldn't think about any other place for me right now. Ciao!