Westerman's Confirmation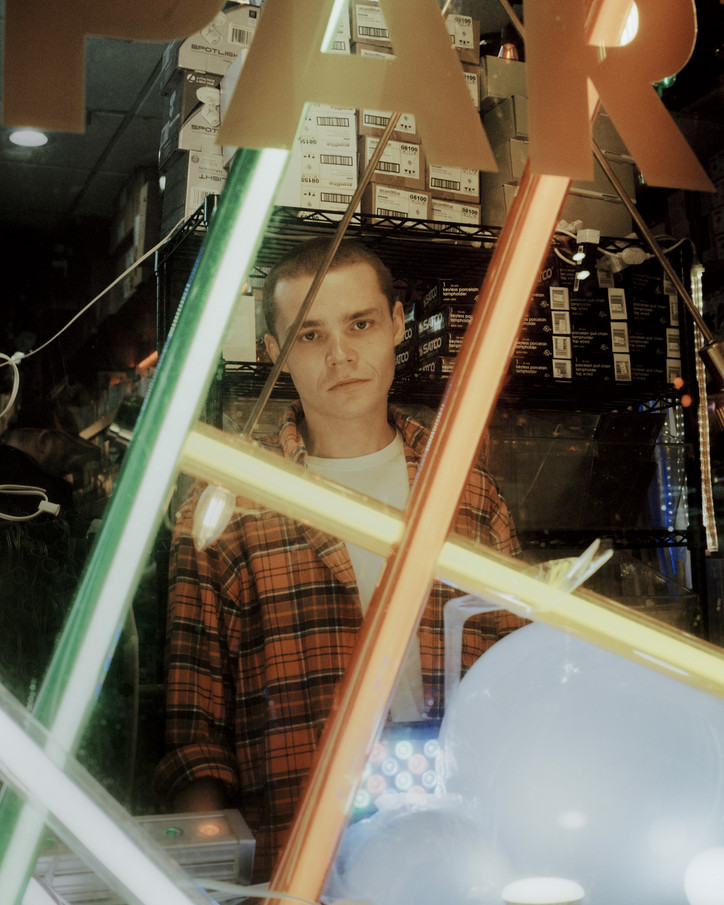 Together with his producer Bullion, the singer crafts darkly intellectual—even despite a recent ADHD diagnosis—yet saccharine singles that we can't get out of our head.
Last week, Westerman stopped by the office Newsstand ahead of his sold out New York show. We talked about Ark and the process of creating his new album, set to drop early next year.
How did you get into music?
I loved singing when I was a kid—I sang in a choir and stuff. Then, when I was 16, I got a guitar and just started teaching myself. I have always enjoyed making new things, so it came out of that really. But it's definitely been most seriously the last couple of years since I finished my degree in philosophy, and I have been doing music ever since.
Does your degree play a part in the creation of your lyrics?
Philosophy is an interesting subject because it doesn't necessarily lead into something, but it's a study of ideas. It's based on the fact that they are ideas in their own way. So, yes, I guess I think there's a lot of questions lyricly in my music, and maybe that's because I learned philosophy, but it's also just how my mind works.
Your musical career started with you being a folk artist. What made you move into the realm of electronic pop music?
It was more as a development—it wasn't a conscious decision. Before, when I was just playing on my own, it always led into a certain kind of framing. But when I started to record music, I started to see how I could arrange it more and think about different textures. Som, it has been a really natural progression.  
But do you think your background informed your sound at all?
I guess so, but I don't really know if I'm aware of a particular sound that I have. I just mix it up whenever I go to record new music and try to do what feels like the right thing at that point. And I always try be open minded about it.  
If you could, though, how would you describe your sound?
Melodic, maybe. I don't necessarily agree with this because you always seem to have a different impression of yourself than other people, but a lot of people seem to think that my music is kind of soft. Hopefully, they also think it's good.
What do you want your listeners to take away from you music?
I try to be quite honest with my music with the principles and my lyrics. I try to write from a genuine place, so I hope that there's some kind of empathy there. The music that I really like is the kind that strikes a human cord—where you feel like you understand what that person is feeling. I hope that's what people can get from my songs.
Tell me about your new EP, Ark. What's the story behind the album?
Well, I have been traveling a lot more this year, which obviously has been really good—it's nice and kind of a new thing, but I haven't had as much time to write as I am used to. So, I only had this little window to work and wrote all of the EP in just two days—there was no one in my house and I couldn't really sleep, so I had this intense creative window, and made it much faster than I normally would. But in terms of recording it and constructing it—I was always careful, but this time, I did a lot less edits and re-drafts. So, it was slightly looser. Basically, I had a bass player and a key player jamming the music for a day and just recording everything. Then, my producer picked out what he liked best. All-in-all, it had a lighter feel to it than a lot of the other stuff I have done this year.
You have a lot going on right now—you just released this EP and now, you're starting to get a lot more attention from the media. So, how do you deal with the expectations that are building up around your career?
I try not to think about it too much. I don't think it's healthy or helpful to pay too much attention to that kind of stuff—I'm just continuing doing what I'm doing. I mean, it's nice that people are taking more of an interest [in my music], but it doesn't change anything in the way that I am approaching my work.
You have your first big shows in the US this week—how do you think the crowd will be here?
I really don't know. I've actually only been to one gig in America, so I don't really know what the live culture is like here—I imagine that it'll be different, but I can't imagine how. Hopefully, it will be positive and exciting.
Do you have a ritual you always have to do before you go on stage?
Me and my keys player, Joe, tend to run around in circles chasing each other—it's good for getting rid of nervous energy. I also like vocal warm-ups and I always try to do some physical stuff before going on stage because I can get a itchy feeling. So, I try to get my body breathing and working.
If you had one wish from genie's lamp, what would you wish for?
A Green Card.
You're currently working on an album. What can we expect from it?
I haven't recorded it yet, but it's definitely coming out next year. I think that there's going to be more live elements on it—at least, more than the stuff that I have done in the last year. I'm not getting rid of the electronics, but I'm going to have some more players—like, really good instrumentalists—on the record, which will be really exciting for me. Other than that, hopefully it'll be a quite varied record—I don't want to do an album that's just pure straight up and down songs in the conventional sense. The EP that I've done has been a sort of a building block to what I hope the album will become.
'Ark' is out now.