Sign up for our newsletter
A.P.C. BAM BAM
Jaycina Almond Gets Tender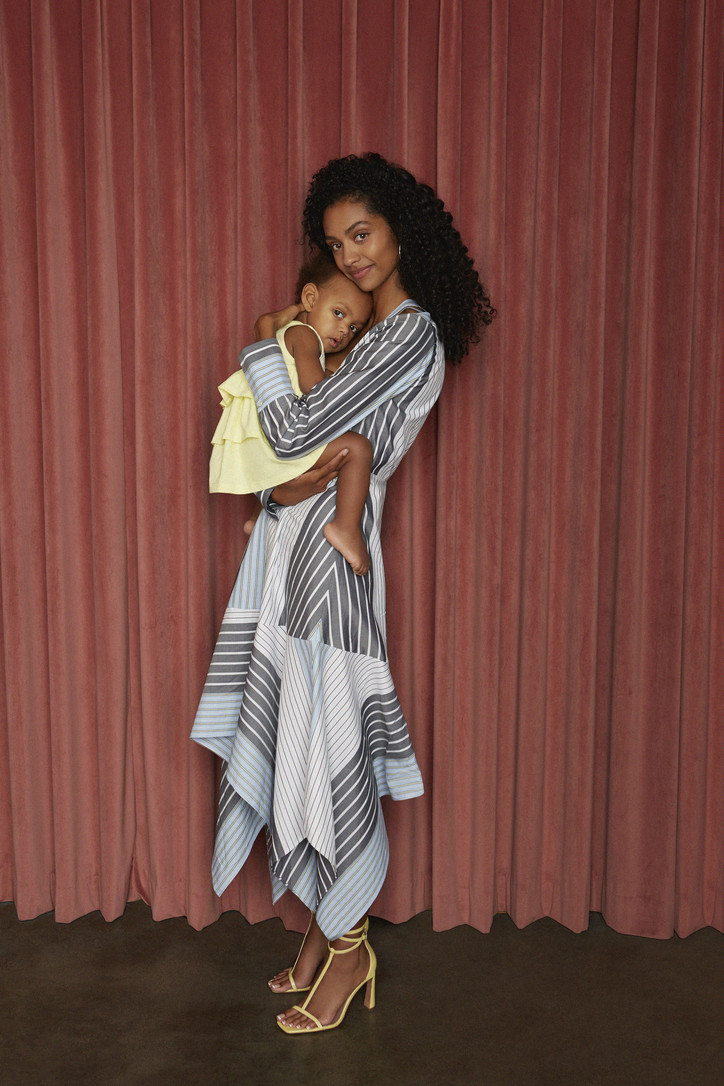 From mommy and me yoga classes to vegan bake sales, keeping mother stress free and healthy is the ultimate goal. Keep scrolling to learn about Tender's message, and all the ways we can support mama's near and far. Feel free to give a share a little of your heart (or your wallet, wink wink) to support their cause.
What is Tender? What pushed you into creating it?
Tender is a non-profit empowering mamas by making essentials accessible. Tender provides emergency bill-pay assistance, food, and necessities like diapers and wipes. We are committed to being a safe haven for the mamas in our city. 
How has your role as a mother shaped your perspective on life?
I think becoming a mom has made me more grounded––I understand what matters and what doesn't. Motherhood has also been super freeing. I don't worry about what other people think about me anymore, and I trust my instincts. 
You've been very open about the struggles that came with being raised by a single mother. How would a foundation like Tender have helped you, if it existed back then?
My mom was a young mom, and she had 2 or 3 jobs for a while during my childhood. And she eventually put herself through nursing school. She just graduated, recently actually, with her RN degree––I think something like Tender would have alleviated so much stress she has dealt with. It would have allowed her to be around more and spend more time with us and she would have been able to complete her schooling sooner––the list goes on and on.  
What have been some of the best responses to this foundation?
Hearing from our mamas, in their words, and what it means to them is always the best feedback. 
How can non-Georgia residents help out and support this foundation?
Somebody sharing and advocating within their network is always the easiest way to support! It's free and community is important to us. Folks can host a fundraiser on Facebook––another free and easy way to support! We also will be setting up a Patreon, so supporters can pledge an affordable amount, like $1, monthly!  
What do you feel most judged on as a mother? What are the most difficult aspects of being a mother and an advocate in a time where social is so prevalent?
I think people tend to judge mothers super harshly when it comes to sexuality and modesty, and it never makes sense to me because we know where babies come from! That's something I've definitely struggled with and felt judged on. Dealing with social media as a mom and an advocate can sometimes be suffocating. Everything is expected to be perfect and be aesthetically pleasing; it leaves no room for duality. 
What do you want your legacy to be?
I just want to be great––in everything I do. 
You've spoken on how you were fortunate enough to breastfeed your daughter for 21 months. Can you explain the importance and privilege that goes hand in hand with breastfeeding?
It's widely accepted in the maternal community that breastfeeding is the most optimal option, so aside from all the health reasons that makes it important, breastfeeding for black women is a form of resistance. For so long, black women weren't allowed to nurse their own children; they nursed somebody else's child. So I think breastfeeding for black women is so important just based on that alone. But what people don't realize is just how all encompassing breastfeeding is. Many working mothers in low-wage jobs go back to work sooner than their counterparts and are in jobs that make pumping and storing difficult, and some mamas may not even be aware of the benefits of breastfeeding. Low-income mamas, especially, do not have access to any lactation consultants or outside support for their breastfeeding journey. There are a lot of barriers to breastfeeding from socioeconomic status, education status, societal norms, etc. which is why I would never mention how long we nursed without mentioning the privilege that allowed it to happen. Ultimately, fed is best though––formula or breastfeeding. 
You're a full-time model. You're a full-time poet. And you're a full-time mother. How do you deal with the complexities of being a multidimensional person?
I don't really think of it as "dealing" sometimes I get stressed out and I'm like "just pick one thing and stick with it", but it's important that I honor all parts of me. Realizing I can do and be whatever I want to be. 
What is the most important thing your daughter has taught you thus far?
Don't pass judgement. It will be your kid screaming the next day. Or Syx's favorite––running around the playground barefoot as I cringe at all the possible germs. And don't sweat the small stuff! Life goes on and quickly. 
Learn more about the Tender Foundation here.
Patio Platter with Friends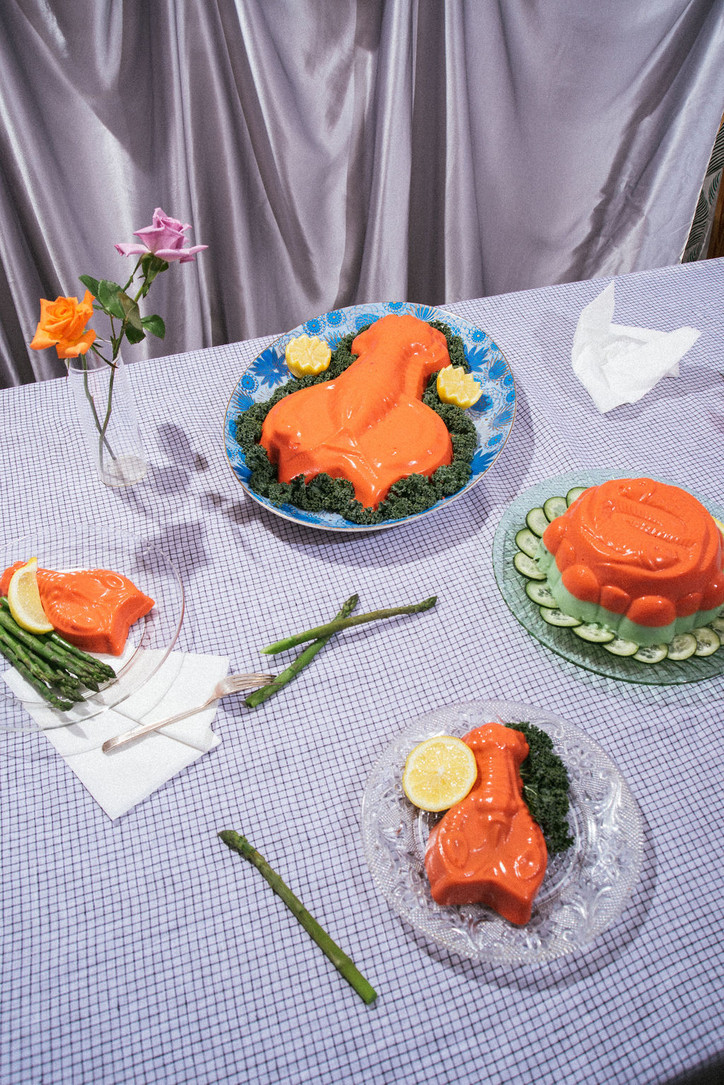 Truly, these decadent Jell-O molds would surely drive Marie Antoinette to envy. America's culinary history was bookmarked by industrialisation, and the mass production of non-perishables. The food industry's push for novelty resulted in humour, strangeness, and charm. Here, Marshall-Garrett masterfully allows us to look through the time glass—and the largely unassumed art of fashioning foods for filmic releases is a pure visual feast, but no easy feat—as the chef herself knows perhaps all too well.
We picked the chef's mind on everything from her shopping cart at the grocery store to a delightfully specific breakdown on Jell-O, so check out the interview below.
How long did it take you to prepare all the food for this series?
About three days, about a half day of shopping, and 2.5 solid days of cooking. The plating occurs on shoot day, so I guess actually four days.
What was on your grocery list when you went shopping for the materials to make the spread? 
Haha! SO MUCH CANNED FOOD. I won't bore you with a complete list, but the highlights include:
Cheez Whiz

Fruit cocktail

Maraschino cherries

Lil smokies

Jell-O Instant Vanilla Pudding

Frozen peas and carrots

Curly kale

Canned mandarins

Evaporated milk

Bologna

Canned pineapple

Various flavors of Jell-O 

And of course: mayonnaise
If we were to eat the lobster jello, what would it taste like?
Champagne Wishes and Caviar Dreams, of course. Obviously, I kid. In reality, any seafood mousse mold will taste like a blend of whipped dairy, the seafood you choose, and whatever herbs you include—in the case of seafood, it is usually flavored delicately. The real question is what does is feel like? And the answer is: cool, fluffy, kind of melt-in-your-mouth, and depending on how emulsified, clarified, or strained the recipe demands, there may or may not be some texture. You can tell by the smooth versus rough appearance if there is a texture. Compare the lobster (smooth) to the Patio Platter mayo mold (rough), and you can see what I mean. Bet you didn't expect a dissertation on Jell-O molds, but as it turns out, this is my weird mission in life.  
How did you decide to pursue culinary artistry?
A feature film prop master and a dear friend, Jonathan R. Hodges, trained me. He is probably best known for his work in the movie Pulp Fiction—the most epic prop film of all time, and he has a storied career. He saw something in me, and he gave me my break. We worked on some hilarious and epic jobs together, including a McDonald's commercial called "Ronald Has a Bad Hair Day," which you can totally find on YouTube and Jay Z's "Hard Knock Life" video.
I first got into the media business working with my high school BFF photographer and general badass boss lady, Danielle Levitt, who pushed me to style her early work in NYC in the '90s. Eventually I moved home to LA and met Jonathan. I also worked very closely with Stephen Stickler, a now deceased music photographer who was a dominant force in the '90s. Jonathan pulled me back to the film industry in 2014 when I food styled The Astronaut Wives Club. This is when the ham and gelatin Kraken was really released. I'd always been fascinated by period food, and I was given the opportunity to just go crazy. I made every single weird thing I could think of in those six months—except maybe a Patio Platter, as it turns out. This is really the job I cut my teeth on and is directly responsible for why I was able to pull off the Justin Bieber "Yummy" video recently. A truly epic quantity of gelatin and other fantastically weird foods were made for that video—hat tip to Maya Bookbinder and our assistants who I couldn't have done it without. 
What's it like seeing your work featured on such high-profile projects and knowing millions of people are seeing it as well?
I'm going to be real here and say: I LOVE IT. Seriously, the love of gelatin molds, foods made into towers, and Sputnik-shaped appetizer presentations are so close to my heart, and it gives me GREAT JOY to represent this odd slice of American history to other people. Plus it's really, strangely, what I am best at, and there is a pleasure to playing with all the cards in your deck.
What's a challenge people might not necessarily expect when it comes to preparing food for filming and photography purposes?
That is has to last! This is especially true in film and television. In a food styling environment such as a print shoot where the food is the main event, often the whole day is built around the food, and it's normal for the rest of the production to orbit around it. In the motion picture industry, surprisingly even in food advertising, where the whole reason we're there is to sell food, the food is only one aspect of a very expensive production. Generally speaking, the order of operations is prioritized around the talent and the location. So, no matter the circumstances, whatever you are bringing to set, you have to be able to get it ready in the blink of an eye, and then it may wait hours until it's filmed. Or it may be filmed over the course of several hours and under hot lights. So, the food really has to be sturdy. 
Also, the work environment is more often than not anything from decidedly unglamorous to utterly insane. Like doing all this in rough camping type environs. And there is almost never plumbing or a water source.
Do you or others eat your work afterwards?
Generally, no. Food safety is a major issue, and the food sits out. If it is being eaten for the scene or job, then you are cooking and preparing it fresh over and over. I always give away the properly stored unused food though, and depending on what it is, sometimes I take it home and eat it myself. Cookbook food stylists often eat their work! They're known to schedule the shoot around meal times—like we'll shoot this gallette or whatever close to lunch and then eat it after. I think overall, print allows this more easily than motion picture, and food storage determines a lot. 
If you could imagine any person in the world, real or fictional, sitting down and eating the food in the photos, who would it be and why?
I love the idea of people from other nations and/or times consuming these prototypical industrial food complex foods of the mid-20th century with the kind of nose-wrinkling disdain we historically applied to anything non eurocentric. It's hard to believe now that we as a nation disdained things like garlic, but we did—we associated it with immigrants and crime. So, I think it's only fair that this kind of "EW GROSS" thinking is applied to these super establishment foods now. This kind of food is the ultimate expression of leaning into the middle and exerting great effort to assimilate into the mainstream from the time in which it ruled.  
It's such an evocative food group. I think the only possible person it could look natural with is a fictionalized space alien or a 1960s idealized housewife, and both of these are tropes from the same era that produced this food, of course. 
For me, that's why it's so powerful. It has such a theatrical quality to it. And of course, it's very pretty and, for all its clean architecture, has real maximalist potential—which is why you see it cropping up in the media today. There's this high-low culture aesthetic built into it. You see this in the Bieber "Yummy" video, and the Gucci Resort collection film directed by Harmony Korine that came out last year. I mean, obviously I am here for it, this is my favorite topic and one I think quite deeply about. So I guess really, I can see anyone and everyone getting into a gelatin mold. 
Paint It Grey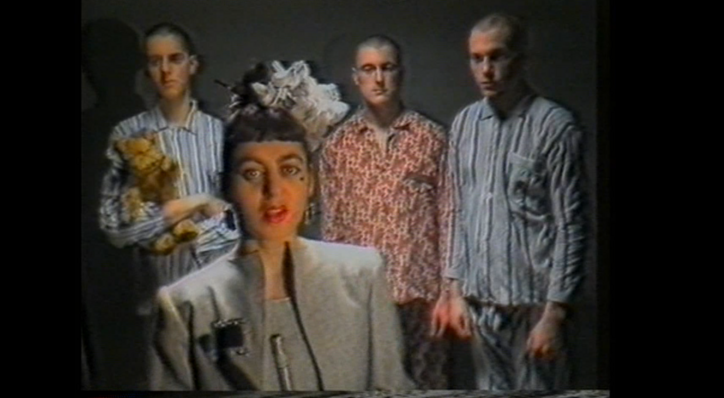 Now, with their film and video library being archived by Cultural Traffic on YouTube, office highlights some key works.
EXILE
An early entry, and perhaps the most outwardly odd, of the films listed here, Exile (1984) is a short, riddled with paradoxical images and sounds. In a haunting and somewhat maddening satire of the British elite, the GO is throwing a tea party. In proper GO fashion however, this particular party is special, because it's set against the brutalist backdrop of the Beckton Gasworks and includes a soundtrack of queasy pulsating drums, jumpin' Jackflash saxophones and a chorus of reverbed men's voices yipping, hollering, meowing like cats and quite literally yelling at you to, "Take it easy on the beach." 
"ATTACK ON CORK STREET"
As mentioned, the GO was known for great displays of protest through performance art, and an arguable apex of their early anti-establishment period is captured in the short film "Attack on Cork Street" (1985), which documents when, in 1985, the GO "livened up" some of London's most famous art galleries by dousing their facades in massive splatters of grey paint. The short is a crystallization of everything the GO was achieving at the time; combining film, image, voice and music as a vessel for razor sharp displays of rebellion and anarchy. 
SHOWREEL 
On the flip side of the coin, and at the opposite end of their career, is the catalogue of the GO's commercial music video and album design work. The GO, whose name was made by mastering the art of telling the establishment to fuck off, was tapped to work on videos in the late 80s for high-profile clients like De La Soul (the GO shot and designed the iconic 6 Feet High and Risin' cover), Grace Jones, and even 80s Jagger—all of which is on display in their showreel (1988-1991). 
CORRIDOR 
While the GO gained popularity for collaborating with massive names in the music world, the collective did not become totally consumed by those more commercial opportunities. Corridor (1989) proves that the GO was still creating compelling, simply constructed, yet challenging films well into the late 80s. Corridor is one such example. Taking place in a (you guessed it!), members of the GO meander, lean against walls and are seen "endlessly waiting." Perhaps a comment on the increasing speed of consumerism and media consumption, perhaps a joke at the viewer's expense or perhaps simply a way to use some leftover film, whatever it may be, it is unsettling and effective in its agonizing simplicity. 
So, dive in. The entire archive is worth viewing and each piece further proves how far ahead of their time the GO was. Through a combination of combining video art and anti-establishment sentiment into a cultural machine, slyly winking from within the lines of said establishment, the GO proved the enduring power of film and video as both a marketing tool and an instrument for artistic expression.