Sign up for our newsletter
A.P.C. BAM BAM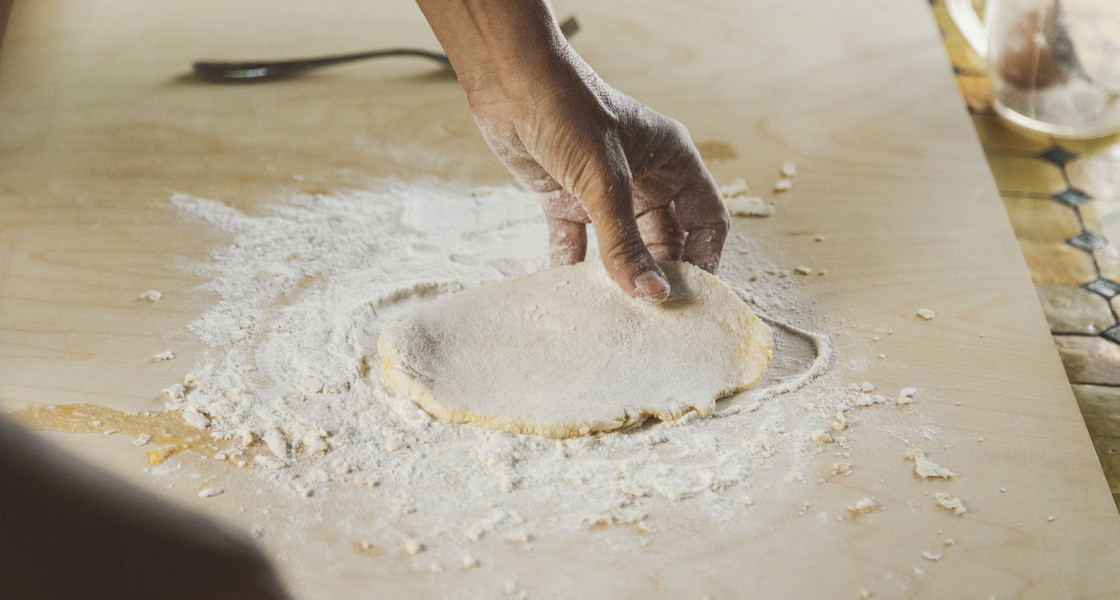 Of Human Design
This time it was a retreat in Tuscany, sent to me by a friend who knew I couldn't say no to a trip where I would "get grounded" at an Italian villa through yoga, Human Design and Touchpoint workshops, as well as Tuscan culinary adventures. Who can say no to mindful pasta consumption? I caved.
From as far back as I can recall, I've been preoccupied with one major train of thought when it comes to belief systems (and honestly, with most human interactions in general): why do people do what they do? What are they looking for and how will those answers solve any of their problems? It's a big question to contemplate, I know; but I find more solace in trying to figure people out than attempting to understand the afterlife. My ears perked at the retreat's mention of Human Design, a personality assessment tool supposedly founded on the principles of quantum entanglement and hard data. Was this the bridge between intuition and explanation I was looking for?
There has long been a misalignment between wellness culture and the scientific method. Muddled by​ ​celebrity endorsements, popular culture presents plenty of reasons to associate alternative spiritual philosophies with an inherent lack of credibility. Skepticism (​and pseudoscience​) aside, there must exist some inherent truth buried within observational "folk" systems like astrology, the I-Ching, and the Kabbalah, among many others; all systems developed to help our human brains navigate a chaotic world.
The quest to merge hard science and "New Age" philosophies in the study of consciousness is nothing new. Assigning meaning and understanding manifests in culture through religion, yoga, mysticism, science; our brains exist in a state of constant prediction, looking for patterns and anticipation in order to quell the anxiety of simply being alive in turbulent times. When it comes to investigating the deepest and most personal aspects of the unknown – ourselves – how do we reconcile centuries of intuition with the relatively new standard of precise science?
In the 1970s, reactionary movements railing against the political isolationism prominent during the Cold War era prompted sit-ins, teach-ins and love-ins. The reemergence of​ ​philosophical physics​ synchronized with the overarching radical atmosphere in the United States and abroad to provide the perfect cultural combination for psychic experiments, LSD trips, Eastern meditations and self-help workshops as ordinary citizens sought meaning in an increasingly hectic world. 
It was during this period in American history that a group of fringe physicists associated with the University of California, Berkeley known as the​ ​Fundamental Fysiks Group​ began experimenting with the concept of quantum entanglement in a grand quest to investigate the nature of non-duality. During what I like to consider the first and best corporate retreat, these physicists gathered at the Esalen Institute in Big Sur – a center founded by Michael Murphy in 1962 after a sixteen-month spiritual journey through remote ashrams in India – to discuss physics, meditation, and do "workshops" (read: psychedelics). While the Fundamental Fysiks Group didn't end up answering too many of their outstanding questions regarding the connection between Eastern mysticism and non-duality, the study of consciousness and search for meaning is still very much underway in contemporary culture.
In a much-needed respite and what would end up being my very own iteration of that not-entirely-fateful retreat at the Esalen Institute, I followed my intuition to Tuscany with a few goals in mind: firstly, to find out if the advertised Human Design workshop would bring me closer to alignment with the universe and my coded purpose in life, and secondly, to eat as much Italian food as humanly possible. An experience created and curated by ​contɘnt​, a female-founded brand consultancy based in Brooklyn, the Get Grounded retreat (as it was aptly named) was fundamentally designed to encapsulate the modern need to tune out and tune in. Recognizing the desire for life-changing wellness journeys, contɘnt co-founders Alison Belilty and Tori Lazar started Get Grounded as a venture towards transitioning wellness experiences away from the mainstream status quo of disconnected programming and into the realm of playful, introspective immersion. By millenials, for millenials – the Get Grounded retreat was about experience in the name of self-discovery; plus, it was all ​very​ chic.
Despite literally being picture perfect, this retreat wasn't necessarily Instagram fodder, though the rolling hills of Tuscany made the perfect backdrop for effective 'grams. Over the course of the carefully planned 7-day retreat, seekers enjoyed a schedule of yoga, meditation, three square vegetarian meals made with produce grown on the property at Maraviglia Conscious Living Center, and participated in hands-on activities ranging from pasta making workshops to a mind-off trip to local hot springs. Internationally recognized (and Brooklyn-based) workshop leaders Erin Claire Jones, Human Design Guide and Leadership Coach and Jared Matthew Weiss, founder of Touchpoint, a town-hall style conversation on sex and relationships were selected by contɘnt to fulfil the psychological and emotional aspect of the journey.
Much like Esalen Institute founder Michael Murphy, the concept for Maraviglia was conceived of during a period of spiritual journeying and discovery by Italian-American entrepreneur Francesco Piatilli. After 8 years of running his own branding agency in New York City, Piatilli, who was raised amongst the rolling hills and slow lifestyle of Tuscany, found that the balance he craved in his life wasn't achievable with a big city lifestyle. Finding new strength just below his apartment in the form of a tai-chi studio, Piatilli started on a path of spiritual exploration going as far as South America.
When Piatelli founded Maraviglia as a conscious living center, one thing was clear from the start: the people who were to gather there (namely international creative professionals) needed to stop everything in order to slow down and connect. "Conscious living has to be the base connector how guests interact amongst themselves and the environment," Piatilli says, reflecting on the disconnectedness city living justifies. "If you live in a big city... it creates a disconnect within yourself and with others. You have to make that disconnect otherwise you're going to go crazy."
For Piatilli, Tuscany and Maraviglia specifically is not just a beautifully-situated, internationally-aware location where professionals and spiritual seekers can come to slow down, it's home. Piatilli grew up within the walls of Maraviglia, playing amongst the property's some 100 olive trees; now, he has transformed his childhood home and created a space that is a magical spot for connections to flourish in a profound way. The roots here are deep. Piatilli muses, "a place like [Maraviglia], you can let go of your guard."
The connectedness of a natural lifestyle is abundant throughout the property, where Piatilli employs biodynamic farming methods to generate almost all the foods available for guests of the villa. There is an herb garden for both culinary and medicinal purposes (including one of the best bug bite balms I've ever used), bee hives, and, of course, olive trees, which have been on the property for about 400 years.
This type of slow, conscious living would be nothing without the subconscious. Retreat host Erin Claire Jones, Human Design coach, led workshops throughout the course of the week engaging attendees in meditative kundalini yoga sessions before detailing the particulars of their coded personality charts. This was the meat I was looking for: a deeper understanding of my predetermined Human Design "code".
According to Human Design's official website, ​The Jovian Archive​, Human Design was created in the 1980s, a time of extreme cultural decrepitude, manic capitalism, and a lot of stimulants. Founder and messenger Ra Uru Hu (né Alan [Robert] Krokower) from Montreal, Canada and departed in 1983 to travel and fatefully ended up in Ibiza. In January 1987 Ra Uru Hu experienced a mystical enlightening over the course of 8 days and nights, during which time he channeled the transmission of information that would become the Human Design System.
Here's where the quantum physics comes in: Human Design is fundamentally based on neutrinos. These energy particles carry "infinitesimally small" amounts of mass (information). The Jovian Archive states that "approximately 100 trillion neutrinos pass through your body every second." With 70% of neutrinos in our solar system being emitted from the sun, the remaining 30% are sourced from other celestial bodies (stars and, for some reason, the planet Jupitor). The Human Design chart purports to map the movement of these neutrino information beams, and each individual's chart (there are 2 billion combinations) captures imprints of neutrino-sourced information from two separate moments: about 88 days before birth, and at the time of birth.
On top of this neutrino framework lies several other charts for interpreting the energy imprints: a hexagram of 64 Gates, corresponding with the I'Ching as well as our 64 DNA codons, the Western Zodiac, 36 Kabbalah channels connecting the 9 Centers or "energy hubs". The resulting chart is a pyramidal structure called a ​BodyGraph​ that detail where we are defined and predictable, and where we are more receptive to outside influences and our environment – in essence, the code for our "design" and our "personality." Neither bad nor good, navigating the Body Graph requires the insight of a trained coach in order to interpret to its full potential.
Jones has been guiding clients through their personal charts since 2015. As we sat in the shalla, a structure on Maraviglia's property sacredly dedicated to yoga, meditation and learning, Erin and I reviewed my chart. Unlike other personality assessment methods, the BodyGraph reveals aspects of oneself that for once in my life were validated by an outside lense – aspects that weren't necessarily mystical, but intuitive and truthful. The system takes hyper-specific aspects of the personality: everything from how good you are at casual conversation to how you most successfully tend to make decisions (i.e. gut reactions vs. emotional processes).
Generally a self-aware person, none of the insights from my chart caused surprise or caught me off guard but our sessions did result in a more holistic, forgiving, and actionable attitude towards self-observation. For instance: my Throat Center, the energy center of communication, action, and attention seeking, is open or "undefined." Some of the observable traits of people with open Throat Centers are "not knowing when to stop talking" and "seeking attention" (though it should be noted that every energy center has a "shadow" and a "wisdom". The gift of gab and attention seeking might seem like shadows, but Jones clarified that the wisdoms to such traits mostly include being an extremely effective communicator). I have a lot to say always, so this came as no surprise to me.
Throughout the week at Maraviglia, I often found myself thinking of how the insights from Human Design were actually helping me be kinder to myself. During our trip to the hot springs, I sat under the steaming sulfuric waterfall and contemplated all the times my sacral gut response was dead on in recent business decisions. After rolling pasta dough during our ravioli-making workshop, a supercut of all the times I should have just kept my mouth shut scrolled through my brain. While taking my late-afternoon swim each day, I mulled over how I would lean in more to my profile (a 4/1, if anyone is interested) so that I can maximize my impact on this lifetime. I wondered if the physicists at Esalen felt this way; were they as satisfied with their scientific explorations as I was?
The thing that resonated with me most about diving into Human Design is that it didn't provide answers, predictions or excuses – just insight. At the beginning of the retreat, our group sat in the shalla under yoga blankets and set intentions for the week. To say I achieved my intention would be counter to its purpose, but rather I lived my intention: I received energy through the curated workshops and experiences, and empathically listened to my peers share stories and emotions (both painful and joyous) during Weiss's intimate Touchpoint sessions. It was a satisfying exploration of how reflection and growth can manifest among a group of strangers in a foreign country. If categorization is our brain's natural defense mechanism against an overabundance of chaotic data, paring down to a simpler, less overwhelming lifestyle with a prescribed chart of my own personality and "design" achieved, even if only temporarily, a state of calm and connectedness. Plus, being in Tuscany certainly helped.
Tatted Up
Catch the vibe from the photos and artist interviews below.
The Perfect Fit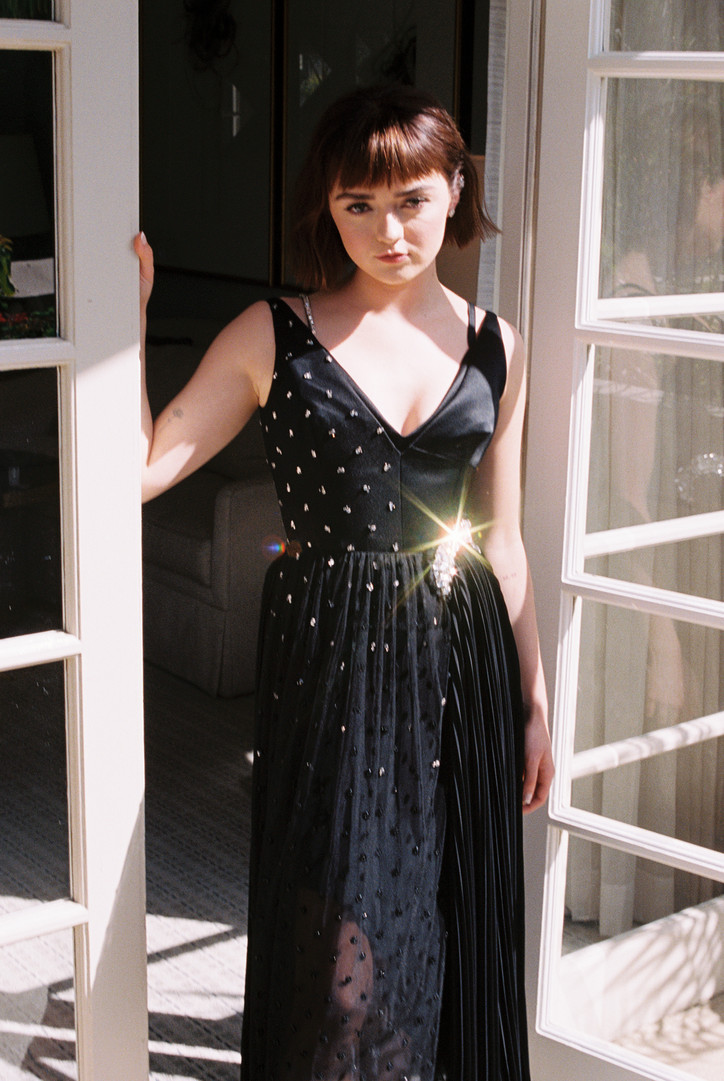 Initially imagined by Reuben Selby, the dress focuses on form, function, and flattery as it hugs Williams' five-foot figure. The intention of the dress, however, couldn't have been further from cosmetic. Selby notes that the garment's goal was, "to be effortless, but empowering at the same time."
There's no doubt that this dress has a mind of its own; and if it does, what might it say, you ask? Williams thinks something along the lines of, "keep snapping, bitch, I'm the nicest dress here—just look at my goddamn crystals," and honestly, we couldn't agree more.
First off, congratulations on your nomination, Maisie! Tell me a bit about how your relationship with Jonathan began.
Maisie Williams - We had already gotten to know Jonathan quite well from attending his shows and other various events⁠—one evening, at a meal we were all attending, the dress came up in conversation, and he offered to make it for us. Reuben must've drawn up around 30 sketches, so we picked our favorite ones and took them to JW Anderson. It just so happened that Jonathan preferred our favorite sketch too. Jonathan took Reuben's drawing and added the defining details of the dress. We had a lot of fun, and most importantly, I feel amazing in it.
Designing a dress for the Emmys is definitely unique—what inspired you to create a custom look for the occasion?
MW - I've always wanted the perfect custom red carpet dress—something that I feel really confident and comfortable in. I asked Reuben if he would design something with me in mind: my height, my shape, my likes and insecurities. Being five-feet tall, it is almost impossible to wear something straight off the hanger. Nothing ever fits perfectly, and it just doesn't feel right. When there are hundreds of cameras flashing in your face, you have to feel comfortable. Otherwise, you spend the whole night narrowly avoiding a panic attack. After making what I think is *the perfect dress*, I just don't know how I'll ever wear anything that isn't custom-made for my short ass ever again!
How did the design process begin?
Reuben Selby - The design process started with discussions between Maisie and I about how she wanted to feel. It was clear to me the most important thing was comfort—not just comfort in the way that we wanted the dress to fit like a glove. I'm referring to the comfort that comes with being confident in your own skin. The dress had to be effortless, but empowering at the same time. I wanted the finer details to be a statement of Maisie's character and uniqueness rather than trying to be a point of flattery. Every detail was crafted with Maisie's personality, likes and interests in mind. I wanted it to feel light, light in a way that would make it seem like nothing was there. My aim was to create something that removed the anxiety that comes from wearing a dress that isn't quite right by making it so beautiful and stunning that it takes away the need to feel any consciousness.
What was the most difficult element to agree upon?
The decision-making process was pretty seamless. We all had a particular vision in mind, so there wasn't anything that we clashed on.
Which aspects of the look are classical "Maisie", and which are classical "JW Anderson"?
The circular crystal detail is an element which can be seen in JW's most recent collection. The "Maisie" aspects would be the asymmetry and the mismatch of textures.
Favorite detail of the overall look?
MW - I love the mix of sheer and opaque. It makes the dress feel so effortless. Also, love the polka dot, it keeps it young.
RS - The aggregate. For me, it's about the balance of the details.
What makes this dress different than any other you've ever worn?
MW - I think the varied length is different from anything else I've worn. The dress still feels evening without being floor-length, which is really important for a shorter frame.
If this dress had a mind of its own, what would it say?
MW - My dress would say, "Keep snapping, bitch. I'm the nicest dress here⁠—just look at my goddamn crystals."