Balenciaga S/S '19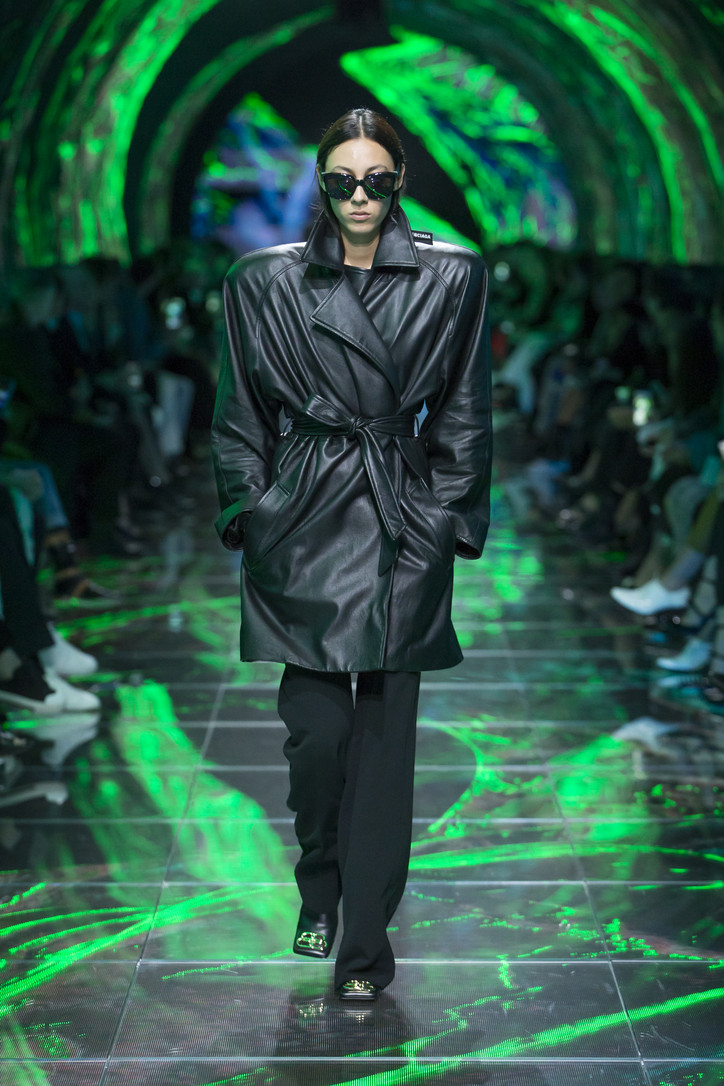 As he acknowledged in the post-show press release, Gvasalia approached the collection through five important categories: Smart Pattern, Shoulder Silhouette, Neo-Tailoring, Profile Silhouette and Easy-To-Wear Couture.
Smart Pattern was the ways in which he approached shape and construction this season, with an experiment that included high-tech 3D molding and "an extensive process of recasting tailoring and couture." Shoulder Silhouette, obviously, was executed through the exaggerated shoulders we saw on dresses, coats and skirts. Neo-Tailoring, though not a direct reference to The Matrix, was Gvasalia's vision of traditional tailoring transformed into "matching shirts and fluid trousers for all." Profile Silhouette, like the shoulders, showed Demna creating oversized shapes that jutted out from models' bodies at all angles, up-right collars, suspended dresses and a dramatic C-shape when seen from different angles. Lastly, the Easy-To-Wear Couture section, which seemed to encapsulate aspects of each of the individual approaches, was Gvasalia's take on wearable, yet avant-garde. For him, this meant: matching two piece suits and draped skirts in place of "vast volumes, elegant in movement." But wearability was definitely at the forefront of the collection, more so than other seasons, as Gvasalia continues to expand the brand.
Since taking over for Alexander Wang in 2016, Gvasalia has made Balenciaga fashion's biggest—and most talked about—brand. The fact that he's now catching up in terms of making the clothes more accessible off the runway, makes perfect sense. Though, don't get wearability confused with boring, or even any less experimental. The difference is, instead of following trends in order to make Balenciaga more commercial, Gvasalia starts new ones. This season, there's no doubt we'll be seeing exaggerated shoulders, printed shirts and velvet dresses everywhere, come Spring 2019.
See some highlights from the presentation, below.
Photos courtesy of the brand.