LVMH Prize Finalist - Marine Serre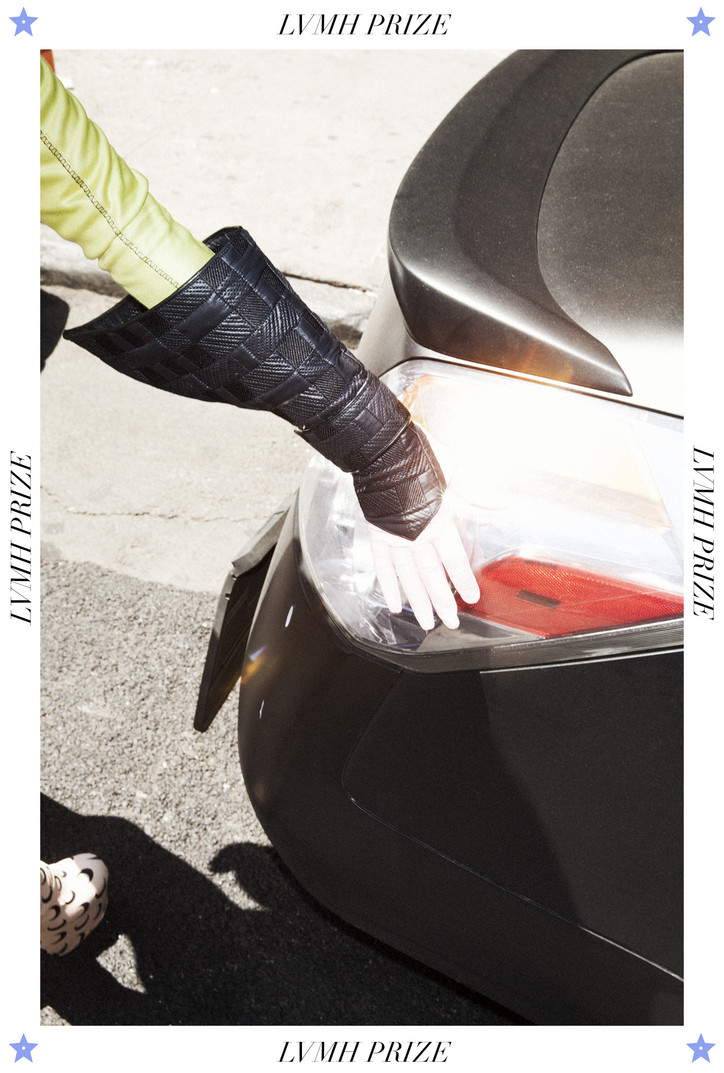 For the past few years, cultural appropriation has been at the center of a heated national conversation. And it's rare for those in fashion to be able to interpret a culture other than their own without making a crucial misstep, or failing to attribute proper credit to an originator—consider the uproar over the dreadlocks at Marc Jacobs' Spring/Summer 2017 show, or the recent Vogue editorial that featured the very white Karlie Kloss dressed as a geisha. But when respectful cultural exchange is done well, it can be both eye-opening and beautiful. Enter 25-year-old French fashion designer Marine Serre, a finalist for the LVMH Prize who made major waves with her Arab dress-inspired graduate collection, titled "Radical Call for Love."
"Radical Call for Love" brilliantly combines 19th century Arab garments with early 2000s-esque sportswear; Serre even incorporated the Islamic crescent moon as a Nike-esque logo. And it's easy to toss around words like innovative, but Serre truly has a transformative eye—none of her pieces conform to traditional ideas of what we think garments can be. She combines t-shirts and blouses and dresses and skirts and trousers into what she calls "hybrid pieces," making work that pushes boundaries both symbolically and metaphorically. In short: her stuff is really cool.
In addition to producing her own line, Serre currently works at Balenciaga under creative director Demna Gvasalia. She's clocked in internships at the likes of Alexander McQueen, Maison Martin Margiela, and the Raf Simons-helmed Dior. And her talent for sportswear didn't come out of nowhere-Serre grew up as a competitive tennis player. We caught up with her to talk about the big prize, how her big collection came to be, and avoiding the pitfalls of offensive fashion.
First of all, congratulations! How does it feel to be an LVMH finalist?
I don't know! Good, I guess! But really, it means a very great deal to me to find out that my work being recognized, acknowledged and supported by others. I hope it will take me to nice places [laughing].
Can you tell me a bit about the inspiration behind the "Radical Call for Love" collection?
Yes, as always, inspirations impose themselves – but in this case quite brutally, to be sure. The starting point were the attacks in Brussels and Paris last year. Both happened directly next to my door, the one during my internship at Dior, the other when I started at La Cambre back in Brussels. In the beginning, I remember, it was difficult for me to imagine how I could simply continue to work in what seemed, at first glance at least, a trivial domain like fashion. My way of dealing with this was, if a good designer is to be an ultra-sensible sponge of her environment, and perhaps transformer of it for the better, to dive precisely in this apparent controversy between traditional and pre-modern Arab references and modern sportswear – and from there everything else developed.
"Radical Call for Love" has been truly embraced by critics around the world, but when many other designers take inspiration from other cultures, they're often criticized. What do you think makes your collection different?
Well, yes. What you see a lot nowadays is people apparently feeling a loss of "identity," and then, by way of an answer, dive into one or the other traditional cultural past. This includes many designers: the terrible shorthand among fashionistas for this is "ethno" nowadays. What you also see of course is the other way around: trying to be radically modern by disconnecting from everything related to the past. What makes "Radical Call for Love" different, I think, is that it does neither.
It is not that I'm so smart. Rather, I'm radically naïve. While working, I am not thinking of any distinction between "modern" and "traditional." I simply like to connect really different elements from very different genres of garments with different references, try to have them communicate with each other somehow, composing them together into something new that works really well. For doing so, I do not depart from concepts or stories at all, but really from the garments: fabrics, techniques, tailoring, attitude, colors, and so on. The result should be a comfortable, [wearable] piece, not some concept. What appears, still often to my own excitement as well, are garments that do not fall into any current known category—such as dresses, aprons, t-shirts, trousers—but are really hybrid pieces, like "dress-t-shirt-apron-trousers," that have something very open, new, even futurist. Only then do the stories appear from them, and so ultimately, I don't think they celebrate some lost past culture at all, but rather a radically new one.
Could you tell me a bit about how "Radical Call for Love" took inspiration from sports logos?
Well, a celebrated director whose last name begins with the letter L once said that ideas are like fish that suddenly appear in the ocean. They are just there for us to note them down they arrive, and it's like money in the bank to do that very quickly when you see them. It went a bit like that with the moon logo. When I was trying to compose something with sportswear and 19th century Arab dress, the idea of a crescent-logo appeared. It seemed somehow very natural, as both crescent and sports logo have a lot in common. They are both symbols that tie a lot of people together in awe. On the other hand, they have been charged very differently of course, and therefore combining them seemed somehow exciting, but in a very good way. It got me quite thrilled and I then asked many different people to see if it had no bad effects on them, to friends with Muslim faiths or an Arab background, as well as to regular Europeans. They all responded enthusiastically, and I then decided that I should surely keep it.
I know you grew up playing tennis, and that was a big part of your life and career. How did you transition into fashion?
Well, perhaps that story has been exaggerated a bit! True, I did play tennis fanatically and a lot when I was young, but I never really planned a career! The closest I came to something like that was the pre-selection for Roland Garos , when I was about 15. I lost the crucial match though – and I was already fascinated by fashion at that time. I think it developed precisely because I grew up in this little hamlet in central France, very far removed from the city. When we would visit Paris or a museum, so normal to city people, this was hugely impressive to me. I was already a very sensible girl with a lot of imagination, and I then left my parents' house when I was 14, because I wanted to study arts, and the only lycée in my region that also had some visual arts courses on offer was far removed from where my parents still live. There I started to collect a really grotesque amount of vintage, and gradually my interest in fashion simply had to become more serious. It became only natural to enroll in a fashion undergraduate school, in Marseille, and I finally applied at La Cambre Mode(s) in Brussels a few years later.
Your fourth year collection was inspired by Flemish painting. Do you have any particular favorite Flemish works of art?
Yeah, the Primitives. For that collection, we went to the Musée des Beaux-Arts in Brussels a couple of times. We took a huge book from the museum, and I started to make a collage of all the dresses from the paintings in my atelier, and combine them with utilitarian fabrics and materials from daily life. My boyfriend really liked Hieronymous Bosch a lot, but that was fairly useless, as Bosch barely shows any garments. Some time later, there was an expo from Michael Borremans in Bozar in Brussels. We went there as well and I really recognized what I was doing. Also Borremans takes past references and confronts them to modern and contemporary life, not to bring back the past, but to work them together into something new that works really well. So he is probably my favorite Flemish painter now.
How are you producing your line now? Do you have a team?
The production I am now developing, for AW17, I arranged with a small but high-skilled atelier in Belgium with whom I worked together for developing my previous collections. They know all the pieces by heart, and it was a major moment: after I received all the orders, it was only when they confirmed they could handle the production numbers that I could confirm the retailers. And yes, a team is taking shape! My boyfriend helps me a lot. He is a PhD student and his core projects are very different than mine, but he is more or less free to organize his work as he wants. This meant, when the first orders came in, he could help me out with thinking out and scheming the supply and production lines, draw financial and many other schemes, plan shootings, or assist with interviews such as these. My sister Justine Serre studies accounting and looked for an internship this Summer—so that was an easy choice for us both! I am very happy to have her by my side now. Then I am attracting my first interns now. Altogether we will certainly manage for AW17! The first results now ready in Belgium are truly amazing, to be sure—and it is great to see my garments in these quantities for the first time. And then we are now starting to think how we're going to handle the next one. Certainly, many of my friends will remain involved. The ultra-sharp visual artist Tanguy Pujol, notably, his collaborator Axel Corban, and Juliet Merie from Marseille, who walked for me all these years—and just a week ago we tricked the Brussels' underground digital genius Leo Seyers into developing our online presence.
Is there a dream person you'd like to dress?
So this is a shout-out to M.I.A. to contact me over a MARINE SERRE x M.I.A. project! People have been telling me that I should try to work with her somehow and yes, we truly have a lot in common. It is still hard to get in touch with famous people like her though, especially as we have so far refrained from working with expensive press agencies. And then we just had a shoot with Isabelle Huppert! That was certainly a woman I was extremely proud to dress. We also had a request from the stylist of Kim Gordon some time ago, that we could not answer in time. That would have been absolutely great as well—still very sad about that one.
Read our conversation with fellow LVMH Prize Finalists Molly Goddard, Kozaburo Akasaka, AMBUSH, Jahnkoy, and Atlein.