Sign up for our newsletter
In Brad We Trust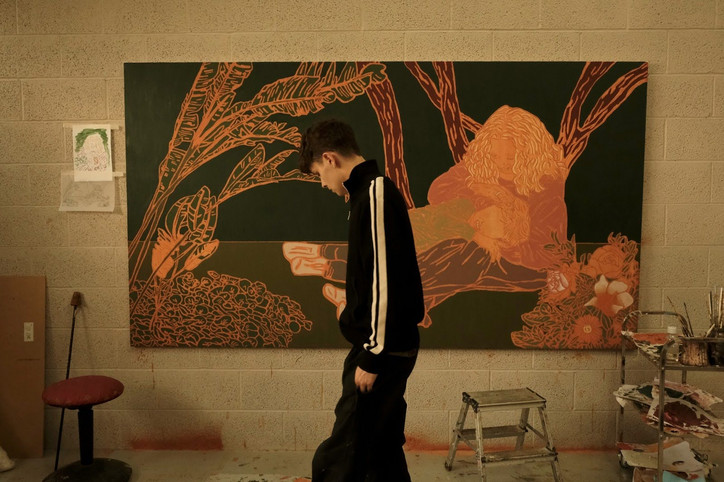 I Got Bourbon Faced On Sh*t Street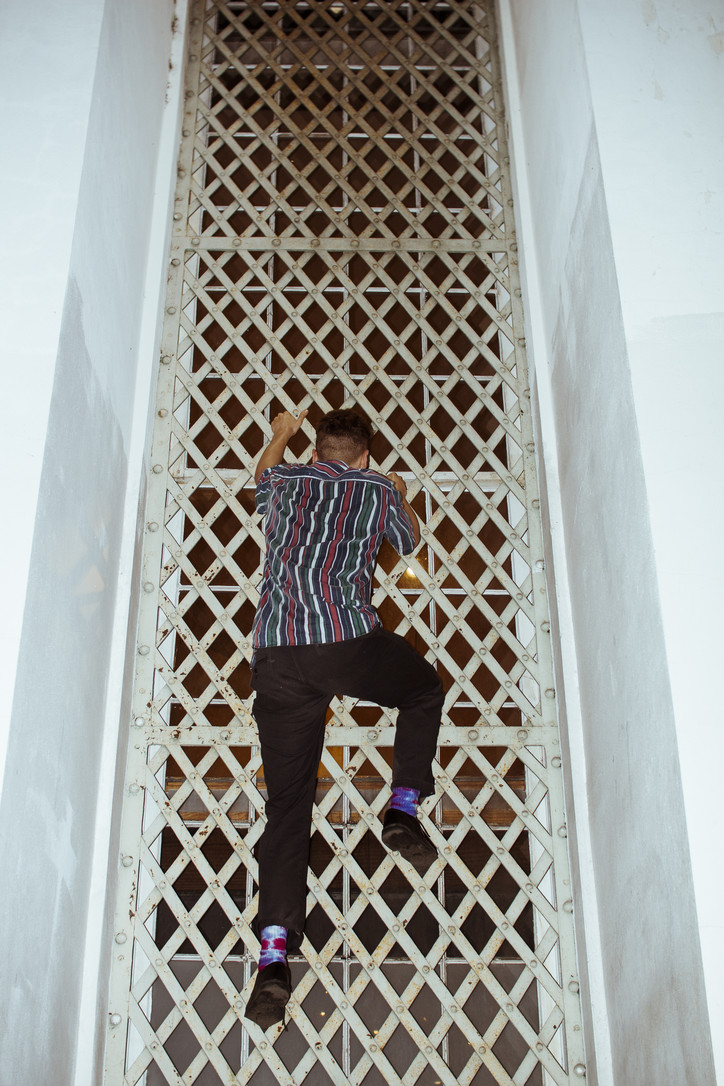 To catch a glimpse of the man behind the glitzy suit, read the interview below.
Obviously, the issue of ethics is a hard one to circumvent. It's not difficult to see how the very methodology of the project — broadcasting the personal confessions of intoxicated partiers for the amusement of others — beckons themes such as exploitation and manipulation to the forefront of our consciousness. For Callaghan and director and cameraman Michael Moises, however, the naysayers of QC couldn't be farther off-base.
As a dedicated student of journalism and the author of "All Gas No Brakes: a hitchhikers diary," a zine capturing the tales of the fringe characters he encountered during an impromptu cross-country road trip, Callaghan certainly doesn't prowl the French Quarter until 4 am for the clout, he does it because he wants to. "It's an honor to be able to document this frenzy of sex, liquor, garbage, and drugs," says Andrew, and thank God he does, because, from the flagrant to the downright freaky, this shit is too good to miss. In Vinum Verita isn't an ancient Latin proverb for nothing...
It's an honor to be able to document this frenzy of sex, liquor, garbage, and drugs.
Let's start with the basics.
I'm Andrew Callaghan and I'm from Seattle and Philadelphia, but I live in New Orleans. I'm 21 years old and I'm about to graduate from Loyola University with a degree in journalism. I'm the author of "All Gas No Breaks" and "Hitchhiker's Diary," and the anchor and co-producer of Quarter Confessions.
Nice, what compelled you to start Quarter Confessions?
Well I had worked on Bourbon Street as a host and a doorman. I was kind of in that depressing service industry grind, working with people who had been waiters for twenty-thirty years who just saw no exit strategy. I was surrounded by this depressing sort of tourist culture, and I would see all these hellish scenes walking around. People laying in their own vomit, people fighting, all sorts of crazy things, and I wanted to figure out how to document them in this smart, funny way. One day I just decided to quit my job at the restaurant and have fun out here, and it's an honor to be able to document this frenzy of sex, liquor, garbage, and drugs.
How would you explain what you're doing from a sociological standpoint?
I would say that it's a study of humanity at its most primal. This is kind of corny phrasing but I always thought of Bourbon Street as the last frontier of anarchy in the western world — it's this backward city of corrupt institutions, just a completely destroyed civilization. People come here from all across the world and they get possessed by this spirit. As soon as they wander into the French Quarter they just lose their inhibitions, and you're truly able to see what humans are like in their raw form, without the polishing of their mainstream lives. I think a lot of these people work their asses off all year at an insurance firm or something and get only like two weekends off, so they come to New Orleans and nearly drink themselves to death and release all the stress pent up inside. I think it's a beautiful moment.
Do you think that you would be able to recreate this content anywhere else?
I think that you can keep the format and change the setting. I can imagine us having some funny content in Vegas, Cancun, Panama City Beach, or South Beach, but there is definitely something unique about New Orleans. It's the diversity, it's the fusion of people, but it's also about the lack of money. The people who come to New Orleans don't have much money to spend. Drinks here are around five bucks, even at the most expensive tourist spot, the drinks are twelve dollars. If you go to Vegas or South Beach, you're getting taxed at the jump. I mean Vegas is like a money play — people aren't blacked out, they are somebody so they understand how their life can be affected by the shit that I document.
Interesting. Which fictional character do you think would be the most boring to interview?
Well, the most boring people to interview are the people who think they're some sort of shocking, fringe outlaw character when really they're just a normal person. So Holden Caulfield from Catcher in the Rye, someone who thinks that they're a rebel against the system. But you can't really shock me, I'm out here on Bourbon all day.
You've seen it all! Give me some backstory on your zines.
I was nineteen and I hated college, so after I took my last final I basically sprinted out of campus. I left everything in my dorm, all of my stuff — clothes, electronics — I just didn't even think about it, I kind of spazzed out. I hitchhiked across the country for seventy days alone without any plans where to stay or how to get food, it was sick. The experience definitely changed my life. I wrote the zine two years later, actually, and I had my homie illustrate it. I didn't go into it with the mindset, "I'm gonna document this, I'm gonna be the next Jack Kerouac road dog," I wasn't tryna be on that. The zine is a couple of my stories, but I wanted to take myself out of the focus, so it's mostly composed of stories that people shared with me along the way. Deadbeats, outlaws, runaways, all sorts of fringe characters who were kind enough to tell me their story and let me record it on my phone. So I transcribed those recordings, had my homie Dominic Frost illustrate, and I made a zine.
Do you think that we have certain obligations to uphold when telling the stories of others?
Yes, definitely. I'm in school for journalism right now and I think it's important to let people tell their own story, to remove yourself from it even if you disagree with what they're saying. I made the decision to focus on other people because I really don't think the world needs another On the Road, Into the Wild white boy-ass train-hopping book. Who wants to read that? I don't want to read that! I don't think anybody wants to read that! I dig that!
As a student of journalism, is there a something you were taught about the subject within an academic setting that you have respectfully unlearned out in the streets?
Well, in journalism school they teach you the conventional route. They want you to write for the school newspaper, to be this no-opinion arbiter of information, someone who just collects information like a White House correspondent and sends it out into the world, unfiltered. They teach you that you start at a tv station or a local newspaper and work your way up so that maybe, when you're 35 or 40, you land at the New York Times or as a White House correspondent if you're lucky. Me doing Quarter Confessions is the new media, and the media landscape is totally different from what I expected. The videos, for example, get more exposure than the New Orleans one-stop newspaper, we get more exposure than the top story of the day. I'm realizing that you don't need a sponsor, you can take complete control of your own media. I did a lot of formal journalistic work before this, I've covered very serious subjects like prison reform, gentrification, Katrina Recovery, stuff like that. And while I felt like these were rewarding experiences, I also felt like with serious straightforward journalistic reporting, there is always this undercurrent of boredom. I like video, I like bare news, I like things that don't necessarily follow the conventions of journalistic integrity. I like to make my own content, I think it's more rewarding and I think that people like it more because I don't follow someone else's program.
Have you ever had to cut any of your content because it was too out there?
Oh yeah, I'll tell you a few things we've had to cut. We had to cut this girl because she dropped her name, her college, and her sorority, then pointed to a dude saying, "I'm cheating on my boyfriend," then flashed the camera and said, "Fuck my boyfriend," and drops him by name. I put it online for like half and hour and then she had lawyers on us so we took it down.
Oh shit! Do you have a legal team?
No. Someone once confessed to having a sexual relationship with their dog.
Like, an ongoing sexual relationship?
Very ongoing. We had a dude confess to shooting a man to death for trying to molest his sister. We had a dude confess to stabbing a guy in a prison fight and paying off guards to get out of it, and he said what prison it was at. Just certain things that we have no reason to include.
Do you ever feel affected by the darker undercurrents of the content?
No, I guess because even before I was making this show, like when I was kickin' it or working on Bourbon, I was always around it. I'm pretty desensitized to everything to the point where it kind of surprises me that other people are shocked by it. I'm in the streets all day, so when people go, "What!" it reminds me of how normal everywhere else is.
That makes sense. That guy who kept sleeping with his cousin kinda did it for me. What's something invisible about QC that you wish everyone else was able to see?
So a lot of people accuse us of coercion, of taking advantage of drunk people. We actually don't put anyone who is visibly blacked out or stumbling on the show, we don't encourage anybody to flash the camera, we don't want any Girl's Gone Wild shit. I wish people could see how down the people on the show are to be on the show. That's one thing I wish the viewer could see, how enthusiastic they are. A lot of them are fans of the show and they want to be on for a reason. The people who try to come after me claiming I'm exploitative, it is what it is, it's not true. Mike and I are both empathetic and reasonable and we both have a good moral compass. It's pretty obvious when something isn't cool to put up. To me, that's not funny. I mean it would be shocking and it would go viral, but you don't achieve longevity by making viral stuff, you have to build an audience.
Where do you see Quarter Confessions going? I have no idea. We started four months ago and it's grown so fast, I don't know what to do next. I kind of want to change the platform a little bit, maybe do more stuff on Youtube because they don't censor as hard as Instagram does. I also want to do storylines and monologues and have recurring characters, to make it more of a satirical party show. A party reality TV show in which the people involved don't know that it's satirical and think it's just a regular party show like I'm Shmacked or one of those frat boy shows, but we're really just making fun of people who are partying hard.
Who or what were your biggest sources of influence, or your biggest reference points?
When I was a kid, I was always into underground 90s DVD's — stuff that you couldn't watch on TV. Old Jackass videos, Indecline, Bumfights, War4, all those old Handycam skateboarding and graffiti documentaries that you had to order on DVD. That's why we use the old camera and go for that vintage aesthetic, because, you know, cool kids love vintage aesthetics.
Naturally. Is there anything else you want to say before we wrap it up?
I just want to say that nothing would be possible without Mike, the director. I've got to give him some credit, he's the most down — he's been down since day one. We're out there shooting, just me and him, on Bourbon at three in the morning on a Friday night so we have to hold it down. He's a real one, and he's as dedicated to this project as I am, it's just people don't see him as much because he's behind the camera, but he's out here.
He's the unsung hero of Quarter Confessions.
Exactly, he never gets enough credit.
Bloodsport: My Life, You Heard?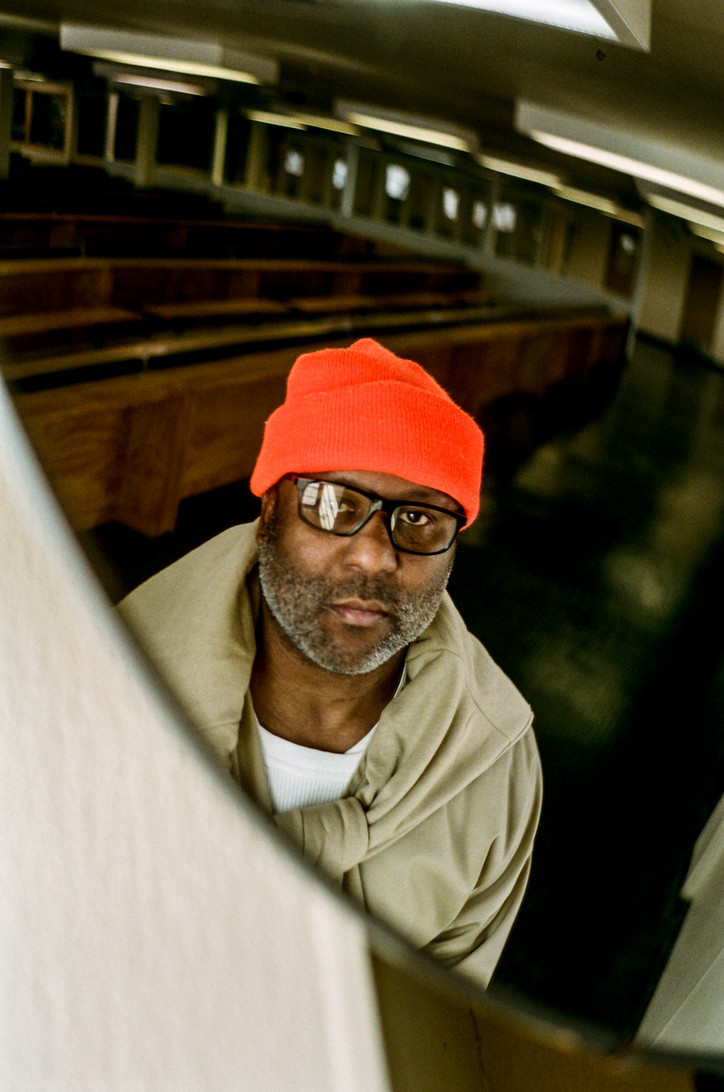 There is nothing more poignant than the death of a Rebecca and nothing less shocking than that of a Tyrell; if there is one thing we come to realize during our time on this earth, it's the fact that certain things are supposed to happen to certain people in certain places. We find solace in believing that the world is governed by some cosmic order that ensures that everything has a proper place: babies belong in cribs, humans in belong in homes, and animals belong in cages. We sleep soundly at night knowing that bad things only happen to bad people. It's only when when we open our eyes just a crack from that blissful slumber of self-imposed naivete that we start to see the cracks in this foundation, we start to question the virtue of the institutions we rest our beliefs on.
Meet Bloodsport. He was born in Crown Heights on June, 6th, 1974, and contrary to popular opinion, had more than a loving and supportive childhood. He attended private school, never went to sleep hungry, and always had clothing on his back and shoes on his feet. He is an accomplished musician, having rapped with industry titans, from Junior Reed to Wu Tang. He is an activist who has converted his first-hand experience of gang-culture into grassroots political organizations that lobby for unity and non-violence.  He is the author of My Life, You Heard, a memoir dropping with Dover Street Market  and Paradigm Publishing about his life and the experiences that have come to shape him. He is a prisoner at Rikers Island. But, as opposed to saying what he is, why don't I tell you what this isn't: Bloodsport isn't the martyr, I'm not a brave, and this article isn't an expose or some noble call to arms for the plight of the marginalized. Bloodsport has a story he wants to tell: his own. The least we can do is listen.
Tell me your name, a little bit about yourself, your age, where you're from?
Eric. Close to forty, from Brooklyn — Crown Heights Projects. Been living there all my life.
Can you tell me some of your earliest childhood memories?
Going to the park, going to the Jamaican Day parades, going to the beach, swimming.
Which beaches?
Coney Island, Manhattan Beach, Riis Beach, nice place. I love swimming. You know, some people go to the beach and just walk around. I go the beach, cold, rain, or after dinner, and I get in the water. I have to get in the water! I'm a water baby.
What's the most important thing pain has taught you?
Pain? It taught me a lot about how to deal with it, it's a thinking process. If you really start to think deep about the pain, that's when it really begins to hurt. Sometimes you have to fight it, and if you fight it and overcome it, you can deal with it. Mentally and physically. It's all a thought process.
You think pain is a thought process?
Yes. To me, yeah, not a medicine thing. The more you think you're sick, the more you're gonna be sick.
What do you think heaven looks like?
It could be peaceful or it could be chaotic, that's how I see it. I can't just go by what everyone else says, that it's so quiet, so joyous. Everybody fighting to get there but nobody knows where they're really going.
That's a really interesting concept. Do you think that people only do good things to get to heaven, not because they're actually good people? That there's no such thing as pure altruism?
Ninety-five percent of the time. In people's thought process, they're saying, "I have to do this 'cause I want to go to heaven." It's all just a thinking process.
You think a lot of things are purely mental.
Ninety-five percent. You have to think before you do.
[Heaven] could be peaceful or it could be chaotic. Everybody fighting to get there but nobody knows where they're really going.
What's the other 5%?
Stupidity. Stupidity is the other five percent. 
What do you consider stupid?
Stupid people just do--it could be anything. Touching a hot stove, crossing the street without looking both ways, drugs, crime. I'm not gonna say everything is stupid but that five percent is just chaotic, it ends up being stupidity. After we ask ourselves then why did we do it? And we might laugh at it, it might be silly be we laugh at it. Even jokes, pranks--we do a prank to somebody, somebody could really have a heart attack and die, but we doing it just to be stupid.
So obviously I read My Life Have You Heard. Is there something that you didn't put in the book, or something that I wouldn't necessarily gather just from reading it alone?
I went through all the periods of my life, but there's always something. I will say I'm tired of coming to jail, I'm really tired. I'm at the point in my life where I'm just tired. You getting ready to do all this stuff and then, out of nowhere, you end up in here. You cry, you think about it, that's what I think about every day. Just tired of this place, that's it. I said I was done and this was it before and I kept going, but this right here? It's too much. They took me away from my family, my friends, you know. I'm supposed to be out now, doing what I'm supposed to do. I'm almost there, I just have to deal with this little bit more of pain, mentally. I gotta keep writing, and thinking positive, and then get up out of here and do the right thing, and life will be better.
What do you mean by the right thing?
The right things, stay on the right page. Stuff that I'm doing right now I should've been doing already, I didn't have to come here to do it. But maybe I was placed here for a reason. Everybody stuck here for a reason. Finish my book, my web series, write the rest of the music, my album, step right out and straighten up the rest of my business, and then life will be good. But I'm making it, I'm not gonna let this place kill me. This place will kill you.
Do you think that some people belong here?
That's for God, I'll let God deal with that. I'm not the one to sit here and say certain people belong in jail. Certain things I might say is not good, but it's good to other people, so I'll let God deal with that one.
From your own experience, do you think that being here has led you to change your perspective, or opened you up to opportunities to grow in some ways? 
It's me doing it, I have to correct myself, you feel me? I have to go through a drug program to stop smoking weed. I'm supposed to be able to say in my head I want to stop smoking weed. This is a thought process, so soon I'll be able to do what I gotta do.
How do you pass the time every day?
I sit with a pad and a pen all day. I don't let people take me out my element. I won't let you speak to me, nothing. I'll speak to you for a second then continue doing what I'm doing, cause if it up to other people, I wouldn't be able to do nothing. They gonna take my dream away from me. At the end of the day, like nah, I'm not gonna let you do that. I believe I was put here for a reason. It took me a like whole year and a month to remember my numbers--I could write and remember a song and I couldn't remember them jail numbers.
What do you mean by jail numbers?
You have an ID number. I couldn't remember them numbers, and that showed me I didn't belong in here. For real. I didn't believe I belonged in jail at this time.
From what you've been saying, you obviously believe that either through God or not, most things are preordained, no?
Nah, I believe in God.
Do you believe that everyone has freedom of will, that things don't happen only because of the will of God? It's up to the individual?
It's up to the individual to a certain extent. Everybody is not just waking up every day, you have to believe in some type of religion. I believe in it. See, people think they can just be moving, getting away with doing what they doing, no. At a point, God will let you go through an experience, either it's the worst or the best. See, people got everything backwards. When you die, you're supposed to be happy, when a person is born, you're supposed to cry. A lot of people aren't into believing in that. When you come into this world, you're supposed to cry, a young child, and when someone passes they go into a better life, a life away from the chaotic.
You keep using the word chaotic, can you explain what you mean when you say that?
Chaotic, it's all types of different things. It doesn't matter where you live, there will always be something chaotic going on. You may not have to deal with it, but you gotta hear it, read about it, see it on TV — it's still around you, it still got something to do with you.
Do you think that people need to follow a religion in order to live a fulfilled life?
One hundred percent, some type of religion, some type.
So any type, honestly?
Yeah, as long as it's something that has to do with religion.
I guess my religion would be that I don't have one, I live by my own set of principles. Does that count?
Alright, but you'll find one one day. Maybe it's one that nobody knows about yet.
Ha, you think so? Maybe I'll make my own religion!
You're not gonna tell anybody, you keep it to yourself! That comes from meditating.
From meditating?
Yeah, you sit in your room and do your own religion, so you know what to stay away from and what not to do, you feel me? You guide yourself.
You mentioned earlier that God put you on this earth for a purpose. What do you think that is?
To help people, to guide people, to mentor people. Sometimes I might just sit and have a conversation with a person, and they'll walk away with something, there's always something. Whether it's two words and you take one piece of that word, or even just a letter — just some type of understanding of what I said.
Do you also see how religion can cause a lot of conflict?
I see it, I'm around it, but I don't involve myself in that. Everybody has their own beliefs.
If you really believe and have faith, what are you sitting there arguing with someone of a different religion for?
Absolutely.
Do you think that gang culture has religious undertones?
Fifty percent.
Explain.
Some people are a part of gangs because that's their family, they have no one else, they have no one else to look up to. It don't even have to be violent, you have good and you have bad. Everybody's always gonna hear about the bad part, but you have good parts too. People feed people, people cloth people, people teach people how to read, write, you know, like in here. I tell people, "Don't be ashamed if you don't know how to read or write, I'll help you, I'm not gonna look down at you." It's just so hard when it's a pride thing.
You are gang-affiliated and also in the music industry. In the mainstream media, a lot of people have taken bits and pieces of gang culture and woven it into other narratives, they've kind of objectified and eroticized it in a way. They take what they want out of it and they make money off of it. What are your thoughts on this mass glorification of gang culture, largely by people who don't even walk that walk, especially as someone who has a very genuine relationship with that lifestyle?
I just base it on the person, you feel me? It's up to you if you let people take you out of your zone. Like me, personally, I have people around me but no one's gonna run over me or get me to do anything that's out of order, anything that's gonna get me in trouble. That's what really happens — people look out for people, they overstep you, and then you're destroyed. There's never just one person, really, it's a person and the group. It is, it ends up being a group. I'm not gonna get into it, but a recent rapper just went through that, 6ix9ine or something like that? The group overrides you, you're done. But why would you want to deal with someone who overrides you anyway, when you're the bread and butter?
I guess you never know, though.
Well, you better find out! That's the end of that, 1, 2, 3. Outta here, up and gone. Now what? They say he corroborated or whatever, it's over. Where you gonna live, where you gonna rap at, what shows you gonna play at? Who's gonna hire you to do anything now? So you're finished, you're done, you're career is finished. That fast.
Is there anyone you have absolute trust in?
God. That's it.
Anyone besides God?
God. That's it, I can't say nothing else.
In your book, you mention that you have a son and a daughter. What do you think is the most important lesson that you can teach them?
Stay outta trouble, don't let nobody influence you to do anything you don't wanna do. Stay in school, do the right thing — I'm not just saying that just to say it, but that's what really counts at the end of the day. Anything else is different, but don't just be stuck in the square zone, you have to know how people move, wrong and right. I don't care how many songs you know on the radio, if you know how to do the newest dance. I don't wanna hear those songs, see those dances, I don't like them. I care about if they studying. Study.
Do you have any regrets?
Yeah, coming here.
The actions that led up to coming here, or just being here?
Past actions — nothing new — past actions. It's hard right now, just certain things. The law... let's just say the law. Certain things are not correct, but God helps me through it. He's coming through, it's gonna work out. Just got to stay away from different activities, and keep my mind in my music, don't mix anything. Nothing here mixes with my music.
Are you comfortable with me asking questions about your mother?
Yeah.
Ok. Well, it seems like after her passing, there was this definitive moment where you were like, "fuck the police."
Well yeah, man, after my mother got murdered I just kinda lost it. I'm not gonna say I didn't care, but I didn't start smoking crack or using drugs, or drinking alcohol, I just started doing certain things, and if I got locked up, I didn't care. I would think, "I'm gonna get out, I can deal with this." That's how I thought. It started getting crazy after she passed, 'cause I know if she was living, I wouldn't be acting like that, it just it wouldn't happen. She would say, "I bring you in this world I take you out." She had me scared not to do anything, she made sure I had everything. 
It seems like you internalized a lot of the pain. You never wanted to cry, or mourn in the traditional sense or anything.
Nah, she taught me not to cry.
Would you consider crying a weakness? That crying shows weakness?
That's what she taught me to believe, that crying is a weakness.
And you believe that through and through?
As I grew up, yeah. Crying is for suckers and punks. Right now, if I cry, it's 'cause I be like real mad, real mad to my limit. Somebody says "oh they got killed," or "oh they died," and I'll tell them it's gonna be alright, I'm telling you, it's gonna be alright. But I could say that, I have a reason. Other people don't have reasons, so they'll look at me crazy. I'll tell you what happens. See, yours passed away through cancer or something like that, this is the way mines did, look at me, I'm not--
Everyone's different, though!
No, I know that, but that's what I would tell them to try and bring them up, lift them up. Some people say I'm too harsh, but I don't feel like I'm harsh, I just feel like I have a better understanding of that kind of stuff. I hear people disrespecting their mothers and stuff--oh nah, nah, that's crazy, you only get one mother. I wish I had my mother right now.
Why didn't you want anyone to play music at the funeral?
Because that right there, that would be the sad part. There's something about that music, I don't know. Like right now, if they put that music on, I'll go crazy.
Any type of music?
No! Funeral music! There's something about that funeral music.
You don't like it, or it's hits somewhere deep deep down, takes you to a place you don't want to go?
Nah, it hits something, I don't know what it is...that funeral music.
Does it make you want to cry?
It'll force me to cry, but the way I was brought up, why am I crying?
Do you want your kids to also have that outlook, not to cry? What if you passed away?
Then I wouldn't want them to listen to that music either.
Would you want them to cry, though?
Nah, I wouldn't want them to cry because I'm gone, that's it, it's over. Have you ever been to a funeral and seen nobody cry? A drunken funeral? What's that? A drunken funeral is everybody drinking and there's a body up front. You ever seen one of those?
My uncle just passed of cancer over the summer and everyone got really drunk, but only after the ceremony.
I'm sorry. What I'm saying is people be drinking before the wake, and then they end the wake with a funeral, and you never see anybody crying. And then after it becomes like a party. Then you got them funerals where people come in crying, on the floor and going crazy, but the person in the casket is not gonna get up from the casket, so you're really just destroying yourself mentally by doing all that, 'cause that takes a lot to do that. People start doing that and they lose their mind, that's the end of them.
Giving in to the sadness?
Yeah, that's how I was brought up. A person could cry for a second but you can't keep going through that, because the person who you crying for wouldn't want you to be going through all that. They not suffering no more, especially people who passed with cancer. They in the hospital and it's so bad you go there every day and you look at this person and they can't do nothing, they can't even respond. You should just be happy that person doesn't have to go through no more pain.
Do you think that suffering is just a natural part of the human condition?
In some way, somehow, we have to suffer. It appears how it is.
Like, the degree of the suffering?
Yes. A child could suffer when he has to study. You teach the kid, alright, if you study you can go outside, so the kid gotta study now, not to suffer, because the suffering would be if he has to sit in the house and he can't go outside. You have to be able to move around the suffering, like what I was telling you, you have to be able to control the pain. It's a mental thing, everything is with the mental. See, some people in jail will sit there and smoke tea thinking they high — it's all a thought process.
I mean, do you think you've fully recovered from all the trauma in your life?
As far as my mother?
Yes.
Yeah, I'm over that, I'm passed that. My mom passed away, she got murdered, what am I supposed to do? Smoke crack and die? There's just a different way everybody deals with certain stuff.
When do you think violence is necessary, or under what circumstances would it be ok to commit a violent act against another person?
There are steps you can take. When you get mad about something, you can smoke a cigarette, take a walk and calm down. Your palms start getting all sweaty, you think, "Let me not think about this problem, let me walk away." You can get mad, but that's when you end up in jail. What you're taking in is what you're giving out, you feel me? So once you learn how to maneuver all that, you don't really get to the violence. Sometimes the anger is hard to control with the type stuff that goes on, the things you hear about. You ask yourself, why? Because people weren't taking those steps, that's why the violence happens. Violence is not necessary all the time, but it happens enough in this world. It's bad.
Do you consider yourself a violent person?
At one point in my life, yeah. Now? I'm over it. I ask God to forgive the person, or to help me out with a situation.
Do you think that God will always forgive you for your actions?
If you ask for forgiveness, yes.
So do you think that in some ways, you've used this belief in the past to justify doing bad things, if God will always forgive you regardless? That just seems like a slippery slope.
No, I wouldn't use God as an excuse. You do something, you think about it, you turn around, you close your eyes, you ask God for forgiveness, and you should be forgiven. 
You talk a lot about how things are mental, how things are within our control. What are your thoughts on mental illnesses? Do you think that they're just states of mind?
Me, sometimes, I go through a lot, it gets bad — depression, stress. Some people, stress will make them want to fight. Me? I'll eat, same thing as drugs. All that will kill you. People take drugs to relieve stress, I would eat to relieve stress; something will be on my mind, just go eat. Everybody has their own way of dealing with life. But mental illness is real bad, there are a lot of mentally ill people. Stress, bipolar, schizophrenia. You know, sometimes I be thinking people are after me, that they gonna do something to get me, that's a mental problem, I have mental problems. I'm tryna work to get over it.
You can get mad, but that's when you end up in jail.
Would you ever consider taking medication?
No, I was given medication, I take medication, it helps, it's a thought process, too — you take your medicine, and you just try to maneuver. But sometimes the medicine is not good for you, you sit down and speak to these people and they just give you anything. Test products, man, test products.
Like guinea pigs?
Yeah, like rats.
Do you think that some people are better than other people?
Some people think they are, for real, in all aspects. That's why, when you enter certain areas, you can't really express yourself or overcome certain things. They try to make sure there's a boundary, but there's always a way around that. It'll work out.
How do you feel about the current political climate, as someone who is physically removed from it, isolated from it, but simultaneously at the epicenter of it? A black man in prison...
As far as in this square? A lot of things could be better, much, much better, I'm telling you. See, they working on things in the street, they stopped a lot of things. The new thing with the body cameras and stuff like that, that helps a lot of situations. A lot of people should wear 'em, it would tell a different type of story. That's what we need to push for.
Do you think that you're here unfairly?
Unfairly? Yeah man, I could prove it too, it's crazy. Really. They have a law that you can't be produced in front of the grand jury with these clothes on [motioning to orange jumpsuit]. I went in front of the grand jury with these clothes and I got indicted for a crime, grand larceny. I brought it to my lawyer's attention, and I wrote to a person named Cory Johnson, and he wrote me back. He sent me the law that this wasn't supposed to happen. My family, my people, called Cory Johnson sixty-five, seventy times, and he won't help. All he has to do, even up to right now, is call the judge, the DA, and say that they violated my rights and work something out. Take my class E felony and drop it to an A misdemeanor, and I would come home. You know that hasn't been done yet? For real, it's crazy. So basically, I might have to end up taking time served, or go to a program, to get a consultation.
Do you think you belong here?
Nah, not at all, especially with the violation of my rights. The judge is not listening to the laws, what's the sense of making these laws, then?
Do you think that political systems would be more just if someone like you, someone from your background, were making the laws?
Yeah, man, I'm telling you, as soon as I get out, as soon as I get out out, there's a lot of things I'm gonna bring up, a lot of things that I have to speak about. They not gonna like it, but I'm gonna do it, there's nobody who's gonna stop me from doing it. The guy that went to the army reserve with the pizza, Johnson jumped up to help him because of the media, but I wrote him, and nothing. Like later with me? Nah, I been locked up for 17 months, I could have been home but I'm sitting here. Just 'cause of this. When you violate certain rights they have to take you in front of the grand jury. They didn't even lower my bail, two-hundred-thousand dollars. And I have a mental illness, they don't care. I'm telling you, they don't care.
Do you think your predicament has to do more with the color of your skin than with the actual law?
I'm not gonna even say that, it's just, they're not abiding by the law. If ya'll pass this law, a legislative law, it's for a reason. Wearing my jumpsuit made me look guilty in front of the grand jury, and you know what's bad about it? I have the proof that I was wearing these jail clothes in front of the jury, and nothing is being done. It's real serious.
Do you think that you're a product of the events in your life? Do you think you would still have this mentality that that most things are mental? That certain things, like pain, are a choice?
I'm learning every day. Every day I wake up and learn something different, I'm not stuck in my ways, I'm learning.
What's something that you learned today? Yesterday?
How to curb certain things. It hurts, but you gotta know how.
Well, let's talk a little bit about your music. Do you see it as a release, the same way you regard food?
Yeah, very much. It's right here, I'm not even gonna play with it — as soon as I get out, I'm back. I got two songs right now with the biggest Jamaican artists in the world, and I was sitting right here. Once I get out, I'm back.
What's one thing that you think music has the ability to do that nothing else has? What power does it have?
The power to help you release certain things. There are some things that I wanted to give to you and they said I couldn't. But I'm not worried, it'll get to you. It's crazy. Body-cams, that's what I'm gonna push for when I get out.
Who are you going to go to? Who are you going to rally to further your cause?
I'm gonna have to get some people together. City Hall. I need a movement behind that. Body-cams, very serious. Why would one person have one and someone else not have one? It needs to get to a point where everybody has one.
What does the word "gang" mean to you? What is a gang made of?
I would say a nation. See, some people call it gang, but a gang is only five people or more with negative thinking. A nation is a bigger group of people, a larger reality, different stages of doing positive things. When some people say "gang," I laugh at them. I don't belong to a "gang." It's either I answer your question, or I'll let you think you want to think, I don't care. It's like somebody seeing me with a red bandana and then saying, "Oh he's Blood!" You don't even know me, why you ask me that question? Then they like, "What do you mean? But you have a red bandana!" Well, these scarves cost a dollar at the store. Different thoughts, but I'm past that. That's for little kids. Little kids.
Is there a dream that you've had that still resonates with you?
Yeah, music. I'm telling you, you know how people talk, talk, talk? If I never do nothing in my life but my music, I gotta think about all those other people who never even got that close. Real serious. All the videos I've done, when I get out, they gonna be done over. That's the dream, to sit back and watch what I've created, to sit back and watch my dream and think, "Yeah, that's what I'm doing," It feels good.
Do you think you're a bad person?
Nah, not at all. Hated by many, loved by few.
Do you think that there are bad people in this world, though?
That's just a way that people describe other people, everything is not bad. If you tell a child he can't go outside, you're the bad person, you're the meanest person ever, but you're telling him he can't go outside for a reason. Everybody has their own opinions why somebody is bad or not. But I'm far from a bad person, far from it, so far away. Some person was saying, "I don't believe I'm in this place," and I'm like, "Damn, man, you serious? Did you ever get somebody locked up before this?" He said yeah. "Well, now you see what they be going through." Then he agrees with me, he tells me I'm right. He need to just sit down somewhere and chill, what's wrong with him!
So you would never put somebody in jail?
No, nah, not at all. It's no good human-rights-wise.
Can you talk about what's going on on the inside?
I don't care, but I thought they said don't? [motioning to the three armed guards lingering twenty feet away]
What's going on in here?
Terrible stuff. It's not for humans.
But you say that with a smile on your face!
Yeah, just because I was smiling don't mean..nah! I wish they would play with me, I'm just speaking for other people.
Not for yourself?
Yeah, for myself, but it's like, I'm telling you, man, it's just not for human people. It's crazy.
Can you tell me something?
People get cut and stabbed every day.
So what do you think your role would be to your community on the inside?
To stop stuff like that.
Would you consider that senseless violence?
Yes, that's what I'm saying, violence is no good.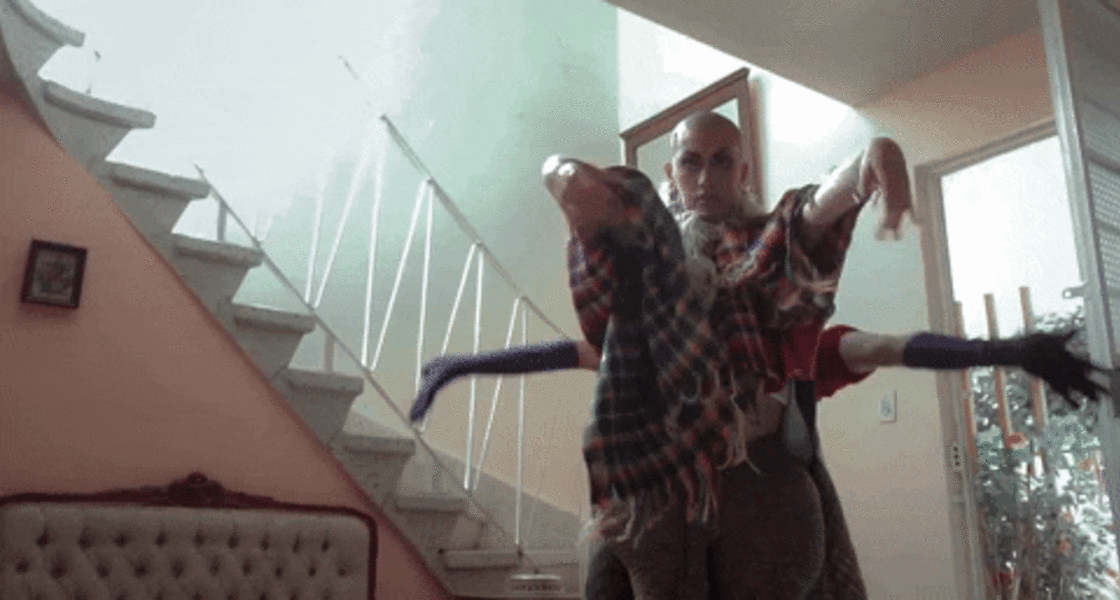 The House is on Fire
Translated from Spanish by Alejandro Cabezut. Original Spanish interview below.
How did "House of Mamis start? Is the house also literally a house?
La Mendoza: The house started when I left House of Apocalipstick in 2017. House of Mamis is not literally a house where we all live — it was before, when I still lived in Mexico City. My apartment was the home base for all of us. I've since moved to Merida and some of the other members have also left Mexico City, but we've all stayed in close contact and the house is still very much alive.
AKA Overkill: House of Mamis was a product of globalization, born out of the idea of love and family. First, it was conceptualized as a safe space for all of us to meet and talk, then for a time, the Mamis lived together in two or three separate apartments. Now most of us have taken different paths but the house remains symbolically.
In your experience, what's the meaning of being a house mother, daughter, or sister in House of Mamis?
La Mendoza: I'm the house mother. The first year and a half was a super intense time in taking on that role — it was a lot of responsibility, having to care of them all, finding them employment, cooking for them and ensuring we all stayed close-knit. I still ensure everyones' well-being and continue to look out for them. Pony - It means loyalty, confiding in each other, empathy, self-care and being caring for the others. My 'family' isn't comprised of a mother, father, and siblings. Only two of my brothers speak to me, one isn't on speaking terms with my father, etc. I've integrated La Mendoza, Rio and Luisa to my chosen family because they're the people that care for and worry about me even when we're not in the same city. It's all about creating your own family with the people that want to be your family.
AKA Overkill: Having empathy for someone that you've chosen as your family isn't easy. When you have the role of mother or sibling you feel a deep responsibility for the well-being of everyone in the house.
What's what you most enjoy about being in the House of Mamis? What's it like to be a part of an artistic community?
La Mendoza: I enjoy dancing and cooking together, that's what I miss most now that I've left Mexico City. Working together was the best, at one point we were all employed at a gay bar called "La Purisima" where some of us performed in drag and others worked the bar. It was the best to be together every day, doing dance training during the week, eating together and working during weekends. It's the best to have a chosen family that loves you and doesn't judge you.
Pony: I no longer live in Mexico City. When I walk in the street I try to be straight-passing in order to not draw attention to myself. I live in a very conservative town in the north of Mexico. When I'm with the Mamis I feel very safe and never alone.
AKA Overkill: It definitely represents being supported by an artistic community and being with the Mamis is extremely fun and very liberating.
What's today's ballroom scene like in Mexico? Are there balls with categories similar to Paris is Burning?
La Mendoza: There are many houses and balls in Mexico City, and now in other cities like Guadalajara, Monterrey, and Merida. The community is growing, and each time there's more people interested in taking part. There are two types of houses — the Kiki Houses, which are for fun, and the Mainstream Houses, which are recognized in the ballroom scene. The most popular ball categories in Mexico are Vogue Femme, Runway, Old Way and Sex Siren; the 'Sex Siren' category is very specific to the Mexican ballroom scene and is inspired by our Latin and Mexican culture.
Pony: Paris is Burning is the best reference to understand how this movement began. Thanks to the documentary, there's a long history of iconic people from the scene that have come to Mexico to share their rules and culture. In our balls, there's themes, categories, a chanter (emcee) and competitions. In Mexico City, there are many houses and a voguing community that's in constant flux.
AKA Overkill: There are Kiki Balls in order to experiment and meet others in the community and balls to compete. The scene has been maturing. We've learned from all countries with drama but also with love.
How's the relationship between the different Voguing Houses in Mexico?
La Mendoza: Sometimes there's a lot of drama — especially in Mexico City. Right now there are many conversations surrounding politics and cultural appropriation. The newer, fresher scenes support each other in order to generate a community.
Pony: There's a strong sisterly bond. At first, there were many spats, disagreements, and differences, which I think was natural because we were all learning. We all wanted to voice our opinions, yet slowly but surely we all ended up in sync. Naturally, in competitions, there's always someone who's not in agreement with something, but every day the friendship and support between the houses grow.
AKA Overkill: Everyone maintains a cordial relationship for the most part. I think pretty much everyone understands where they stand when coexisting during Balls. The ego and power struggle is what generates the most frienemies between houses.
We can see voguing and ball culture has been adapted to Mexican culture—what does it mean to you to be a queer Mexican/Latinx?
La Mendoza: For me, it's being counter-culture. Mexico's macho culture is very strong — owning your femme identity when it doesn't fit within masculine stereotypes can be difficult.
Pony: I think being Mexican has nothing to do with my gender. I'm very proud to be Mexican. I love my cultural roots. Once I heard one of my sisters sing opera in Náhuatl and I realized how rich our country is. I'm from Huásteca Potosina and I love how unique the nature and biodiversity is in our country. I believe a queer person endures discrimination in any country, the stigma is global, just in different intensities.
AKA Overkill: Being queer in Mexico is complicated, especially if you're not white. Mexican culture is deeply macho, classist, and mysogynist. It's quite interesting to take this new culture of respect towards the community that's been globalized and mixing it with the positive aspects of Mexican culture, like its cheeky playfulness and the hood's culture.
What is the differences you find in other countries' ballroom culture? Do you deem it important for each community to have their own style and references?
La Mendoza: Every community adapts itself to its needs. In Mexico, that need was to find a space of resistance, a safe space to dance, become in-tune with your body, and simply enjoy. There's many competitions here but I think Mexico's scene is more political than anything.
Pony: It's very normal for each community to find its unique voice. Also for the culture to be shared and for all of us to learn from one another. In Brazil the Balls have a unique style, similar to afro-voguing. The balls in Japan are similarly unique, it's very enriching that we all make our mark when doing something inspired by a movement that started in another country.
AKA Overkill: The Mexican scene definitely has its own style. A big difference is the finances and visibility enjoyed in other countries. I'd love to see my fellow Mexican voguers have first world budgets to work with. The talent in Mexico City's on fire!
It seems that the newest celebration of artistry comes almost exclusively from oppressed communities with little visibility. Do you agree with this? Why do you think this?
La Mendoza: When one is oppressed what you seek is to create. We're a very creative community that is always providing mutual support and grows together. Little by little people realize what we're capable of and become interested. Unfortunately sometimes this visibility can be deemed "exotic" and thus superficial but there's many people that have genuine interest and support us and that's badass.
Pony: It's natural to want to express oneself when one's limited. It activates one's imagination, figuring out incredible things in order to communicate.
AKA Overkill: I wholeheartedly agree. When you don't follow the rules, society can be oppressive and tries to erase you. That causes depression, and many of us seek active ways to combat it with artistic expression. The purest art is born from vulnerability. 
Is it dangerous to be openly queer in Mexico City in 2019? What problems are at the forefront of the Mexican queer community today?
La Mendoza: Mexico City is a bubble. There are many parts of the city with relatively safe spaces for the community. Now that I live in a different state I've come to see how queer people elsewhere lead their authentic lives behind closed doors, only being able to enjoy the scene online. Thankfully, in Mexico City, there are many events in which the creative community at large supports us and lifts us up.
Pony: Right now there's a deeply concerning problem of kidnapping and disappearing of women. Especially in the subway, it's been happening a lot—the murder of trans women in Mexico. You'd think that it's not dangerous because there's just so many people and most don't care if you don't pass as cisgender, but since it's such a large city there are also really bad, homophobic people that have it in them to hurt you and even kill you.
AKA Overkill: If the mere day-to-day life in Mexico City is dangerous, deciding to live as a visibly queer person and to work in nightlife exacerbates the risk. The topics that worry me the most is gender education and sexual health.
What're the effects of machismo in Mexico?
La Mendoza: Machismo runs deep in Mexico and it threatens to destroy us constantly. The worst is that aggression toward femmes is a pillar of machismo. It sees femmes as vulnerable and worthless.
Pony: It's a social construct deeply rooted in Mexico's culture and it affects everyone who visually appears femme. Every day women disappear throughout the country, imagine the deep implications of that.
AKA Overkill: Machismo permeates everything, the only thing I can say about it without breaking down in tears is to implore people to keep an open mind and have respect toward all people.
What's the power of makeup and hair today?
La Mendoza: Drag is very popular now. It's breaking down gender barriers, so now makeup can be used by anyone and I think it's because it allows you to attain the fantasy of becoming who you've always dreamed of.
AKA Overkill: Hair and makeup are what fill my moments of loneliness and transform them into moments of expression. For me, it's one of the most transformative, powerful, and spiritual vocations.
What're your essential beauty products?
Pony: I prefer homegrown health products. I love herbalism and make my own creams and masks. I learned a lot from witches. I recently found a generic brand in a Mexican pharmacy that's worked wonders.
AKA Overkill: I can't get enough from Smashbox's primers and "Glow Duo" from City Color.
Original Spanish interview:
¿Cómo comenzó ´House of Mamis´? "La casa de las Mamis" ¿También es literal una casa?
La Mendoza: La casa comenzó cuando yo me salí de House of Apocalipstick en el 2017. House of Mamis no es literal una casa, antes sí, cuando yo vivía en Ciudad de México mi departamento era el punto de reunión para todas. Ahora yo me mudé a Mérida y otras también están fuera de la Ciudad, pero seguimos estando en contacto.
Aka Overkill: House of Mamis fue producto de la globalización, la idea del amor y la familia. Primero de manera conceptual uniéndonos a practicar, después una temporada estuvo reinando la familia entre dos o tres departamentos. Ahora hemos tomado rumbos diferentes pero la casa sigue siendo conceptual" 
Bajo tu experiencia. ¿Cuál es el significado de ser madre, hija o hermana en 'House of Mamis'?
La Mendoza: Yo llevo el rol de madre. El primer año y medio fue un proceso súper intenso en cuanto a tomar ese rol, era mucha responsabilidad, preocuparme por todas, conseguirles empleo, cocinarles y hacer que conviviéramos. Yo veo por el bienestar de todas.
Pony: Significa lealtad, confianza, empatía, autocuidado y cuidado hacia las demás. Mi familia de núcleo no está conformada por mamá, papá y hermanos. Solo dos hermanos me hablan a mí, otro está peleado con mi papá, etc. A mi familia yo integré a Mendoza, Rio y a Luisa que son personas que se preocupan por mí aún estando lejos. Se trata de crear tu familia con las personas que quieren estar contigo.
Aka Overkill: Tener empatía por alguien que decides sea tu familia no es lo más fácil. Cuando tienes el papel de madre o hermanx sientes mucha responsabilidad por el bienestar de los demás integrantes de la casa.
¿Cómo funciona la escena del Voguing actualmente en México? ¿Tienen balls con categorías similares a "Paris is Burning"?
La Mendoza: Hay distintas casas y se organizan varios balls en Ciudad de México y ahora en ciudades como Guadalajara, Monterrey o Mérida. La comunidad está creciendo y cada vez hay más gente interesada. Hay dos tipos de casa, las Kiki House que son de esparcimiento y las Mainstream House que están reconocidas a nivel Ballroom o de competencia. Las categorías que más se caminan aquí en México son Vogue Femme, Runway, Old Way y Sex Siren; esta última es una categoría muy específica del Ballroom mexicano adaptada a nuestra cultura latina o mexa.
Pony: Paris is Burning es la mejor referencia para saber cómo empezó este movimiento. Fuera de ese documental ya existe una historia de gente icónica en esa escena que han venido a México a compartirnos sus reglas y cultura. En nuestros balls hay un tema, hay categorías, hay un chanter y hay batallas. En la Ciudad de México ya somos varias casas y la comunidad del voguing sí está en constante movimiento.
Aka Overkill: Hay eventos, Kiki Balls para ir a conocer o experimentar y Balls para competir. En realidad la escena va madurando. Hemos aprendido de todos los países con drama pero también con mucho cariño.
¿Cómo es la relación entre las diferentes casas de Voguing en México?
La Mendoza: A veces hay mucho drama sobre todo en la Ciudad de México. Ahorita nos estamos cuestionando mucho sobre cosas políticas o sobre apropiación cultural. Las escenas nuevas o frescas se apoyan mucho para poder generar comunidad.
Pony: Es una relación de hermandad. Al principio hubo riñas, desacuerdos y diferencias, creo que era natural porque todos estábamos aprendiendo, todos querían dar su opinión y poco a poco nos pusimos de acuerdo. Claro que en la competencia siempre habrá quién no esté de acuerdo con algo pero cada vez existe mayor amistad y apoyo entre todas.
Aka Overkill: La mayoría mantiene una relación cordial. Creo que casi todos tienen muy claro donde están parados al momento de coexistir en Balls. El ego y el poder es lo que genera enemistades entre algunos.
Podemos imaginar que el Voguing ha sido adaptado en México alrededor de su cultura ¿Qué significa para ti ser mexicano/ latino queer?
La Mendoza: Para mi es ir contracorriente. La cultura de machismo en este país es muy fuerte y reconocerte con una identidad femenina que no encaja en los estereotipos de masculinidad es algo difícil.
Pony: Creo que ser mexicano no tiene nada que ver con mi género. Estoy muy orgulloso de ser mexicano, amo mis raíces y mi cultura. Una vez escuché a una de mis hermanas cantar ópera en náhuatl y me di cuenta de lo rico que es nuestro país. Yo soy de la Huásteca Potosina y amo la naturaleza tan única que existe en este país. Yo creo que una persona queer siente discriminación en cualquier país, el estigma es a nivel mundial a diferentes escalas.
Aka Overkill: Ser Queer en la cultura mexicana es complicado, más si eres de piel morena. Gran parte de la cultura mexicana es machista, clasista y misógina. Es muy interesante tomar esta cultura nueva de respeto a la comunidad que se ha globalizado y mezclarla con lo bueno de la cultura mexicana, por ejemplo la picardía y el ritmo de sus barrios.
¿Cuál es la diferencia que encuentras con la escena en otros países? ¿Consideras importante que cada comunidad busque tener su propio estilo o referencias?
La Mendoza: Creo que cada comunidad va adaptándose a sus propias necesidades. En México se dio como un espacio de resistencia, un espacio seguro para el baile, el goce y reconocer tu cuerpo. Sí se hacen competencias aquí pero siento que en México está aún más política la escena.
Pony: Claro, es normal que todo se tropicalice. Que la cultura se comparta y aprendamos todos de los demás. En Brazil los balls tienen un estilo único, ves algo similar al afro-voguing, los balls en Japón igual son únicos, es muy enriquecedor que todos le pongamos nuestro sello al hacer algo inspirado en un movimiento que surgió en otro país.
Aka Overkill: La escena mexicana tiene su propio estilo. La diferencia principal es la diferencia de economía y visibilidad a comparación de las de otros países. Me gustaría que mis vogueras mexicanas tuvieran presupuesto de primer mundo para poder presentarse. Porque el talento tiene a CDMX en llamas.
A veces siento que la mejor expresión artística al menos en la modernidad viene de comunidades oprimidas y no visibilizadas. Estás de acuerdo con esto? Porqué piensas esto?
La Mendoza: Cuando estás oprimido lo que buscas es crear. Somos una comunidad muy creativa que todo el tiempo estamos pensando en apoyarnos y seguir creciendo juntos. Poco a poco la gente se va dando cuenta de lo que somos capaces de hacer y se interesan, algunas veces de mala forma viéndonos como algo "exótico" pero hay muchas personas que sí se acercan para apoyarnos y eso está muy chido.
Pony: Creo que es natural el expresarnos y cuando alguien es limitado esa persona activará más su imaginación haciendo cosas increíbles para comunicarse.
Aka Overkill: Estoy muy de acuerdo. Cuando no sigues las reglas, la sociedad puede ser opresiva y tiende a borrarte. Esto genera depresión, y muchos buscamos maneras asertivas de combatirla, que mejor que con expresión artística. El arte más puro proviene de lo vulnerable. 
¿Qué tan peligroso es ser abiertamente queer en la Ciudad de México en el 2019? ¿Cuáles son los temas que preocupan actualmente a la comunidad de CDMX?
La Mendoza: Creo que la CDMX es una burbuja pues hay muchas colonias con espacios relativamente seguros para la comunidad. Ahora que vivo en otro Estado me doy cuenta que la comunidad queer aquí viven resguardados en sus casas, viendo la escena desde el internet. Y en la Ciudad de México sí hay muchos eventos en los que la comunidad creativa nos apoya y nos respalda.
Pony: A través de mis amigos veo que en este momento preocupa la desaparición y el secuestro de las mujeres, sobre todo en el metro que ha estado sucediendo bastante, los asesinatos de mujeres transexuales en el Estado de México. Pareciera que no es peligroso porque hay tanta gente y a muchos no les importas, pero al ser una ciudad tan grande también existe gente muy mala que es homofóbica y pueden llegar hasta matarte.
Aka Overkill: Si ya vivir en la Ciudad de México puede ser peligroso, decidir vivir como persona queer y trabajar en la vida nocturna conlleva un triple riesgo. Los temas que preocupan son educación de genero y prevención de salud sexual. 
¿Cómo afecta el machismo a México? 
La Mendoza: Lo cargamos mucho al ser mexicanos e intenta deconstruirnos todo el tiempo. Lo grave es que bajo el pensamiento machista es que ataca a las entidades femeninas, las piensa vulnerables y sin valor.
Pony: Es una construcción social ya muy arraigada en nuestro país y nos afecta tanto que lo femenino es agredido a nivel físico. Cada día desaparece una mujer en el país, imagina cómo afecta esto.
Aka Overkill: Afecta en todo sentido, lo único que puedo decir sobre esto sin ponerme a llorar es que sean abiertos de mente, tengan criterio propio ante cualquier persona.
¿Cuál es el poder del maquillaje y del peinado en el mundo actual?
La Mendoza: El drag es muy popular ahora. Se están rompiendo las barreras de género, el maquillaje puede ser usado por cualquiera y creo que es porque puedes lograr esa fantasía de ser quién sueñas.
Aka Overkill: El maquillaje y el peinado es lo que llena mis ratos de soledad para convertirlos en expresión. Es para mi una de las ocupaciones mas poderosas, transformadoras y espirituales.