In Brooklyn with Sarah Benjamin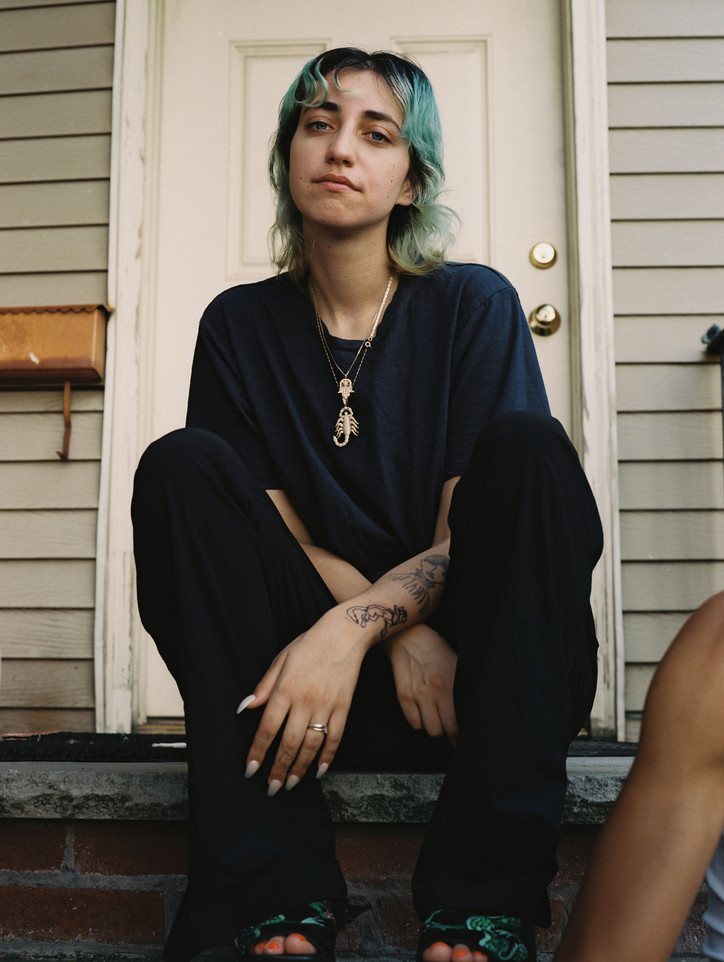 You can immediately tell Sarah does not fulfill the cliché perceptions of what a casting director should be.
"A lot of it is in the eyes," she says about her casting process as we escape the at a nearby coffee shop. "People say I'm quick to trust, but I feel like if you really pay attention, you can see a lot in a person very quickly."
This thoughtfulness, and the maternal way she engages with her models, makes her approach completely radical. For the "A$AP Forever" video, she went to Harlem—where A$AP Rocky is from—to streetcast young faces. But it wasn't just about dropping brown faces into a historically brown neighborhood and calling it a day—it was about ensuring real authenticity, something "a lot of casting people don't take into consideration," she says.
Another disruptive aspect of Sarah's method: actually taking the models' needs into consideration. For example, one of her models, Audi, is working on starting his own pickle brand, Audi's Bizarre Spicy Slovak Pickles, zine and hoodies included.
"We always ask the model 'Do you really want to be in this?'"
What is a casting director?
 
My role as casting director is different than the traditional casting director. I'd say, generally speaking, it's to choose and curate the faces of the image—whether it's film, print, or music videos.
How did you become a casting director?
For me, it started kind of backwards. I just had a group of friends that were very saturated character wise. I started casting because I was taking photos of the people who were around me. I thought I wanted to be a photographer, but I never wanted to do the whole thing. I photo assisted for some time—but I never lasted for more than like three weeks. I just took photos and people noticed that. Photographers started hitting me up on Instagram, being like 'Who's this?' I would link people up, kind of like a middleman. And then I slowly started working as a casting director.
There's a lot of talk about change going on in the fashion industry right now, especially when it comes to better protecting models. What improvements can casting directors make?
I think the people who are deciding who should be in images should be close in age to the models and the consumers that the designer is making clothes. Casting directing is a job that requires a sense of connection with what's going on. It's 2018. It's no longer cool to treat your interns like shit. I'm the oldest person in the company—it's mad young—and that's why it's very natural and fun.
And there's a mindset in fashion of 'Use people once and then throw them away.' It's really stupid. It doesn't have to be that way. For me, it's very important to work with the same people when I can.
You grew up in Jerusalem, a place that really isn't seen in fashion imagery. How important is shining a light on the Middle East to you?
A lot of people only talk about us in the news. There's people who are making hip hop in Arabic and Hebrew. There's so much happening. Last time I was there, I found this crew of Palestinian kids that skate. They're really, really good skaters. Now I'm trying to figure out how to work out a project with them to bring them to Paris.
What is your advice for aspiring models?
Just be yourself. I feel like people don't tell you that enough. A lot of people try too hard, or pretend to not try too hard.
What's next for you?
I want to move to Paris, because I want to do things more on the Europe side. I want to do more work in the Middle East, just in general. Whatever I do, if it's for more documentary purposes or film or fashion, I just want to scout in the Middle East. It's going to be a lot more easier to do if I'm in Paris than if I'm in New York.