A caffeine-fueled chat with César Vega of Café Integral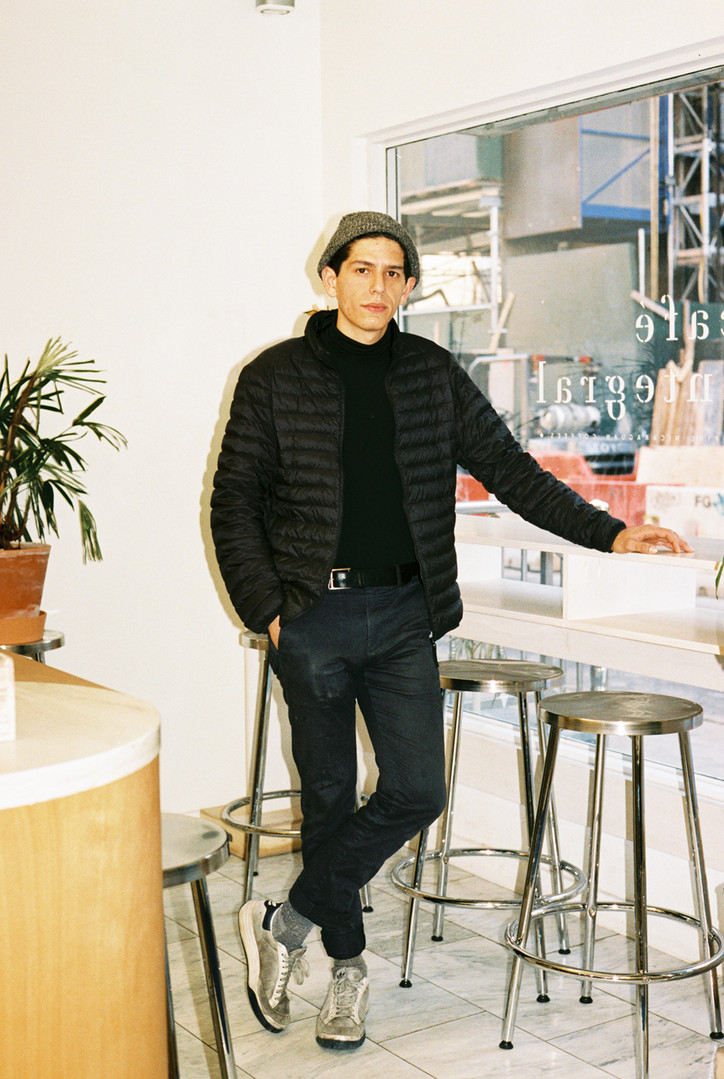 Vega is a self-identified early riser (he typically wakes up before 5 AM), and his unwavering can-do attitude and hyper-enthusiasm are attributes that have served him well. So we found a quiet morning to share life-affirming mantras and talk the hyper-local hustle.
New York is all about the hustle. You started the business as a subscription-based service first. What was it like to do everything from roasting then biking it all town yourself?
Well, it wasn't quite a subscription service—at least not exclusively, though many people received their coffee every 10 days. It was a milkman model. If I give you a jar, the jar is a buck. and we can reuse it—it lasts. In many ways, it was less sophisticated, not quite as thought-out, though in retrospect that would have been a cool idea. Really, [Integral] began as a "greens" business, selling unroasted coffee we had imported to other quality-focused roasters. The roasted coffee bit was more of a "friends and family" offering that I was hoping would get the product in more hands.
It's hard to get people to make spontaneous commitments, or at least it was harder than it is today. And part of the goal was to get people interested in Nicaragua in a positive light—that was the greater goal in a general sense, and so this method was as appropriate a route as any.
How was it?
Thrilling and exciting. At the time I was roasting every pound by hand on a sample roaster, which meant it actually took multiple roasts to produce the 12oz. package. Then I'd wake up at 5 am, trek on the bike. But that was the most fun perhaps—the places it took me, the people I met. It was consuming, entirely, to be sure. But it was exhilarating. You don't realize how un-credible you are as a random, Hispanic coffee-producing guy. 
At first, coffeehouses wouldn't stock it, and any entrepreneur can relate to how difficult it is to maintain your grit and motivation when rejected. What made you think I'm going to do it anyhow? 
We weren't really aiming for coffeehouses. And before we knew it, we were gearing up to open at American Two Shot.  In that sense, the move was motivated by that opening. We also had tremendous encouragement from our customers—and of course we were inspired by the producers, whose hard work is hard not to emulate and ultimately get behind.
In starting this business, you were hoping to get Nicaraguan coffee as well-known as Brazilian or Columbian coffee. Why isn't it as well known? Is it bad PR? Not enough exposure? Culture clash?
From a "professional" standpoint, Nicaraguan coffee wasn't well-regarded.  It hadn't seen its fifteen minutes of fame or had a protagonist fighting for its coffee. It's interesting. There are many reasons why and ultimately Nicaraguan coffee wasn't held in high regard—in many ways it isn't yet, but that's what we're after. 
I think ignorance is perhaps the biggest challenge. People don't know why Colombian coffee is "renowned," and perhaps they don't understand that Brazilian coffee, though available and popular, isn't necessarily good. So it's more of an awareness issue, in my mind, because there will always be amazing Nicaraguan, Colombian, and Brazilian coffees. The challenge is presenting the best of it—to find it, to bring it to fruition. 
Coffee is such a social binder. What else brings you and your friends and family together? 
For me, the kitchen is the most central and important room in the house. It's also the most active.  I think sharing food and drink is the ultimate reason to gather.  In terms of coffee, making a coffee for someone and using that as a ground to gather is special. almost like what I imagine passing around a tobacco pipe may have been like. 
What or who has been the most surprising influence in starting Café Integral? 
My family and the values they brought to the table are the single most influential thing. It's not something you begin to value immediately, but it grows and you begin to understand the weight and significance of it.  Of course, the producers are an undeniable influence. And I think that when anyone discovers what it takes to produce coffee—the incredible journey—then you have a deep reverence for the process and people who usher the coffee through it. 
How do you balance the community feel of Café Integral while expanding the business and opening new locations? 
We focus on our approach om service that is exquisite excellence. Are you in a hurry? How do I get you out of here quicker? Do you want to learn? How do we teach you? Do you want to chat? How do we chat? That's where it becomes a dance, it's the stuff of life. I love that pacing. We provide true hospitality and back that up with delicious products that we believe in.  That extends to the design, menu selections, and presentation.
If you can create a sense of empowerment and ownership within the staff and location, then it carries a sense of authenticity. I can liken it (not that I'm necessarily familiar) with what it would be like to own various homes in different setting. It would be silly to think (or want) them to be identical, but they would still, in their own way, be truly one's own, one's home. 
How have your Nicaraguan roots unexpectedly influenced the vision you have for both your Café Integral family and the producers, growers, and farmers you support? 
Most notably, I feel that because Café Integral is centered around Nicaragua, it extends into the personal and familial.  We've begun and built this business in our home, in some ways, and that comes with a great sense of responsibility and obligation to the producers that we work with and those who count on us. It forces us to really think about this as a long-term endeavor. ¥es, we can walk away from coffee whenever we like, in theory, but this is a producer's livelihood and we need to conduct our business with respect to our culture, our country, and our people. It's heavy sometimes, it seems, but it's really just a lot of fun. 
What's something about Nicaraguan culture (family or food or coffee) that you didn't know or understand and learned along the way?
Perhaps the hardest lesson to swallow—and this doesn't mean that we didn't necessarily "know" but still brought some surprises in our eyes—was learning how much of Nicaragua's stalled growth, or lack of popularity, stemmed from foul play and sketchy dealings within Nicaragua.  Of course, this affected the product, leaving the country and the impression it made. But realistically, I never thought that what was happening internally would be one of the greatest obstacles to tackle first.  Luckily, there are great people to be found just about anywhere, and we have created a chain built on trust and a mutual desire for quality.
Also, I've been surprised by how many negative experiences we've had with producers, people trying to pull a fast one on us. In my mind, being a little naive, we've gone into this with a positive and good intention—why wouldn't a Nicaraguan want to help another Nicaraguan? I worried that those unsavory experiences would leave me with a bad taste in my mouth, but now I'm making a strong effort to be more upfront and clear about our expectations from those relationships and what we consider to be wrong. 
As you grow the business and continue the conversation about Nicaraguan coffee and community, what do you envision for both the customers and staff of Cafe Integral?
My goal is to create a deeper understanding of Nicaraguan coffee, and deepen our community of producers, to bring closer connections between our team here and their work there. Idealistically, I would love to create a body of work that can categorize and break down Nicaraguan coffee producing areas, varieties, processes, and practices. This way we would share with professionals abroad who thirst for this depth, as well as train and teach within the country as an encyclopedic base of knowledge for producers to reference. 
Visit Café Integral at 149 Elizabeth Street in New York City.