The China Chalet Group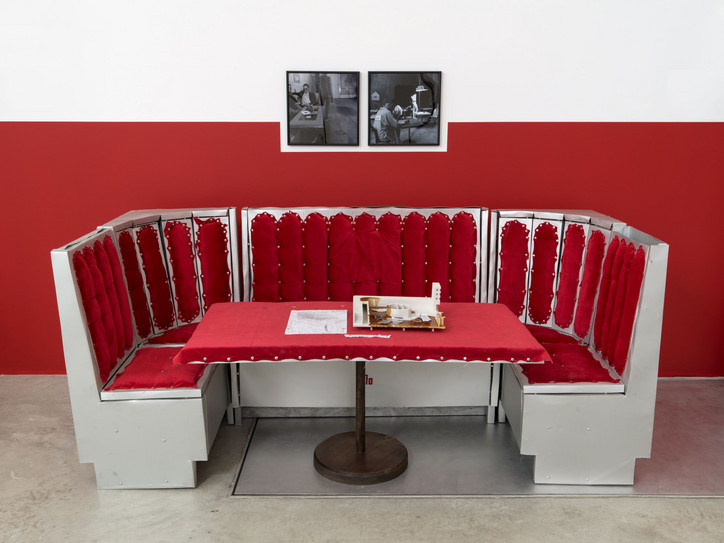 Rendered in cardboard, aluminum, and scraggly upholstery, the booths, bar, and dancefloor (which also references a classic New York rooftop) re-imagine the banquet hall in sculptural form, disarmingly simple in the gallery's bright light. Each gleefully shoddy table, with titles like Jealousy and VIP - Vito's Theme, is laden with cigarettes, records, even a harness for a strap-on dildo, and has a maquette that traces Schumacher's own personal, artistic biography with miniature versions of shows the artist has curated and sculptures he has made. Although arranged as an installation, each piece is a sculpture unto itself, likely to take on a separate life after the exhibition comes down. 
Gossip-y texts in the style of a screenplay are pasted onto various surfaces, tracing moments and movements through the space in a haze of vodka soda memory, inscribing the furniture-cum-sculptures with personal history and the remnants of a scene. The furniture itself often bears written names like "Indie Rocker One," enlivening the furniture as actors in this show. There's an air of festive necromancy, of chemical allegory.
The mise-en-scène of this "China Chalet" in this layered exhibition serves as a platform for Schumacher's more traditional, wall-friendly artwork—oil paintings, ink drawings, collages, and other two dimensional compositions all from 2018 that, so arranged, not only embed the practice of making and selling these works within a sociality, but also lays bare the formation of an individual and artistic trajectory and identity as something that marches through the spaces one occupies and performs the act of self-manufacturer within. As much as situating the wall-mounted works, the setting disorients them, forcing the viewer to contend with conflicting contexts and complex narratives.
It is worth mentioning Schumacher initially studied architecture at Waterloo University in his native Canada before coming to New York to complete his MFA. Not only is The China Chalet Group a spatial construction and not only could we imagine these miniatures as a part of developing architectural plans, but the use of space and place to evoke a certain collective (mis)remembering, a certain trail of togetherness, insiderness and outsiderness, gossip and gaiety, is particularly deft and resonant.
However, as the title The China Chalet Group highlights, this is not merely a portrait of China Chalet as a space, but a group—however transient and incoherent—that a space convenes, if only for a night. These sculptures, in their just-off scale and just-useless construction, serve as phantoms, lingering on the work that dots the walls and in the memories of all who occupy it.