Country Grammar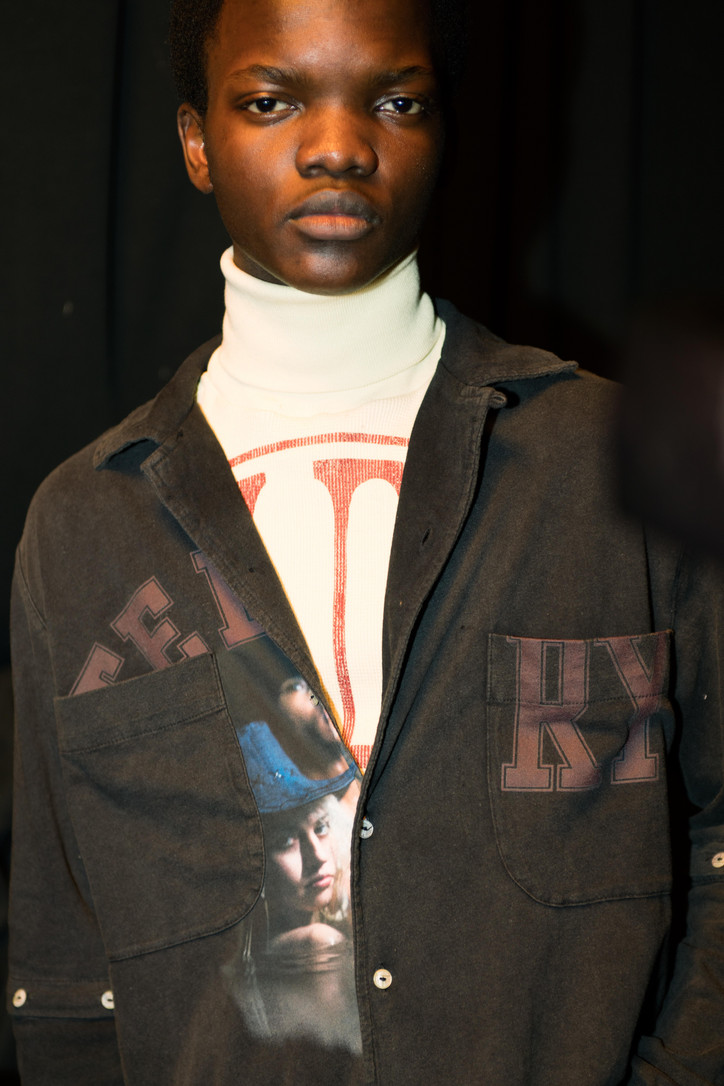 Last night, artist Butch Dawson gave the first musical performance while decked out in fringed leathers from the collection. Telfar's other countrymxn wore looks that would keep any dude looking chic on the ranch—boot-cut trousers in leather, corduroy and denim dominated the lower half of the body, held together by leather belts finished with the Telfar logo; on top, there were thermal sweaters, asymmetrical tank tops and outerwear with deconstructed graphics. The label also debuted their signature shopping bag in a new range of colors, including tan and olive green.
Midway through the presentation, frequent Telfar collaborator Oyinda returned to the NYFW stage, giving us a show-stopping moment as she appeared in silhouette wearing a stetson hat and walking as though she was entering the world's most elegant saloon—all before delivering a beautiful vocal performance.
A few more looks coasted out into the audience before Clemens himself took a post-show surf. But things only heated up from there, as punk band Ho99o9 and skater-turned-actor/musician Na-kel Smith from Jonah Hill's Mid90's kept the crowd fully lit with back to back performances. Mosh pits opened, cans of Budweiser went flying and the whole room joined together as the constructs of race, class and gender melted away—even if for only a brief moment.
As fashion continues to play around with ideas of inclusivity and gender fluidity, there is no designer who does it as authentically as Telfar. Thank you for showing us what the industry—and country—could be.
Peep some images from the show, below.