Discussing Denim with Shayne Oliver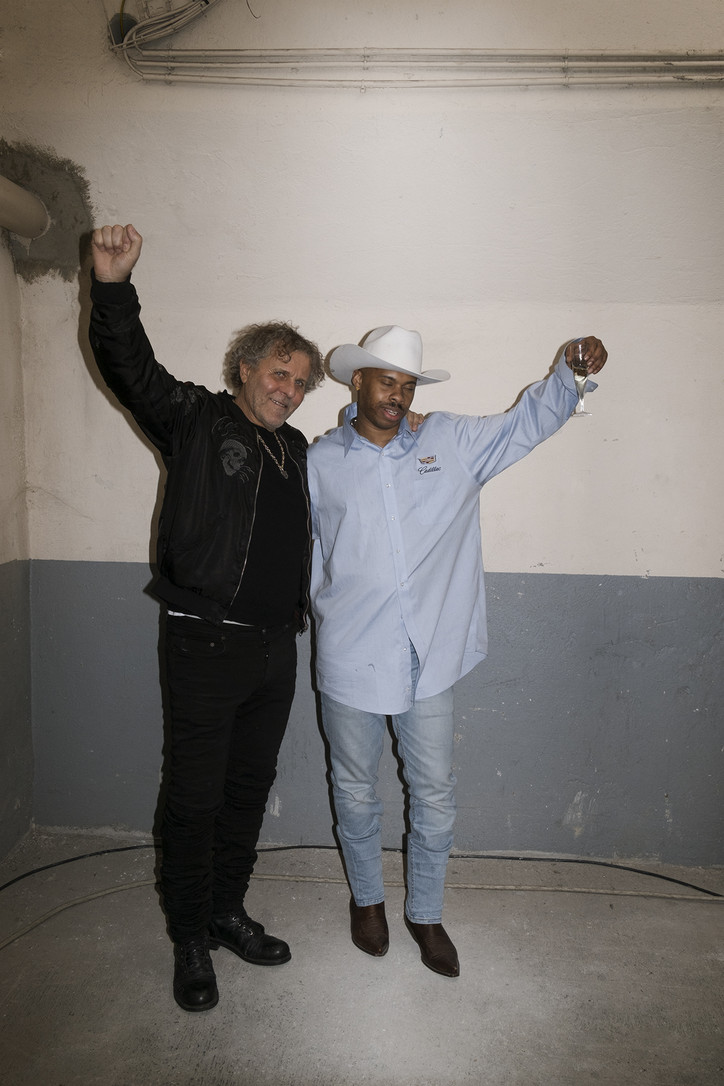 This weekend in Paris, Diesel presented the project's debut collection, a collaboration with designer Shayne Oliver. As one of the industry's top trailblazers, Oliver is the ideal candidate to instigate an aesthetic update and offer a unique, conceptual wake-up call. Working with the founder of Diesel, Renzo Rosso, Oliver approaches the traditional Diesel attire and branding with his bold, political, headstrong perspective.
 
This is the respectful push in the right direction that denim desperately needed, hardcore yet protectively nostalgic. In Paris this weekend, Oliver and Diesel celebrated the first chapter of the Red Tag Project with an artful and eccentric party which drew an array of diverse attendees and creative comrades, including Ian Isiah and James Garland, who's energy perfectly encapsulated the essence of this new, exciting era for Diesel. We spoke with the designer and the Diesel founder about the future of fashion, adapting Americana, and what's next for denim, during the debut.
How did the collaboration come about?
Shayne Oliver Well there's many different layers. There is the clothing itself, and there's the space. So, the space is basically as if we're trying to make Instagram live, or bringing in the virtual world… merging it somehow. Which I think is relaxing the form of showing and how people interact with the ideas that you bring across. And this space is like a representation of everything that is in that world and what I'm going to working on with Diesel. So, essentially the project I have with Diesel is in four parts. We're going to do a tour, it's called the Diesel Denim tour. We're going to go to every major fashion city the next fashion week and do installations and concepts. It's as if we went on tour together.
What collection are you showing then?
SO It's going to be pieces of what were shown today. Everything that was shown today is going to be shown to the market, but not available for the market. Then it will be available once we do these pop-ups, basically, these concerts. And that's sort of the gist of it.
How did you approach the collection?
SO I think when you have jeans, it's so corny to try to elevate jeans and make it, oh my god my jeans are upside down, and have that be a concept on the runway. At least for my life, not in general. I prefer to promote newer ideas on runways. So, for me it's about, how do I see my friends in jeans and what things do I respect about denim. And that lead me back to times I spent in LA, times I spent in the Midwest, and all these figures and people that I know. And trying to create the silhouettes that I felt had the emotions that I felt when I saw these people wearing denim. So that's really where all the silhouettes are coming from. It really has to do with almost the sensuality of denim. The allure of seeing someone sexy in jeans, and not just making the jean a jean. But almost like putting the sensuality into the jean. And also, to be honest, it's about draping. I'm getting more familiar with this. I've always done it but now it's more a part of my life. I work from the drape down so a lot of things that I try to drape that maybe weren't… maybe too fashion in other ideas, worked perfectly for denim to elevate those concepts.
And Renzo gave you creative freedom?
SO Yeah, basically. At first, we were just coming in to work on some jeans, then it became way more when we met. He was like, let's play around, let's see what it's about. So he took me to the archive, and I saw these older dresses that were really sexy, formfitting, denim pieces. And I was like oh wow, he actually gets it. And it kind of went from there. And I was like, oh you like this sort of sensual thing too. When I went through the archive, there were so many things that had "swag", but for some reason, it was these sexy denim things that just stuck out to me, and made me want to dive in deeper.
When is the collection going to be out?
Renzo We are aiming for June.
This is the first of three capsule collections?
R This is a world tour. The first stop is Paris, after is New York, London, and Milan. Next fashion week. The first comes from Shayne. He sees our heritage and our knowledge from our archive, and interprets it with some modernity. He's adding some freshness, and a new development with every stop. We have a new capsule that is on the way. We started with this one today, but the new ones are also belissimo.
So Shayne is continuing with the next stops?
R We'll continue with Shayne, but also with some new collaborations with other designers.
There are two other capsules?
R Three others are with him. After, we have something crazier too.
How is collaborating with Shayne, how did it come about?
R I think in this moment, there's a nice creative energy coming from the United States, with Jerry Lorenzo, Kanye West, Virgil Abloh of Off White. This American energy I think is so nice, and I want to bring some of this American spirit. That's why Shayne is here. He's totally crazy and fantastic. He went to our archive, and he knows everything. When he was young, his mom worked for my first store in New York. She used to buy him a pair of jeans. He knew the name of the model, unbelievable.
It seems like you're going back to the old Diesel, being a little bit more provocative.
R When I did something else, I gave control of Diesel to my manager. We lost a little bit of coolness, but now we are back.
It seems like an exciting time for you and for Diesel.
R I'm working so much, but I'm so happy. The last few years, it was not easy. Now, finally, I'm starting to see the results of the sacrifices.