Sign up for our newsletter
Disco Baby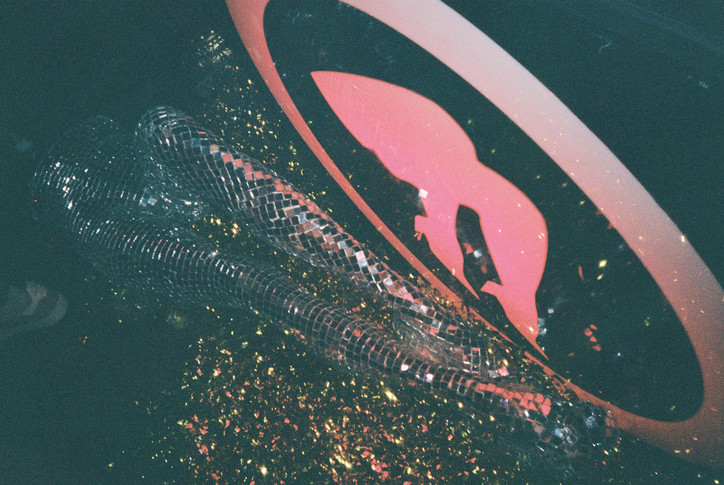 office chatted with co-creator and resident DJ Loren aka GODDOLLARS to find out just what Coachella-goers can expect this year and how the dynamic duo has managed to make their legendary mark on LA nightlife.
Who is GODDOLLAR and what is A Club Called Rhonda?
GODDOLLAR is me. I am the co-founder of A Club Called Rhonda, which I started a very long time ago with a friend of mine, The Gregory Alexander. Together we've actualized what would we describe as a pansexual party platform that exists for the exaltation of faithful dance music and for the progression of self-expression.
How and when did the parties start?
Gregory and I had been living in a loft downtown at the baby stages of downtown's gentrification, so we were still able to do some crazy things down there. We had a unit that was basically on top of a rooftop so we'd have these parties where we would fill the entire space with a bunch of people dancing. That got us evicted from that building, unfortunately, but we caught the bug and we knew that this is what we wanted to do. Eventually, we found a venue in east Hollywood called Guadalinda. It was like a dilapidated Guatemalan disco-tech of ill repute. It looked like a drug dealers den from like the 80s. It had checkered floors and fake Grecian statues and we went in there and started doing our thing.  We were trying to bring the concept of bridging various communities that wouldn't normally party together to life. Gregory is part of the gay community and I'm straight, and we're best friends, but we found that our separate friends weren't interested in partying together - we wanted to create a place where everybody could hang out. We certainly weren't the first people to do that but it definitely resonated at the time and it still resonates today. So after the first event, it was something that we could obviously see was very special because it just seemed to have clicked right away, people seemed to get it right away, and we haven't stopped since.
Who is Rhonda? Is it a person, a personality?
We always consider Rhonda as this prototypical, mythical party person who exemplifies all of the best qualities of who Gregory and I want to be. Rhonda is the ultimate example of an epicurean kind of party diva who would be accepted and honored at any party throughout history, from ancient Greece to now. We created the kind of person that we wanted at our parties, and from there it became a really fun creative outlet for us. It became less about us and more about her.
Rhonda is the ultimate example of an epicurean kind of party diva who would be accepted and honored at any party throughout history, from ancient Greece to now.
Are the parties still as good as they were when they first started all those years ago? Do you have just as much fun?
I have so much fun! I think I'm having even more fun now. It's gone through so many phases. It's hard to keep riding this crazy pony ride, but we stuck with it. The party went through a lot of different, subtle changes, and a lot of people that came at first aren't the same people that come now. We may have been through everything and have made every possible mistake along the way, but we've managed to find our groove while maintaining our original ethos, which is sustainable magic. I'm very happy that we're still able practice what we've been all about from the very beginning.
How did your parties become so big in the LGBTQ community?
The queer community in LA is such a beautiful thing and that's where we come from. There's such a robust queer nightlife scene and we're just honored to be a part of it. It seems that we're not gay enough to be a gay club and not straight enough to be a straight club, we're somewhere in between. We're also a place where people that might not know who they are yet to become - we're apart of people discovering their identity, whatever that identity might be. So us being able to be a platform for that kind of self-discovery and self-expression is kind of what distinguishes us from the rest within the diverse and colorful landscape of queer clubbing in LA. 
For someone who has never heard of or been to one of your parties, how would you describe them?
I would describe it as beautiful, controlled chaos where you should never be afraid to be who you are or afraid of who anybody else is, and you should always expect to meet beautiful people and have sex with them. I just want people to feel free, but also confident and beautiful. Someone might be shy or they might be afraid to wear a certain thing out or to interact with certain types of people, and this is the place where you can discover and be all of that.
Coachella is in a couple of days, are you excited?
I'm always excited about Coachella. I always say that everything that people say about Coachella is true, no matter what it is. Its gigantic, it's full of fake-ass people, it's also full of real-ass people. It's full of people that want to be seen and it's also full of people that want to see the music. I think that no matter what is going on or who's playing, I always have a really good time because they do such a good job at making it so beautiful - it's in one of the most beautiful places on the planet to me. I've never had a bad time. 
Tell us about the annual Rhonda Queen of The Desert party.
Coachella is a big part of Los Angeles. The young and the relentless make their way out once a year to have a really nice time together. Because we're from LA and we love to party, we've always been really drawn to the desert during this time, so we started throwing our Rhonda Queen of the Desert parties. The name is a throwback to one of our favorite movies Priscilla, Queen of the Desert, and we do it at a lot of different places. We've done big pool parties, we've done private villa parties where Chaka Kahn has played, we've done a party inside of a big airplane hanger in Palm Springs with like 4,000 people, and now we have our party this year at HITS, a place where they do equestrian competitions. It's located very close to the festival and it has very beautiful grounds. We have a big, beautiful, artful rave and it's quite a beautiful thing.
How will this year's event differ from previous ones? Any surprises?
I'm so stoked about the lineup because Nina Kravitz is one of the most genre-bending DJ's I know. She's not really afraid to take chances and do wild things musically-speaking. She pushes the boundaries. She personally requested to have Virgil on, whose reputation in the fashion world precedes him, but the way he gets nods from DJ's I really respect like Nina and DJ Harvey makes me very very excited to see him play. I can't wait. Our party has the best sounds and the best lights and the best DJ's so that you'll be able to dance your ass off. We take the art of party-throwing very seriously, so all of those technical aspects will be on point. It will be as close to a club as you can get in the desert, next to the Yuma tent of course. I am very excited for a completely juicy weekend. 
We take the art of party-throwing very seriously.
My Finest Work Yet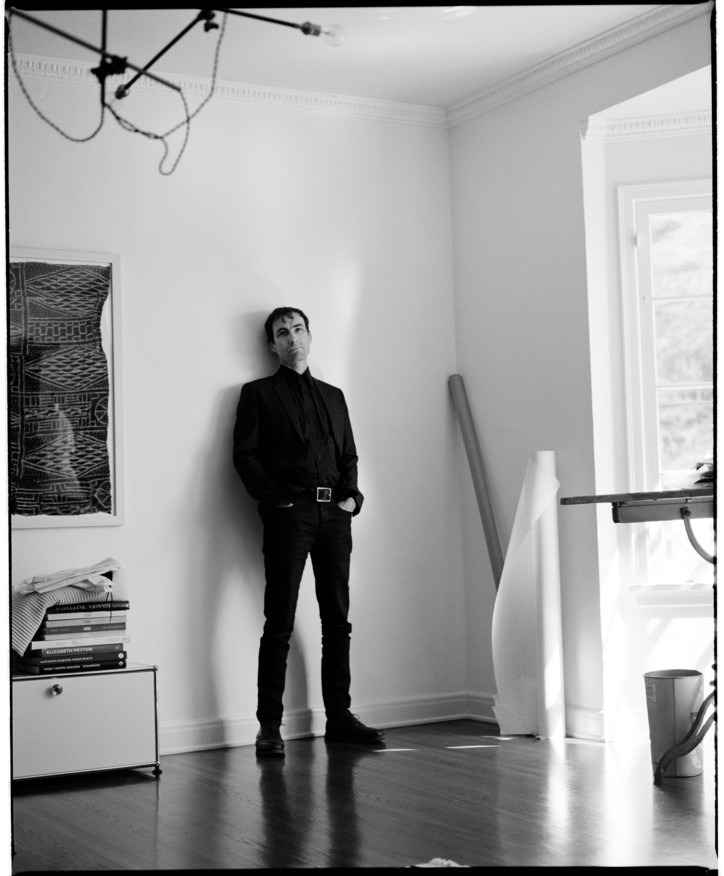 So, how's your day been so far?
It's been wet.
Oh really?
Yeah, my house is leaking.
Wow, that is wet.
I've been mopping up puddles all over the place.
Do you have any secret talents?
Well, gee. I've been playing violin since I was four years old — I learned to play music by ear. I went to conservatory but I still learned the classical repertoire as if it was folk music. I got into early jazz in my late teens and I started writing when I was working at a Renaissance Fair.
No way!
Yeah. I was the fiddling serf. I had drawstring pants and floppy pants and a floppy shirt and a floppy hat.
That's quite the start.
Anyway, I couldn't play for a while and that's when I started writing. To master the violin, you have to practice at the exclusion of almost everything else, but before I got so serious about this one instrument, I was a more well-rounded, more interesting person. You know, fully committing your time and energy to one thing is what it takes to master that particular practice, but that kind of dedication can also be harmful because it limits your scope. Writing enables you to exercise a different set of skills, like creativity and critical thinking. That's why I started writing.
You touched upon it earlier, but I heard that you are proficient in a range of instruments. I know you started off with the violin and I read that you even play the glockenspiel. Could you tell me a little bit about what drew you towards those specific instruments?
I didn't get into playing rock and roll by purchasing a guitar, or with the intention of bagging chicks or something like that, it truly stemmed from my obsession with the violin. The guitar is often considered the go-to for the troubadours because it doesn't press up against your vocal cords, which is helpful for singing. Teaching myself how to play the guitar and the glockenspiel was just kind of something I stumbled on because my singing voice is very mid-rangy. It creates the same kind of frequencies, then the glockenspiel cuts through all the other sounds that I'm making, so I thought it was a nice way to expand the palette I was already working with. This is part of my identity as a musician; looping the same kinds of mid-range frequencies and to create some variation and texture. So with most of the instruments I play, learn as much as I need — except for the violin, which took years and years of suffering to master.
How did the single 'Bloodless' set the tone for the rest of your completed project?
It was that extra umph in terms of lyrics and overall message — 'Bloodless' is everything that I was trying to do. As far as the way it sounds, I'm into making records that you couldn't replicate any other way, it would be impossible to go in and capture that sound again. My single is called 'Bloodless' because it harnesses the phenomena of the instruments bleeding into one another to create a single, unified, and harmonious entity. It's a really challenging thing to do. It goes against most conventional record-making techniques that have been practiced for the last forty years. That kind of stuff fascinates me. But as far as the lyrics go, I tried to strike that balance between metaphors, explicit reality, and the sense of the urgency behind the messages and content. That was the trick with this record — the material felt very urgent, very pressing, but if I didn't find the perfect way to express it if the content was expressed too explicitly, or if the presentation was too on the nose, you run the risk of losing people. 'Bloodless' pushed that line as far as meaningful places and dates; there's a lot of references to what was happening in Spain in the thirties with fashion, and that goes a little bit further than I usually like to go. But sometimes, in order to really unpack something that's important, you have to push that line. But we nailed that song, it was the perfect encapsulation of what I was trying to say on so many levels, and I feel like we got it.
I'm into making records that you couldn't replicate any other way, it would be impossible to go in and capture that sound again.
There were many hints of Greek mythology throughout this project. Can you speak to the inspiration that it served to you?
That was kind of accidental. I called one song Olympians and the other song Sisyphus, both of which refer to Greek mythology. I've always regarded certain moments in history as perspectives or points of reference to what's happening now. If you refer to names and places that correlate to a specific moment in time, it becomes a current event, it becomes part of your newsfeed, information that you devalue, whether consciously or not, you know what I mean?
I think we need some perspective right now. I'm not insisting that people who listen to the songs would know right off the top on first listen, or be familiar with what I'm talking about, but it takes about three minutes to look it up. I stumbled upon this concept when I was thinking of the word 'precipice,' being on the edge of massive change, and crossing that threshold of change just a couple of centimeters away. There are all sorts of aspects you can pull out of certain moral scenarios from myth. What I chose to take from that particular story is that Sisyphus didn't have much choice. His punishment was to push his rock up the hill for eternity, so my propensity towards suffering is more voluntary than this situation. But it's taught me about the individual, the community, and responsibility for what happens when you let the rock roll. What's the collateral damage. It's a lot to unpack. That's all.
I feel like a lot of your work revolves around a sort of holiness, perhaps even a higher power. What aspects of this project plays into this sort of higher power beyond yourself?
I like titles that operate on multiple levels. So, first of all, the project could be making a commentary on how we're not exactly living in an age of discretion. Even I, who was raised in such a way that making such pronounced statements wasn't very cool, partake in it. But I've made 14 records now, and you know, who am I kidding? Do you want to hear another poetic, obscure title to call this body of work, or should it just cut to the chase?
Call it what it is.
That being said, I feel like more and more I need to say things were clearly in my writing. I'm just sort of entertaining myself internally through this conversation with myself. But I'm projecting things outwardly, I'm thinking about who I am speaking to. With this record, there was a sense of urgency, but not a sense of duty — that was played out after the election. It was like a "call to arms" and people saying we have a duty as artists, then you're like wait a minute, I don't have a duty to anybody, but it's important to be receptive to what's going on in the world around you. There's this sense of urgency and heaviness and importance that I kind of had to tamper with.
We live in a time where it's more dangerous to not say something than to say something.
I don't think it does any good to say that people just "don't get" a song because lyrics aren't the end-all and be-all of generating meaning, they're just one of many ways in which the artist communicates. I think 2019 is just a tricky time to write a song with a message in comparison to hiring a songwriter to verbalize a feeling or an idea. People are so jaded and very sensitive, whether consciously or subconsciously, to the feeling of being talked down to or preached to. The only songs that I've heard out there that are getting to the gatekeepers, the only songs getting on the radio, that possess any hint of social consciousness that I'm aware of, tend to be cut from the "these are troubled times" cloth — those don't hold any weight, they aren't saying anything, you know? If you actually want to elevate the conversation or tackle some of these pervasive issues, you really need to know what you're saying, you need that specificity. Or is that the job of a songwriter? I don't know. But I'm going to give it a try.
I think that this all ties into what you've been saying, especially in your wanting to give the audience more credit, wanting to be more genuine. Can you describe the significance of recording live?
I just hear it. I hear when a song is recorded on a grid, with a click, with multiple overdubs and just over-processed — it just feels paper-thin. So recording live bits is just part of my overall ethos of reacting to my environment, that's my guiding principle. I think that the most beautiful about recording live is that when a performance happens, if you want to change a vocal you have to change everything else.
My Finest Work Yet is out now.