Look and Listen: Kelsey Lu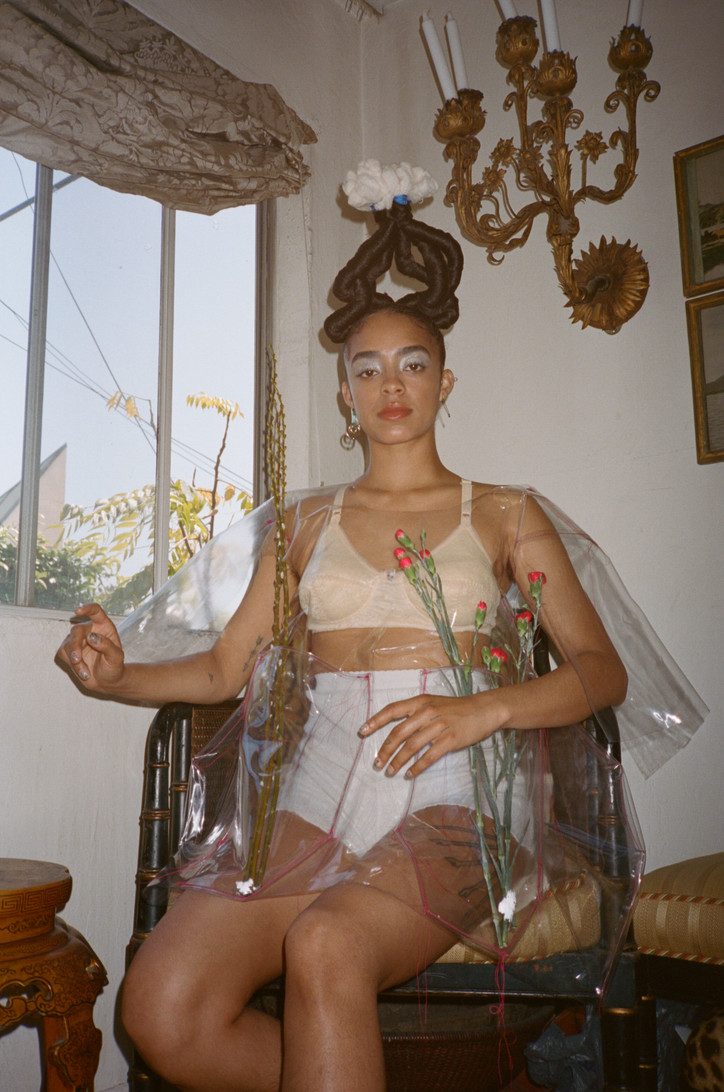 If Lu's music and the community of musicians she surrounds herself with are any indication, authenticity is the main ingredient in Lu's beauty routine. 
Collaborators like Solange, Kelela, and Dev Hynes are pretty much de facto ambassadors for the Natural Hair Movement™, but where exactly does the singer's soulful earthiness fit into the Pantheon of musicians promoting inner beauty over the gaudy camera-readiness of performers past? Make no mistake: Lu's look is curated and intentional, with obvious attention paid to how it dovetails with the aesthetic of her sound. But Lu's ability to take her natural inclination toward statement hats and unconventional makeup looks and make them look like unfussy afterthoughts is a testament to her true power: the ability to transcend her surface beauty simply by being herself. 
We chatted with Lu about the impact of color, how setting impacts her style, and what it means to be a modern black woman wielding a decidedly "classical" instrument.
As a musician, how does your regimen change when you are performing? Are your looks (outfits, makeup) a part of the performance? Or do they take a backseat to the music?
The music will always be in the forefront, the center piece. The clothing/makeup/jewelry are an accessory to that that also holds its own weight in accordance with the way they make me feel when I am performing. Depending on how close I am to the actual pieces themselves, and whoever has made or designed them, determines the mood I am communicating with them. I love dramatics, so the more the dramatic the more I am able to tap into that performance side of myself.
You've mentioned that you go by Lu, a name with less gender-specificity than Kelsey. Has your relationship to makeup or beauty changed alongside your changing relationship to gender identity?
No, I'd say it's still pretty fluid. Depending on my mood, depending on the weather, depending on my independence from the constructs of my own mind created by the constructs of society.
Can you drop your skincare routine?! Your skin glows! How do you maintain healthy skin while on tour? And do changes in season and location affect what you have to include?
Sure! It's pretty new for me to have a skincare routine at all. I couldn't really afford the bougie skin care stuff I wanted, but also didn't know anything about it. But this is what I'm on right now. For under my eyes, I've recently started using some Philosophy renewed hope in a jar eye cream. I use Mario Badescu Acne Facial Cleanser. I pump one or two (depending on the climate location) of evenhealy rosehip treatment facial serum ROSE into my palm, then spray 6-7 sprays of Dr. Hauschka/s facial toner on top of that and then rub my hands together gently then dab onto my face. Then I rub in Dr. Hauschka's Rose Day Cream Light. At night, I use Mario Baduscu Seaweed Night Cream.
Who is your biggest beauty inspiration? Why?
Birds and flowers, they are the original color carriers.
You play with a lot of accessories and hair adornments. What significance do these things hold for you? Do they give you a sense of power?
They are an ode to my ancestry and heritage. I am part African, specifically Nigerian, and if you look at original hair styles of different tribes throughout, you will see adornments and power within all of it. Someone who has guided me in the recognition of that and who is guided herself by the ancestors is Tanya Melendez aka Nena Soul Fly. Most, if not all, styles of braiding that I wear are made in collaboration with her. My hair styles most definitely hold power. It's my crown. 
What's one absolute fashion or beauty DON'T for you? Like, as in, if we saw you in it, hell would have frozen over. 
Wearing leggings as pants. 
Favorite thrifted find? 
Myself. 
If you were a Spice Girl, which one would you be? 
Scary DUHHHHHHHH. 
Do you have a favorite scent (not a perfume, but one that appears in nature)? 
Wet moss lying on a damp pine log with White Jasmine flowering vines creeping around it to set off an explosion of forest florals.