Leven Kali's Guide to Life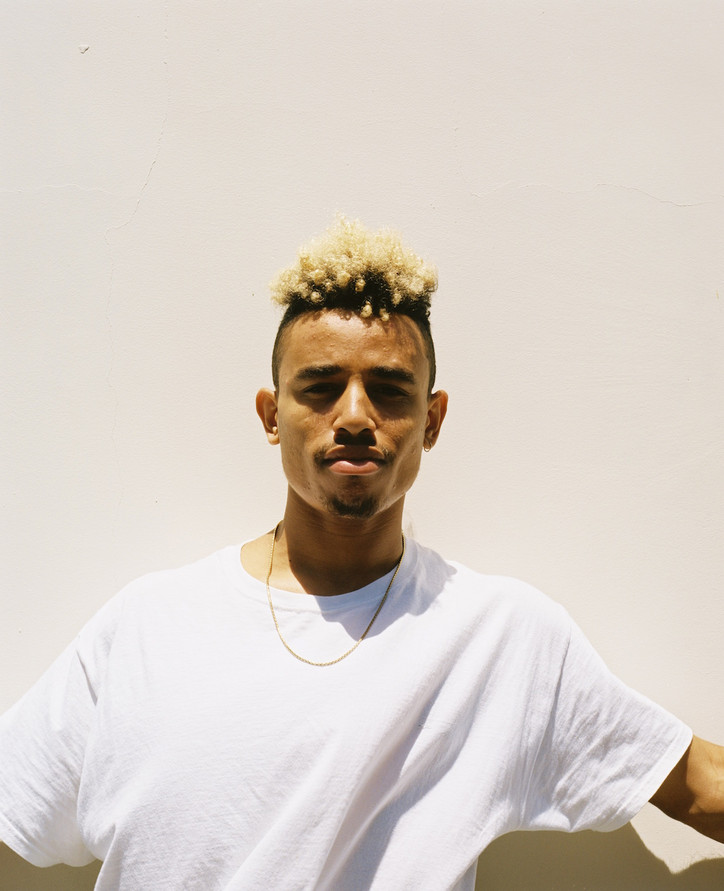 While the speakers blast groovy and soulful instrumentals and his dog roams around the studio, two of his bandmates, SolWas and Memmi, are getting comfortable on a couch next to a grand in order to recap their recent show at The Resident, one of the finest new venues in LA's Arts District.
Leven's manager, Tommy Nowels, who has spent a good amount of time roving between LA, London, and New York, somehow manages to stay engaged in two conversations at once, adding details to Sol's story, concurrently editing a batch of 8mm footage from the weekend before.
The energy and work ethic in the room serve as a testimony to the astounding success of Leven's recent output across the board. The man of the hour has surrounded himself with a close-knit group of musicians and visual artists, most of whom he met while studying at Crossroads High School. Sitting in a room with those very people, Leven reflects on his upbringing, relationships, and A-list collaborations with a nonchalant confidence.
How did you first get into music?
I was born in music, literally. My dad started a band called Mother's Finest and went on tours. My mum is a singer, my dad- a base player. They both write songs. That has been my whole life.
What was the first instrument the you picked up?
I was really young when I started playing the drums. I got a little drum set when I was like two or something, I'd just bang on it.
How did you figure out the direction you wanted to take with your sound?
I think that, honestly, it's pretty natural. My music is all over the place. Like the song "Yours", it starts out pretty funky, while the second part has more drums, more of a hip-hop influence. That's what we (points at Sol Was and Memmi) do, we make songs that merge multiple influences. We played in a jazz band back at school so we've crossed multiple genres, together.
What's the first instrument that you usually pick up when crafting a new track?
Often, I'd go to the keys first. Sometimes, I'd do the bass for the record and then Sol (Was), myself or someone else would come in and add bass on the bridge. Mix real drums with fake drums.
So you don't come with ready made material? It's all made on the spot?
Sometimes I'll make the base of the song, sometimes we'll make it from scratch. We usually just hang out a lot and add to whatever we have going on at the time.
What about sampling?
No, not really. I sample drums sometimes, like everybody does. I sample my own voice sometimes and make new sounds out of it.
And vocals?
It's different every time. Sometimes, I'll start with an acapella. Other times, it'll be a beat that I've slept on for two years. I've been doing a few features lately. I didn't make those beats, I'm just singing. To be honest, that feels a little weird for me. But it's also fun cause a lot of these people are really dope and I love collaborating! I wish there was a process you could expect every time, but there's none and it's fun.
"Yours" was made in like two or three days. Smile was like… an hour. It took way longer to mix it than it took to make it. I do a lot of mixing but my homie Diego is crazy. He was just on tour with DRAM. He still is. He's gonna come over tonight. Everybody here does just so many different things!
How did your collaboration with Topaz Jones come about?
Tommy—We just met him in New York.
Leven—We had already put out a song before we met him, though. Someone had told us that we should work together.
Tommy—Topaz went to NYU, we have a lot of friends who went there. We took a trip to NYC one summer and were there for a couple of weeks.
Leven—Now, he's one of my closest friends. We've made tons of songs together. Once, he came over here (to Palm Studios) and we made "Powerball". In this room.
Even when it comes to visual branding, it is easy to draw parallels between you and Topaz. How did you come about your style and who's behind it?
[Leven points to Tommy sat across the room] Tommy is probably editing some footage for us right now. Everything on SoundCloud, everything on iTunes, Instagram, all the photos, all the artwork…it's all made by Tommy. We share a very similar vision.
How did you two meet?
Leven—We went to the same high school (in Santa Monica).
Tommy—I've known Sol since... forever. We're family friends. [Leven starts humming]
Seems like the community in Santa Monica is really tight but what about LA? Does it still play a role in your life?
The LA scene is really tight. I've met so many up-and-coming artists as I've been making music over here over the years. There's the online scene, then there's the LA world. I'm aware of the community, and it's strong. We work together a lot. It's a soulful, real, human community over here.
Don't get me wrong, I know how many followers I have, but I don't really know what that means. How many of those people are actually listening to me? That whole world, it's something you can't hold onto.
In LA, when you go to places like Paramount Studios, it's like a fucking dorm! You end up developing relationships that way. Being from LA, I haven't really had the same experiences like that yet in NY.
But how did end up on Drake's Views?
I met Snoh Aalegra. She's a hip-hop, r&b, jazz artist. She really loved these backgrounds I showed her and wanted to use them for her next record. Then we made this one song, and Boi 1da ended up hearing it somehow. The next thing I know, Drake had sampled it. They pretty much used the whole hook on repeat throughout the whole song.
We actually met Drake right around the same time at one of his shows in London completely independent of that. It's everyone's dream to be on his album. It's been amazing!
And you've also worked with Playboi Carti!
I met him in New York. We went into studio and kind of just chilled. You'd assume we make such different music, that we're super different, but we had chemistry.
We made that song ("Flex") in one night. We were in the booth together. It was like an episode from Empire. It doesn't sound realistic because a lot of times people wouldn't be in the booth together. I've seen a picture of Travis and Quavo like that, but it doesn't happen often. It was organic!
Leven's next EP is scheduled to come out later his year. While we await for a release date, listen back to his latest material here.