Eckhaus Latta at The Whitney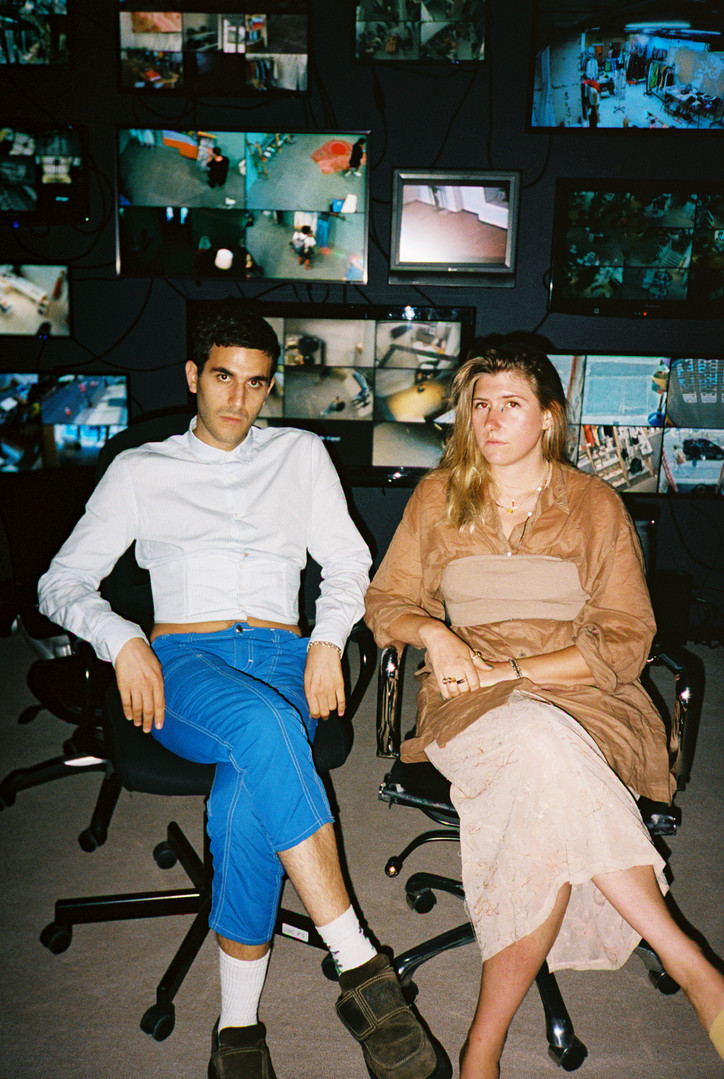 CCTV room by Alexa Karolinski
The Whitney's resident curator, Christoper Y. Lew, says the show is meant to give the viewer a chance to see behind the scenes of the fashion industry and interact with, touch, and try on the clothes. At the opening night, the mixed crowd of fashion and art insiders did all of that—and a whole lot of shopping too.
Model Selah Marley and artist/Hugo Boss prize winner Anicka Yi browsed the racks of handmade clothes produced over two years specifically for this museum show. Visitors tried on $3,000 pants in the Cianciolo designed fitting room, assistants carried in more sweaters, tops and t-shirts as the designs sold out, all while Mike Eckhaus and Zoe Latta buzzed around the room showing off their work with pride.
Eckhaus and Latta are both educated by Rhode Island School of Design and have blurred the lines between art and fashion since they started creating clothes in 2011. Even though they are a relatively new brand run by a small staff, they have had an outsize effect on the fashion world. Their diverse cast of models have contributed to the fashion industry's recent inclusion towards of more non-skinny, non-almond-shape-faced models. Their frequent collaborations with with artists like Cianciolo, Jessi Reaves and Juliana Huxtable have helped bring attention to these artists' practices, and their designs have been exhibited at the 'Greater New York' show at MoMA PS1 and the equivalent Made in LA show at the Hammer Museum.
Certainly, Eckhaus Latta's groundbreaking use of models, their collaborations with some of the most talented artists working with and around design, and their sculptural, deconstructive designs deserve attention from a museum like The Whitney as influential cultural producers. But among the evening's art crowd, the same handful of questions was asked again and again: Why install a store inside the museum? If you had two years to come up with a concept for a museum show, why do a boutique? In a city overtaken by commerce and shopping, is another retail experience really the most interesting thing to create?
"The museum was interested in exploring a retail interface" says Zoe Latta. "But exactly what we were supposed to sell, that was a mystery to us".
While the inclusion of a shoppable store felt somewhat unambitious—and the CCTV element a bit forced—the designer's earnest take on their own work in particular, and the fashion world in general, felt refreshing. Eckhaus Latta doesn't hide behind irony or faux criticism. Their belief in design, clothing and fashion culture as a tool for progressive change, and in shopping as "an intimate and creative process" was honestly displayed. And their inclusion of a group of artists who are effectively tearing down the borders between high art and design is applaudable. It might be just another clothing store, but it sure is a pretty one.