Inside the Mind of Johnny Knapp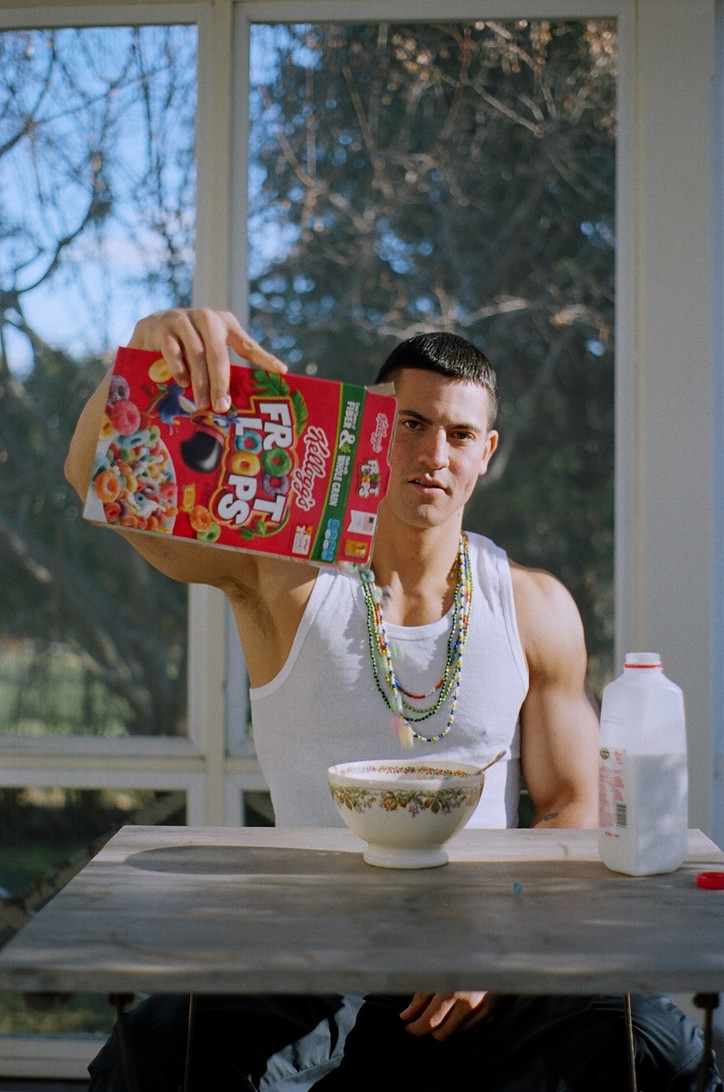 In an age where storytelling has become increasingly complicated—and where social media seems to be the leading medium for it—it's nice to see someone so authentic, or as Knapp describes it, "getting things down to the lowest common denominator." Just look how he says he'd prepare to shoot Barack Obama: "I wouldn't rent the best stuff, or even invest in assistants—I would want him one-on-one at the beach in Hawaii."
We sat down with the photographer to pick his brain about his work, available now at the office Newsstand. Read our interview, below.
In these zines, what draws you to the people you're shooting?
They're all just random strangers that had some weirdo run up to them with a camera. They know that it's admiration and love, though. That day on Rockaway beach, it was spring and I was just checking the surf and these girls were having such a genuine good time, that I just struck up conversation. A lot of the subject matter is me just having a laugh—not mocking people, but enjoying what I'm seeing.
When you pick your camera up to take a picture, what prompts that? What do you look for in an image?  
Other than good light, I think a lot of good photographers romanticize in their head. Like, you create the story in your mind before or as you're shooting—that's the process for me. It's a way to narrate the real world. I like to blur the lines—the girls in B 60th, those photos could have been taken by each other. [They make you think] like, 'Is this an intimate photo? Is this from a photo album?' You can't tell. I like to joke that if I had the opportunity to do a portrait of Barack Obama, I wouldn't rent the best stuff, or even invest in assistants—I would want him one-on-one at the beach in Hawaii. I'm a fan of getting things down to the lowest common denominator—simplicity. So much of photography is getting a team and building something, but that's not what I do.
That reminds me of painting—there were so many rules about what a painting was supposed to be, but then the Impressionists came in and were like, 'No, that's not just what a painting is.' I think photography is subject to those same rules. We think portraits need to look a certain way, but I like seeing people who acknowledge that a photo is a moment.
Absolutely. The photographer David LaChapelle said that if he wanted the real world, he would ride the bus. His photography is about creating an alternative world. That's what I try to do with my work—I want to be somewhere else.
He shoots to create a new world; I shoot to archive. Why do you shoot?
Archiving is a big part of what I do, too—you just do it because you have a compulsion to capture. I have these crappy photo blogs from college that I'm so happy I kept, because I can look back at them as a time reference.
Why do you think we have that compulsion?
Memories, a longing for nostalgia. I think we're a very nostalgic species.
I've been thinking about the question, 'How do we know who we are?' and about how we create narratives from our lives as they are happening—and images are such a big part of that. Do you think that the mechanics of analog as compared to digital change the mechanics of the image?
I grew up with analog cameras, so everything was a snapshot. It was someone's birthday, a vacation—snap! And we only carry them to document. Analog, digital—it's all a tool. If you're tending a field, using an old rake versus a big tractor will change how you do it, but not what you're doing.
So, you're not sentimental about film?
No, but I would follow up by saying, in approaching everything as a tool—your phone, etc.—while you're arriving at the same point, how you got there is important. Digital and film are night and day. I choose to shoot film because I have faith in my ability, and I know for what I want to capture, film is the best medium. It's about setting it up with loose parameters and letting it unfold. It also forces you to open your mind to happy accidents.
What are you working on now?
I've been working on a story about Rockaway that hasn't seen the light of day—I've only showed it to a few people. The basic premise is the juxtapositions that exist within that borough of New York. I come from a coastal town on Long Island, and seeing that all exist within Rockaway, along with this whole other shoreline wilderness is just incredible. It's still life documentation of objects that are decaying and eroding. Decay is another huge fascination in my work—the life of something. A lot of them are boats that are slowly sinking into the earth. It goes back to me creating the story in my head—that drives me to want to take these images.
What about the five zines—do they all follow a theme?
I guess the theme is that I focus on one subject or location. Each zine is a portrait sitting, or a study on one place.
Would you say that they're all a character study?
Yeah, I would agree with that. Ottavi is the one that has the most sentimental value [for me] now. It's a childhood friend that passed away this year. He had a rough time, and multiple incarcerations. But these photos are from when he got home from one of his times away. It was so nice to have him home—I just wanted to sit down and shoot a portrait with him, and I wanted him to have an action, hence the Fruit Loops.
The Gestures zine is abstraction. I've always loved the mark of a spray can—not graffiti, but just marks that get worn and weathered over time. It goes back to this French artist Martin Barré—he did these marks of one hit on a canvas. For me, it's an homage to him on my own terms.
 
Why did you decide to self-publish?
You're creating it inside yourself and doing it on your own terms—that's what's so beautiful about self-publishing. There's no validation from magazines, it's just you expressing an idea that you have, and having a tangible object of what came from inside you. You can self-publish online, but it's not the same.
Right. It subjects your work to instant gratification, or reduces it to likes.
Yeah, there's a lot to be said about this stuff being shot five years ago. That fact that it's physical means it can always come back—it's not buried on page ten of some website. It goes back to this compartmentalizing—I have work where I will be like, 'This is going into a zine,' but then there's digital work I'll post on Instagram. Were always sorting our work. I've been sitting on the Rockaway project for months because I'm just not ready to sort it—it has the capacity to be some of my most impactful work.
Knapp's zines—'Gestures,' 'B 60th,' 'Ottavio,' 'B&W Vogue Ball,' and 'Peek-a-boo'—are available now at the office Newsstand. Pick up your copy today.