Introducing Ms. Carrie Stacks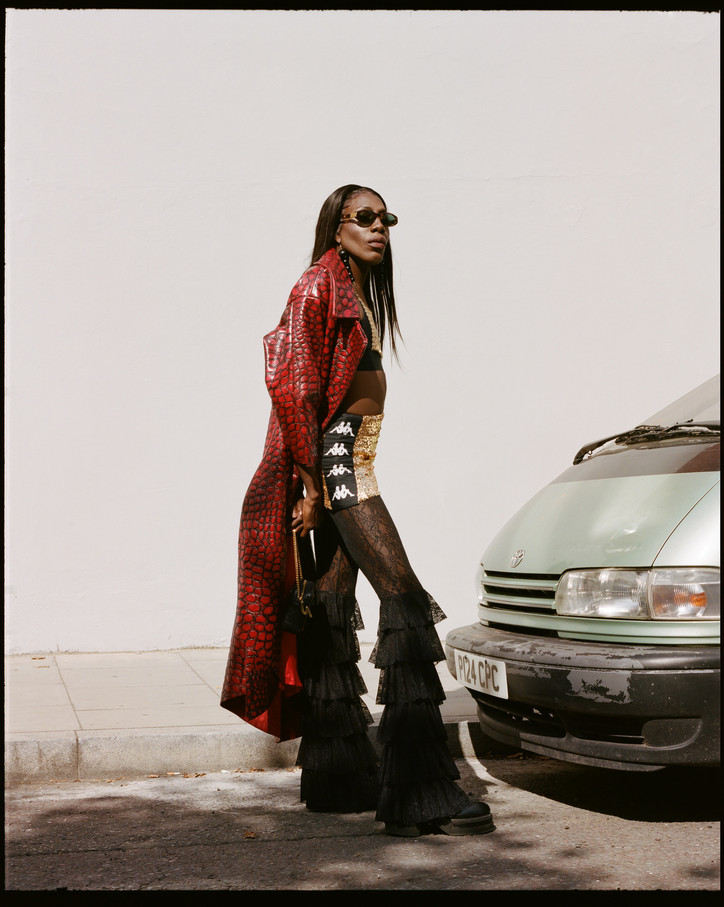 How's New York been?   
It's been nice. I was literally only meant to be here for like three days for our sistah Ibrahim Kamara's "Soft Criminal" show, but a lost phone and passport has kept me here for some extra time. It's been nice continuing the spiral out here. New York is definitely New York! I'm lucky though, I have some very beloved friends here so I'm safe and smiling.
Who or what are you listening to and watching at the moment?
It's kinda funny, but I'm listening to Mariah and Ariana live at the moment. In with the old, in with the new! I do the live performance of Mariah "Make It Happen" at Madison Square Garden in the morning for good vibes. That song actually makes me feel like it is possible. Then throughout the day, I'm listening to Ariana's new BBC live lounge. I do "No Tears Left to Cry," which of course helps ease stress and stuff. It's such a nice melody, and the lyrics, 'Right now I'm in a state of mind I want to be in, like, all the time.' I also do "God is a Woman,"  because yes, I definitely believe that he is a she!
How would you describe the place that London nightlife is in at the moment?
I'm so in love with London's nightlife at the moment. There's actually a community around us, like a real one. Without trying to sound too flash, somehow we've managed to build something I'm really happy to have and be a part of. It's not the easiest to define and I guess quite easy to overlook, but there's a rhythm to it, it works, for us, and there's real love and support and experiences and pain and passion, you know? I think that's really good to see because London, although it isn't the worst, it also isn't the easiest city to find your tribe in. So, it's fab if you do!
Can you talk me through your creative processes? Are you trying to get at something similar when making a mix, preparing a set or beat, writing a song—or do you think about, and approach, them differently?
I don't really have a routine when it comes to creating anything—it's always kind of different. I'm just trying to get to some type of mood or feeling. That's probably super generic to say but there's always a mood that kind of drives it—something I'm feeling, something I want people to feel, something I'm trying to say. Maybe there are a few things that help bring me to the type of results I get, for example, poor time management, deadline pressures, how much I'm into the thing, those kinds of things.
How would you describe your personal style at the moment? How has it changed?
At the moment, I'm trying out lots of different things, which isn't new. But now, I just like to feel and look as feminine as possible. Before, I'd do more mix-y, androgynous looks, but now, I really just want to be feminine and girly—which isn't as easy as it sounds. I'm realizing that even some of the things that I think are most feminine I can't quite do yet without any body—it's definitely a working progress type thing.
Who are the girls you are looking at for style?
All my girls I look at for style! The girls are fab! Everyone dresses so good, so sincerely. I love that whenever we get together there's always like a 5-minute introductory outfit compliment session. I really live! Then, I've always had a thing for secondary school girls I see around town—that sheer stank confidence, on the back of the bus or storming through the hair shops after school—it makes me shiver, literally. Also, Toni, Joan's best friend in Girlfriends, was my screen saver before I lost my phone. And if we're talking feminine feminine?! The Dolce girl circa 1998-2003/4.
Could you describe your process of getting ready?
I have to clean my body, clean my face—make sure all the man hairs are gone. Then I beat up using Fenty Beauty, of course, throw a look on, a little bit of mirror time, then it's time to pump.
What does 'beauty' mean to you?
I guess, to me, true beauty means self-acceptance; it means self awareness; it means a level of respect and support you give to yourself. It's a knowing of who you are and being okay with it.  
Are Larry B and Ms. Carrie Stacks different in any significant way, or is it just an outward difference?
Not really, I think we both believe in the same things, but maybe Carrie is more about her money than Larry is.
How do you define identity and how does that manifest in your creative processes or output? What does it mean to you to come into being?
Identity, to me, is who you are—the fabric or the strands that make up a person. I guess this helps me somewhat keep a few of the negative thoughts in my head at bay. The ones that say, 'No no no, no you can't, it's not for you, it's been done'—all these kind of thoughts. I can dissolve them with the fact that I'm me, and whatever I do is me, and it will be fine if I do whatever it is I want to do, instead of letting time pass without doing it. It's like an inner freedom—that goes for everyone.
In the last few years, there's been a lot of art in London that's redefining what an African identity is—beyond blackness even—but what it means to be African and live freely. Do you think about that ever?
Yes, of course. I think it's great. The more the merrier—the wilder the freer! Our ancestors were creative and free before we knew it, it's only right that finally now we can get back to that and go even beyond.
What's community to you?
AQEM!!!