Little Vignettes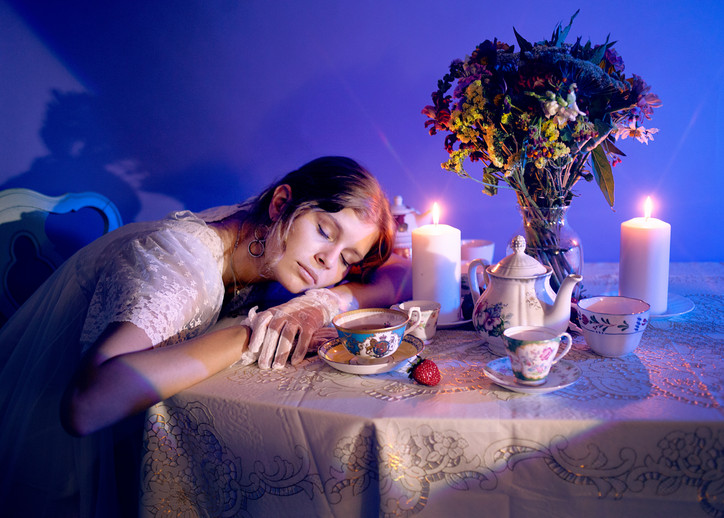 Take a behind the scenes look at the cover shoot for "Strawberry."
With a concept album in the works, Juletta met up with office to chat about her music. Get to know the up-and-coming singer below.
Why the name Juletta?
My great-grandma's name was Juletta, and when I was born my mom passed the name onto me as my middle name. Although I never met my great-grandmother Juletta, I spent my life hearing stories of how incredible of a person she was. She came to represent strength, love and true kindness to me, and I chose to carry on her name in this way to pass on that spirit in my music. 
How would you best describe your musical style, and how did you curate it?
My grandma told me that my music reminded her of little vignettes. Ever since I was little, she would tell me that I could write like Leonard Cohen—which was the compliment that pushed me to pursue writing early on. I always write my words before I put them to music, and before I met Ishan, I would tap out chord progressions on my old keyboard and throw in a melody. Now, Ishan produces all my music. When I met him, we started exploring all kinds of soundscapes that my lyrics could sit in. I fell in love with the production, and we began to build this ethereal world that my music now lives in. 
Tell us a little bit about your songwriting process.
This is a tough question for me, because I really don't have a defined process. Each song I write seems to develop in a completely new way. I love that though—it keeps me paying attention to each small moment or detail. And I try to stay clear-headed and on my feet to receive whatever calls me that day. I have about a thousand little notes or observations that I write down in my phone, and eventually some of those initial ideas blossom into larger stories. 
Once I sit down at the piano and start producing, the emotions behind those notes reveal in melody. What I'm trying to do with music is to create a tangible reproduction of an event or feeling or time period that could otherwise pass you by. I'm hoping that my songs can preserve that headspace just a little longer, whether that is painful or heartbreaking or breathtaking. I want to store all those moments somewhere. So I see my projects as a kind of archive of people, location and time. 
When did you first know you wanted to pursue a career in music?
In college, I had an incredible opportunity to study writing in Italy. At the time, I knew very little about performing or writing music professionally, but I met one of my best friends there who was a fantastic jazz pianist. We began writing together, and in a country where I barely spoke the language, I found performing music as a way to connect. I had grown up singing with my family and in coffee shops around my town, but performing in Italy showed me that what I was doing could extend far beyond my little community. 
When I settled in New York after Italy, I had a new appreciation for sharing my music and I immediately immersed myself in developing my skills in music theory and performance. 
Who are your musical influences?
I grew up listening to Adam Duritz and the Counting Crows, mostly because my Dad loved them. But I was also fascinated by the way Adam Duritz could pour out the world into words, then extract the tiniest, most soul-wrenching detail that could entirely alter the way I saw things. His songs seemed to have real power-- they contained so much life. I came from a family that loved alt rock and country-folk, but as a child of the internet, I had access to an endless number of artists. In high school, I fell for Frank Ocean, Amy Winehouse and Joni Mitchell for the same reason I loved the Counting Crows. Genre never mattered much to me, and Nina Simone drew me to the piano. 
Your friends are a huge part of your musical process. Can you speak a little on the benefits of working with your friends and coming up with them?
Absolutely. There's an incredible creative community in New York, and I've found so much support and love there. My bandmates are all amazing musicians and artists, and it's awesome because we play for each other in gigs and then also on each other's songs. The person I collaborate the most with is Ishan-- he and I work on all my music together and having that creative freedom and safety make such a difference. He is a ridiculously talented producer and artist. 
We just all have each other's backs, you know. Some of my closest friends are the ones helping to manage my music, and having that tight knit foundation makes everything all the more fun and fulfilling. 
If you weren't a musician, what would you be?
Hmm, I guess I'd be a writer? I've always wanted to go run a ranch in Montana, live simply and ride horses everyday. So maybe I'd go live out that dream.  
Where do you see yourself in five years?
In five years, I truly hope I'm doing the same stuff I'm up to now—making music, performing and sharing it with everyone I can. Hopefully, I'll have a dog in New York by then, or maybe I'll at least have learned to cook better.