LVMH Prize Finalist - Jahnkoy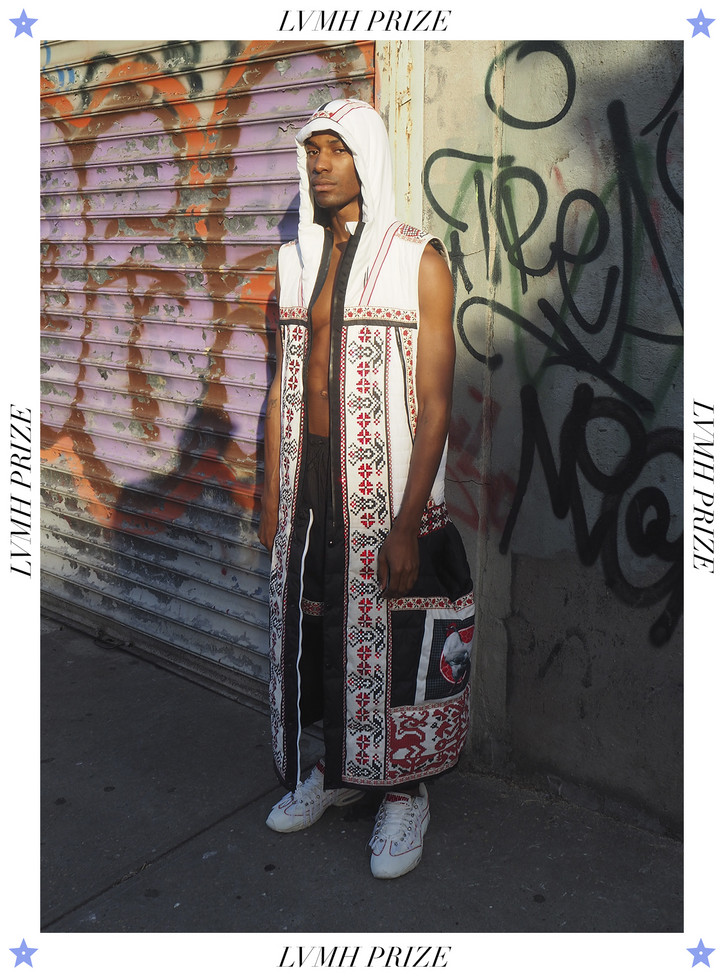 How do you integrate your own culture and history into your work?
We are living in a global world; my culture is a mix of everything I have experienced and learned along the way. My experiences span from places such as Novosibirsk, Moscow, London, to NYC as well as other places I have travelled in between. My life is a combination of everything I believe in and deeply love. My work is the representation of my life. My whole essence is deeply embedded in it.
Your work has garnered attention, not just because of how it's made but also because of how you have presented it. What do you think is fashion's role with the current state of the world, or what should it be?
The presentation is an integral part of my work. I am curious why one would separate their collection and presentation. For me it is a whole body of work and I am glad that it has been well received. Fashion has the ability to lead people and its role should be to empower, uplift and educate. Your work is also concerned with sustainability.
What advice would you give people who are ambivalent that fashion and eco-consciousness can't coexist?
I don't know if I can call it advice, but I hope we can all listen to our inner self and act accordingly.
What is it like to be an LVMH prize finalist? Where were you when you found out and what does the honor mean to you?
I cannot remember where I was, but I am extremely grateful and honored to be a finalist of the LVMH Prize.
What is the biggest challenge in creating work that references other cultures without appropriating them?
There is no challenge when it is done with integrity and love.
What is on the mood board for your next collection?
This is not really how I work. Every project that I do is my learning process in understanding the world we live in. It builds upon the foundation that came before it and the next crucial step, I believe, needs to be taken in order to revive craftsmanship around the world.
In three words, what do you think the future of fashion will look like?
Craftsmanship, community, consciousness.
What is the most common misconception people have about you or your art?
I am not aware of any misconceptions that people have.
What is the best advice you've ever received?
We are one.