No Address Needed to Join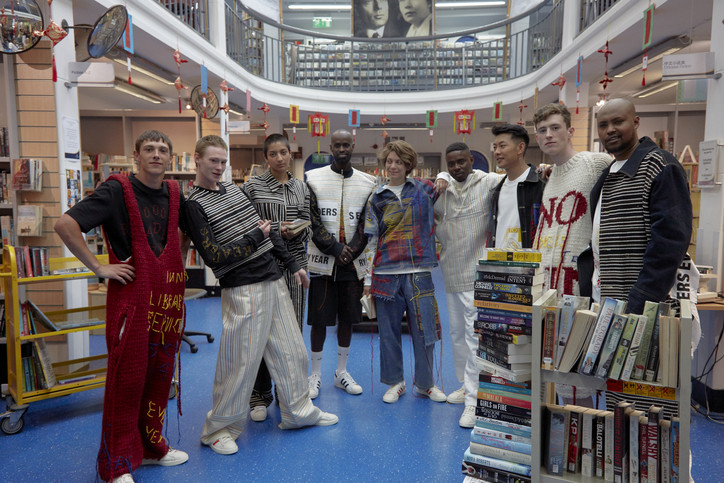 British designer Bethany Williams presents her SS19 collection "No Address Needed to Join" following in the environmental and socially enterprising foundation laid with her debut collection last season "Women for Change". Working in collaboration with The Quaker Mobile Library and British publishing house Hachette UK. This season celebrates waste materials from the publishing industry and the innovative Mobile Library Charity. The organization makes literature available for borrowing to marginalised parts of society who have no fixed abode required for registration to public library services.  To support The Mobile Library Charity, Bethany is donating 20% of the profits from this collection.

As with every season the collection will be produced from recycled and organic materials. The materials link closely to the story of books and libraries, utilizing waste product from Clay's book manufacturing in Suffolk, one of Hachette UK's printing partners. Bethany has taken the book waste to San Patrignano in Italy and worked alongside the community to weave fabrics mixed from book waste, waste from San Patrignano and donated pre-production waste from mills in Italy. San Patrignano is an education and rehabilitation programme for people with drug dependency that teaches traditional Italian craft and a sense of community.

Hachette UK have kindly donated books to the mobile library and have also donated the use of their logo and book covers through the printed textiles, which are inspired by Hachette UK's book cover artwork.  

Bethany has also continued working with the London College of Fashion's 'Making for Change' programme, which supports the training of women in Downview Prison. The programme will be constructing the jersey pieces for the production of the orders. The collection production focuses on working closely with innovative rehabilitation programmes such as San Patrignano, Making For Change at HMP Downview and Manx Workshop for the disabled (button production). Providing skills and meaningful employment.

Knitwear has been created in collaboration with Wool and Gang's Heal the Wool yarn (which comes from 100% recycled Peruvian wool fibre and 30% of the yarn price is donated to Friends of the Earth) and taking recycled wool from Kent for the hand embroidery. All the sampling is hand knitted by Bethany's mother on the Isle of Man where she grew up. Raw materials are sourced from Chris Carney Collections, a recycling and sorting facility where it goes on to be washed, unravelled before the hand knitting process. Other denim elements within the collection are sourced alongside this and unpicked before being reconstituted and hand printed into new garments.  

The presentation is collaborating with social and environmental activists and TIH Models, a niche, socially engaged modelling agency exclusively featuring individuals in unique living conditions.