Playdate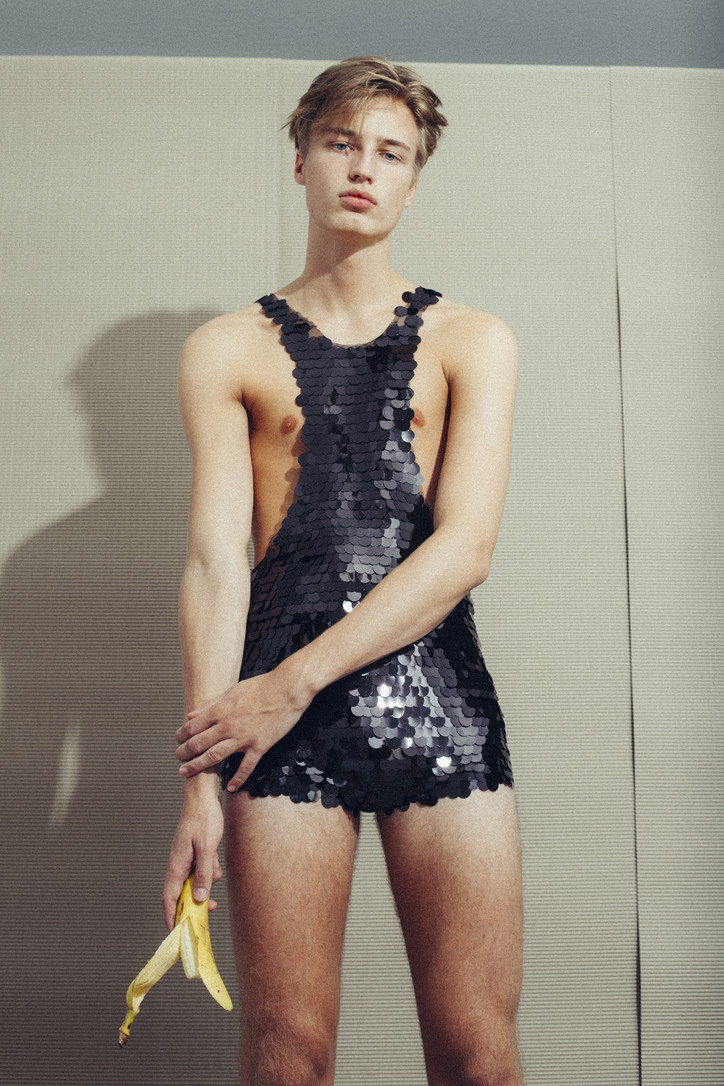 'Playdate,' the brand's S/S '19 collection fosters the same ethos of radical authenticity, highlighted in a shoot by photographer Jasmin Storch. As part of their new fanzine, Unpublished Material #8, the imagery showcases the artful details within each of the range's pieces, including subtle references to work by Hockney, Matisse and Ken Price.
As they have with all of their previous collections, Lazo and Schmidl have created a limited edition fanzine in which they invite other artists to reinterpret their work. This focus on collaboration is part of what makes the brand such an exciting new voice. As opposed to other designers from history who might have viewed their creative peers simply as competition, Lazoschmidl seeks to bring bring people together—to create and enjoy their art.
With the release of Unpublished Material #8, office spoke with the designers about the brand and what it's like being a creative in Stockholm right now. Read our interview and get an exclusive look at our favorite shoot from the fanzine, below.
Tell me about the brand. When did you start it?
Once upon a time… we started working together on experimental small capsule collections a few years ago and documented each of them with a photoshoot. These later developed into our fanzine series that have become one of the most important creative outlets. We immediately received a positive response from the press, award recognition and visibility through our exhibitions, so our collections grew and we started showing them on the runway. We're currently working on our fifth standalone presentation and have just recently launched our underwear line featuring the 'selfie briefs.' So, everything evolves very intuitively and organically.
How did you two meet?
We met online while Josef was studying fashion design in London. After meeting, we quickly realized we shared a lot of interests ranging from music to art and food—Mariah Carey, Francis Bacon, pastrami sandwiches, you name it. So, we would hang out in East London before it got hit by gentrification, visited flea markets and the Tate Modern. I [Andreas] had just graduated with an M.A. in literature, so we collaborated on Josef's final collection thesis and created an accompanying book. This was the first hint of how we would work together professionally.
From there, why did you decide to launch a label?
After graduating, Josef started working in the design ateliers of Marios Schwab and Louise Goldin—both smaller studios that allowed him to gain overall knowledge and the skill set needed to run a fashion label. My university background provided me with studies in the fields of pop culture, marketing and branding. So, combining those skills, we felt we were ready to form our own brand, and to do so we created our first collection that consisted of only six looks. Entitled 'Grand Poop,' the garments were an investigation of how artists are fascinated by body liquids and how we would apply this idea to the construction of clothing. The artistic and artisanal approach was very fundamental to us, but the wearability was important, too—no abstract shapes or wearable installations, but a proper silk suit with hand-embellished crystals, etc.
What's the goal behind Lazoschmidl?
It's core is the exploration of ideas—the creative output and visual manifestation in images, runway shows and products.
How would you describe the brand in three words?
Rebellion. Glamour. Body.
If you could dress anyone—alive or dead—who would it be?
We love Tony Ward for his non-conforming masculinity and playfulness—and we would have loved to dress Destiny's Child.
What inspires your designs?
Each collection is developed for fictional characters from stories we write to start the design process—our ideas are a melding of past experiences, childhood memories, travel and pop culture—it's almost a game of free association for us.
How does gender, or traditional constructions of gender, play into your aesthetic? Do you consider the brand to be strictly menswear?
We design for men and women who appreciate a certain freedom in dressing and expressing themselves with their bodies. The garments are cut for men but the silhouettes are narrow, so it easily translates and transforms into a female wardrobe, too. One of our jackets is called the 'girlfriend jacket'—something borrowed from your lover. [Our clothes are for] boys and girls who share their favorite items and form a relationship through dressing for and styling one another.
Through that, Lazoschmidl has really created their own version of masculinity. What does modern masculinity mean to you? And how do you like to present that definition through your clothes?
Masculinity in terms of using masculine codes of dressing is a social construct that changes over time, and has seen various different epochs. We love to refer to the Middle Ages, the 1920s Weimarer Republic or the Summer of Love. What we perceive to be radical today, has already been done—and maybe even better. Men in dresses, drag, polyamory—we like to celebrate these possibilities and encourage everyone to use and apply the whole spectrum of identity for themselves.
Who do you see as the Lazoschmidl customer?
Our customer is wild at heart, sexy and provocative, living life to its fullest, appreciating the luxury of craft and creativity, collecting memories through a self-defined look and a physical appearance.
How has Stockholm influenced your vision?
What we create forms itself intrinsically from within ourselves. Our cultural backgrounds are Swedish and German which would naturally lead to work focused on minimalism, nature and technology. But those are not the core principles—instead there's an element of Otherness.
How would you describe the Swedish fashion scene right now?
There's a new generation of designers who have freed themselves from the idea of Scandinavian design—the craft and product design aspect. Instead, it's evolving around happenings, small communities, gallery workshops and the sexual redefinition of stereotypes. So, the Swedish fashion scene at the moment is daring and fearless—and of course, you still have a strong pairing with simplistic ideas and established fashion houses.
What about the fashion world in general—what about the industry do you think needs to change?
Focus on personality before the brand—fashion should be an expression of an artistic mind and not a game of name-dropping. [There needs to be] more substance.
Tell me about the upcoming fanzine. Why have you decided to present your collections through this medium?
Each fanzine tries to bring in varying perspectives of our collections. What does a photographer, illustrator or artist see in it? What is a visual interpretation of the collection's story? This way, we can explore different styles, aesthetic codes and play with it. The latest zine combines black and white beefcake imagery shot by Doug Inglish in Hollywood, the sensual portrait of a boy in a Paris hotel room shot by Alexandre Chagnon, and this shoot by Jasmin Storch, a playful visual essay with lurex and sequin pieces that take our character from the bedroom to the disco, and back, of course—and hopefully not alone!
'Unpublished Material #8,' is available now. Limited to 100 copies, you can buy it here.