Saddle Up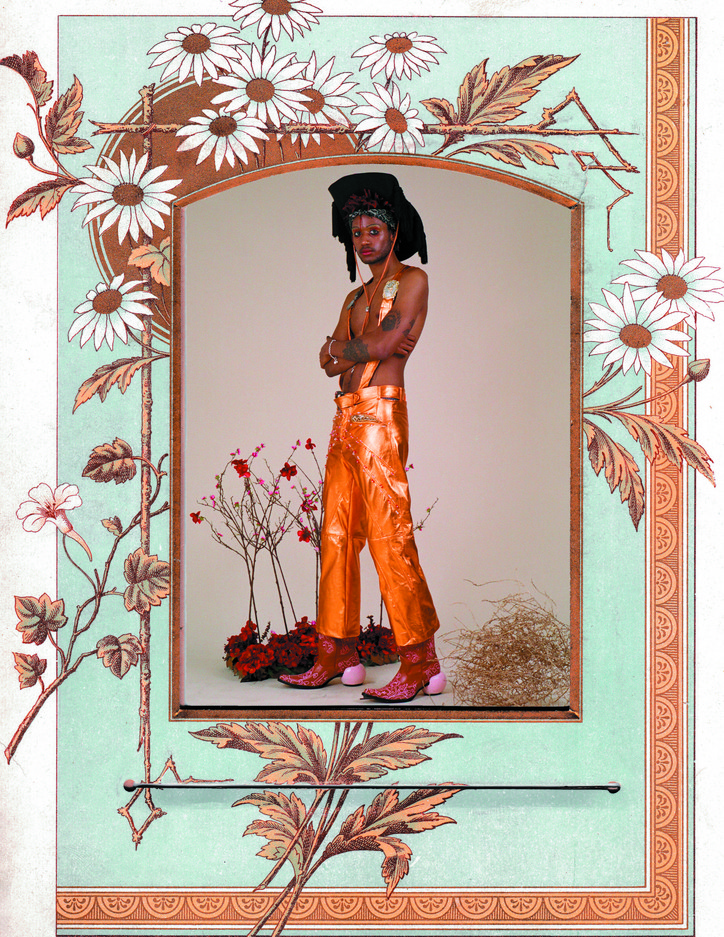 If the fashion cycle moves like runaway carriage, then this American cattle driver, is the next to designer to take the reigns. A recent graduate from Parsons, she launches her brand, Recluse, with a romantic, yet humorous, collection that will make any urban cowboy stop in their track. So hold on to those horses — office sat down with Chase for a quick water break.
What is the inspiration for this collection?
My inspiration for this collection began with my upbringing, and heritage, in the Midwest (Illinois); as well as, the southern tip of McDowell County, West Virginia — where my mom was born, and raised. I decided to deconstruct, reimagining toxic masculine tropes by evaluating my own relationship to them. I grew up wanting to be a cowboy like the many men in my family — early 20th century / late 19th century — that had come here from Ireland, and Holland. I wanted to reimagine the archetypical country western narrative by creating a collection that shows what country western fashion could have looked like, if it had been more inclusive; and celebrating of society outside of the conservative, racist, homophobic, transphobic, misogynist gaze it often holds as a keystone ethos. I also took major inspiration from Glam Rock (1968 - 1976) which is a key part of my personal style.
If capita wasn't a problem, what would you want to accomplish, or create?
I want to accomplish an entirely sustainable, and political, fashion brand centring around suiting that doesn't hinder the environment, but helps people... and it flourish outside of a capitalist system. I would create my own sustainable lurex linens, and cotton fabrics, that look expensive; feels great in the heat. Also [I] would love to have my own vintage archive, and store one day.
Characters are important to telling a story, and your collection does that very well. What is your favourite film?
Respectively, which character do you relate to the most? I have a large list of favorite films: 3 Women (Robert Altman), Nashville (Altman), Boogie Nights (Paul Thomas Anderson), Der Blaue Angel (Joseph Van Sternberg), Midnight Cowboy (John Schlesinger), Rosemary's Baby (Roman Polanski), Eyes Wide Shut (Stanley Kubrick), Fried Green Tomatoes (John Avnet), All Dogs Go to Heaven (Don Bluth), Wild at Heart (David Lynch), Black Orpheus (Marcel Camus), & El Topo (Alejandro Jodorowsky). Not a completely fictional character, but Larry David in Curb Your Enthusiasm: I really relate to him... even when he is completely awful.
Any advice for designers who are still discovering their voice?
I used to run away from who I was when I first moved to New York. Eventually, my work aesthetic completely changed from all those years spent running. I think it is because I have learned to accept myself: really looking deep within. I discovered my voice and style, by struggling to find it. And then torturing myself by sketching 200 designs — each one completely different from the others — to really see what is consistent; what is repetitive. It's really insightful because no one is creative enough to come up with 200 different designs in one week ...so forcing yourself to come up with bad sketches is a great way to find the really good ones.
How does your upbringing inform your work as an artist?
My mom actually really influences my work. She is so creative, inspiring, as both a presence, and a person. She defines the term: bad ass bitch. I really admire, and look up to her. As a kid, I watched her spit in the face of social norms by being real, unapologetic, wild. She is one of the best dressers on Earth; my love to live in her closet. She has a great eye for eBay / secondhand clothes. Also she's a fantastic painter!
Where is paradise for you?
My studio / apartment. It represents my current state of mind. I prefer being there more so than any other place in the world. Unfortunately, I haven't found a location I can call my own paradise: like a country, or city, that I truly love.
Complete this sentence: without fashion, I would [blank] because [blank].
Without fashion, I would lose my identity — my sense of self because fashion is how I communicate my emotions, feelings, and beliefs, on a daily basis, as these are ever fleeting ideas, thoughts. Fashion allows me to articulate my mind without the need for justification.
What do you do on your day off?
[I] spend time experiencing, researching, really cultivating [my] knowledge. If I am unable to travel, you can always find me at a museum; or at the theater watching a 35mm film.
One trend you wish you had started?
Nudie Cohn's rhinestone cowboy suits from the 1960's & 1970's. All of it.
Why do you think humans create? What really drives this desire?
I think humanity's primary function is to manifest procreation in everything that we do. We cultivate society by creation. Bound to the task of innovation, I think artists like myself, who never seek the desire to procreate physical humans, are driven to create by birthing new beliefs; thus, creating conversations through our inner personal beliefs, and ideas. I think human creation has multiple categories, but derive from the same source of reason: to better the current society we are living in. People believe in having children; and often dream about their children being the next "something", etc. Artists create in order make "something" that serves to redefine, and give a new definition to something that already exists — both artists, and non artists, in a sense... give movement to evolution.
Are you human?
No