Ski Mask the Slump God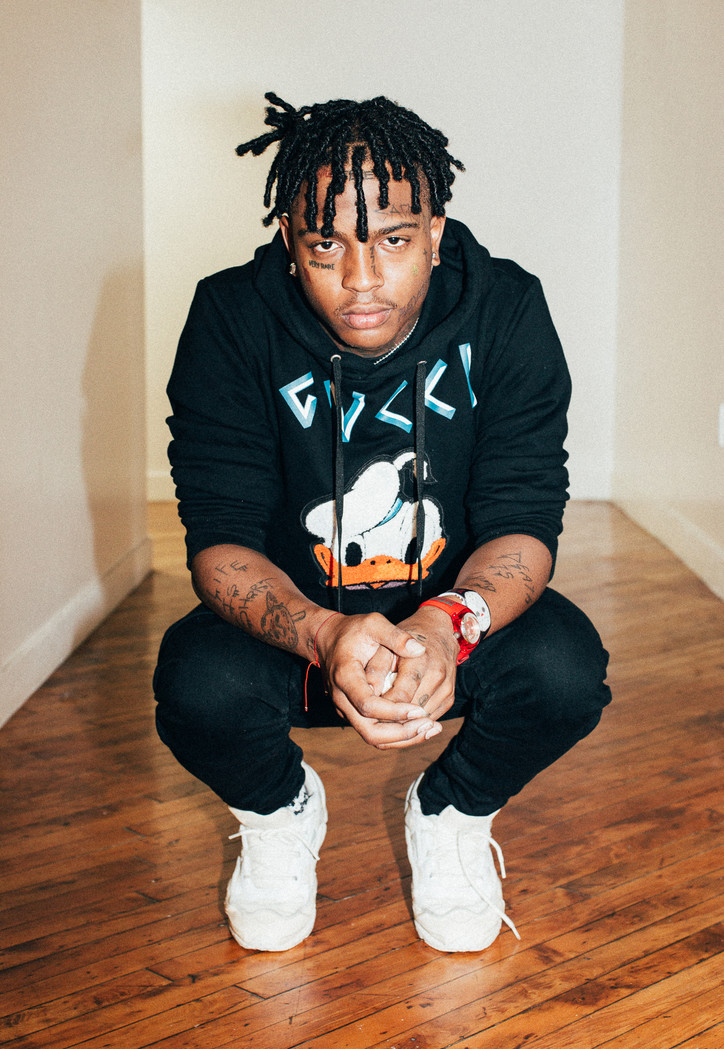 Where are you from and why did you decide to come to NYC?
I'm from Florida. Not really from a hood, but it is at the same time. I came here because I needed a place to focus and get shit done. I did a lot of crazy shit in Florida. 
What about your music. When did you start?
I started because my dad is a rapper, actually. But I got arrested when I was a kid, so I went to Juvenile Hall. It was for weed basically. I went to jail and meet XXXtentacion. We decided to merge. I kept practicing, and then we met up after jail and we started making music together. I was around 17 and he was around 15 at the time.
Let's talk about your new music project. What is it about? 
Well, I mainly wanted to do it about myself because I want people to get to know me through my music. I want people to figure me out and learn my sound. The name of the mixtape is tatted right here on my forehead. It's name is "You Will Regret."
Do all your face tattoos have meaning?
I can't get one that doesn't mean anything.
Do you have a main musical influence?
I don't. I listen to every genre: rap, rock, classical, heavy metal, etc. I listen to Adele sometimes too. 
What does your artistic name mean?
I guess Slump God came from taking too much Xanax when I was younger. I stopped taking them— me making music on Xanax is not a pretty thing. Ski mask is just skiing, I guess being fast.
Do you drink? Do you have a favorite drink?
*Pulls out Hennessy bottle* If I'm not drinking Hennessy I'm forced to not drink anything. I usually get a regular one but this is a special edition bottle.
Are you on tour right now?
I just finished up "Revenge Tour" with XXXtentcion. I did one with Desiigner before this one.
Any performances coming up?
Hell yeah. I have a tour coming up with all the people in my music groups. It's still in the works. 
What are you most excited for?
I don't wanna use controversy, or even take pics with famous rappers and use them for my own fame. Everything is based off of myself, my talent, and my personality. It's nothing about having beef with people or bullying anyone.
Are you into fashion at all?
I love clothes. I love Gucci, I have lots of clothes from them. It's not my fave though. Right now, probably Y-3 and Yoshi Yamamoto. Other than that, my own brand, Revenge.
Do you have a favorite song right now? Maybe something that's stuck in your head?
The song I listened to on the way here. I keep singing that song in my head. It's called "Let's Groove" by Earth, Wind & Fire. You've never heard that song? Let me play it for you. It's a happy song, I love it. 
p.p1 {margin: 0.0px 0.0px 0.0px 0.0px; font: 11.0px Helvetica; -webkit-text-stroke: #000000} span.s1 {font-kerning: none}