A Utilitarian Utopia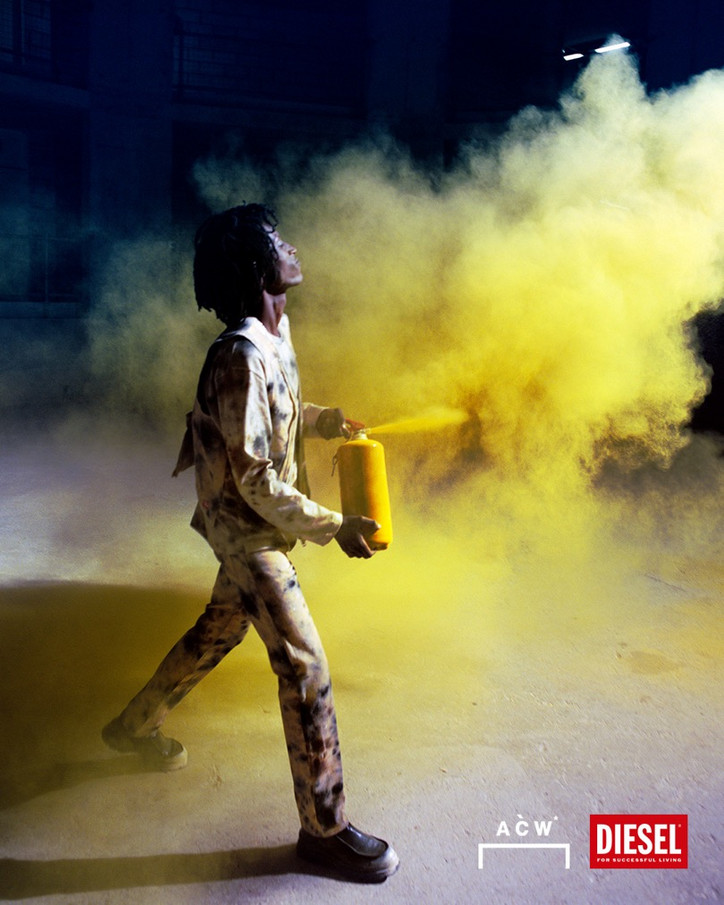 office sat down with Ross and Rosso to talk about the collaboration. Read more below. 
Can you tell me about the collection?
Samuel Ross - So the collection in total is 27 pieces, we wanted to keep it quite tight and we wanted to keep it an exclusive and limited collection. It speaks to all the material treatments they use that can't be scaled up a lot. So what we wanted to do was make sure we had a very concise and limited skew of the product. So for example, t-shirts and jersey pieces, of course, exist in the collection and serve as the entry which ranges between 180 to 205 euros. Then, we go all the way up to outerwear pieces such as the overcoat, which has two forms of denim being utilized in place, and also specific nylons that have been memory treated also in place. So you have the full spectrum skew from t-shirt entry for the younger consumer all the way up to the more avant-garde and sophisticated pieces throughout the collection.
And yet, it's still very tight.
Ross - Yeah it is—it's balanced. And I think what we've really achieved here is a very artisanal perspective on garment design that still remains incredibly wearable, you know? It has an element of character to it, but it doesn't push out the spectrum of sales and being able to feel comfortable in a garment that you can wear daily.
Would you speak on the collection as well?
Renzo Rosso - You know me, I am not a designer. I am just the man behind the brand that gives it to someone who will honor it. I think this is a very, very special brand because the know-how that we have is really unbelievable. The company is 40 years old, so we can go through treatment, embroidery by hand, go through different fabric discriminations. Considering how many companies I have worked with, this particular experience is really unbelievable. And I know for Samuel, because I've followed him for the past two and a half years, that this is what he loves. It's blood like this, a spirit like this, and the responsibility of the current designer to choose the next cool designer—but, above all, they must also be brave, because this is a brave brand, with a future-geared mindset. I'm so happy today to be with him and the really incredible staff. He knows what he wants and I really appreciate that—you can't tell him anything. So I'd say I'm proud and I'm so happy because of the interpretation of Samuel. 
Are there any previous Diesel projects that you're drawing on here?
Ross - Well actually, we spent a lot of time looking at the Diesel archive, especially the first two to three collections from Diesel. I was quite blown away that there was a real sense of continuity between the aesthetic I've been building between A-COLD-WALL* and the foundation that Renzo had already started quite a while ago. There are key pieces and silhouettes which are actually almost like an amalgamation of early Diesel with the cohesion of A-COLD-WALL*, which is why it actually felt quite natural to work together—there was already like a syncopation of ideas in place that we could just tap into.
He opened us up to this space of Diesel, to the technician facilities and into the archives so I could actually spend time learning about the manufacturing of denim, the pigment dyes, the watches, the applications, the different ounces and weights of denim, which I didn't have previously. So it's been almost like an exchange, firstly of Renzo's spirit and taste level, a known way to go, and second for myself has been opening up resource and access to then manifest these ideas.
What about the other visual elements of the show, could you speak on that?
Ross - I'm so glad you asked that. We worked closely with two different artists, one is Dexter Navy, the Grammy-nominated film producer, A$AP Rocky, and many other artists. They all operate between London and New York. So there's a European aesthetic as well. There's an American aesthetic that molds together very well, and together, it really manifests the zeitgeist of this generation between Renzo and myself, Dexter Navy, and Kelvin Krash—it's a generational grouping. There's no type of separation between the way that Renzo thinks and architects ideas to the way that I architect ideas. There's a way that Dexter does with film, and it's completely holistic, and it embodies the zeitgeist, and every element of the collection.
That's amazing. Would you speak on that as well?
Rosso - For me, I like to say that in this collaboration we do something more new, and that is see-now-buy-now that you can preorder. We want to go back to the past and create the desire to have something, to buy something. This was an idea that Samuel and I feel very strongly towards. In today's world you have everything on socials, on the internet. To create the sense of desire for everything is something that you need in the fashion industry, and I think it's a good thing.
You've spoken of your clothes as a sort of political reaction at times. Does that tie into this collection at all?
Ross - Well, I think what I do with clothes is almost a reflection of reality and a reflection of society. I'm almost holding up the mirror and amplifying what already exists and creating talking points from that. And I think you'll find that in the asymmetry and architectural references throughout the collection. The treatment and washes of the materials immediately bring a memory of raw material coming into play, but there's this nuance of luxury that overlays between the two. For example, the arc and the storm flap of the nylon memory jacket.
That's my favorite.
Same, it just looks elegant. But at the same time, it's very brutalist and very artistic and very clever. So I'd say maybe it's not political, but it's a reflection of society and we're selecting parts to amplify, whether it be material, whether it be city landscape, whether it be basic shape, it all comes from society and it all comes from cityscapes and melting pots globally.