Welcome to Riverdale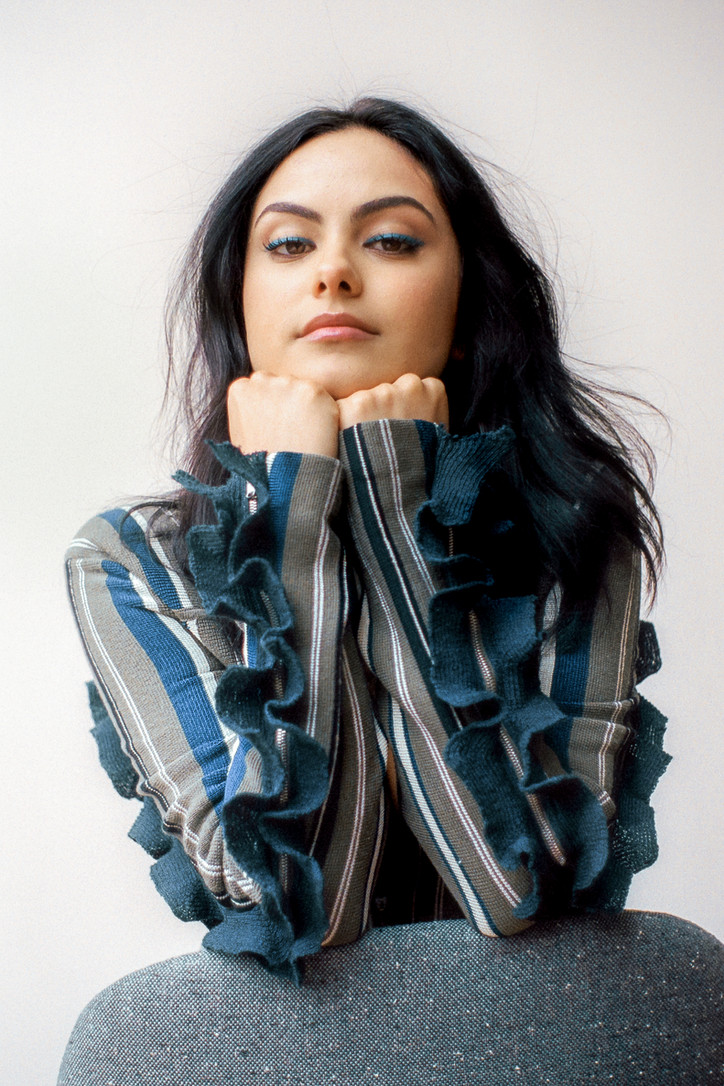 Deep in the woods and just along a river bend lies a mysterious town that has become the epicenter of TV's next great teenage drama. Set against decades of material from the iconic comics, Riverdale keeps up the tradition of packing a high school with runway-ready characters and painfully self-aware pop culture references, but adds in a twist of Twin Peaks murder mystery.
At the heart of it all is Mendes' character Veronica. She's the new girl in town who traded in Upper West Side luxury for cherry-topped milkshakes at Pop Luke's Diner in Riverdale after her father is sent to jail for embezzlement and fraud. It's definitely a "Blair Waldorf moves to the backwoods and finds her morality" moment, and we're so here for it.
As we gear up for the final few episodes of Riverdale's first season and second guess who we think actually killed Jason Blossom, we caught up with Mendes to find out why comparing her to Blair Waldorf doesn't make sense, how The OC predicted her role on Riverdale, the allure of a perfect vegetable platter, and more.  
Top by Cleola, Pants by Edun
Photo by Caitlan Hickey
[Cole Sprouse] always laughs when I tell him that because I remember meeting him on certain occasions and he doesn't. I'm always like, "Fine! Whatever! Sorry I'm not a child star!"
I read that you're a fan of Gossip Girl and The OC?
I loved The OC! That was my show. I watched the entire series seven times through.
What was your favorite moment?
Just for shits and giggles, I'm going to say the Spiderman kiss with Summer Roberts and Seth Cohen. [But], okay, the first time I ever heard about what Betty and Veronica was was in The OC. You know how there's the love triangle between Seth, Summer, and Anna?
So they have that little love triangle and Anna and Seth are going to the comic book shop and then Summer is like "oh can I join" and they're like, "Summer I didn't know you were interested in comics?" Then she goes, "To be honest, Betty and Veronica had a huge influence on my upbringing."
That's wild!
I know!
In the show, Veronica has cupcakes from Magnolia Bakery mailed to her. If you could have anything from New York mailed to yourself, what would it be?
Oh my god that is such a good question holy shit. There are so many things I would do, but honestly… this is going to sound so lame. Do you know Westville? I'm sure you do.
Yeah!
So, I'm obsessed with Westville. Every time I go to New York, that's the first thing I have to do. I get a market plate of vegetables [because] I really love vegetables. Is that really lame to say that I want vegetables mailed to me? [Laughs]
Now, you sing on and off the show quite a bit. What's your go-to song when you go to karaoke?
Oh my god. Okay, they're all pretty typical. Do you know what I mean? [Laughs] "If I Ain't Got You" is probably the classic karaoke song but it's one of those… I'm never going to get the opportunity to sing this song unless it's right here so I always play that.
Oh yeah. Good choice! I saw on your Instagram that you hang out with your castmates a lot. What's a typical night out for the Riverdale crew in LA then?
I literally got here like a week ago so I'm not used to being around my cast mates all the time but we all went to Emo Night the other night—they dragged me into it. We all had a blast and they played all the emo hits. People were moshing. It literally took me back to 8th grade when I used to go to those concerts. [Laughs]
It was such a throwback and Cole [Sprouse, who plays Jughead] went in character. He straightened his hair and wore eyeliner and then when we went out afterward and people kept looking at him and he was like, "I keep forgetting I have eyeliner in my eye." [Laughs]
I was actually going to ask about him. You and Cole both went to NYU to study acting. Did you two know each other before the show?
Not really. I mean, I saw him around and there was a time when we had class in the same building so I would always see him outside. He was a weirdo! He had really long hair down to his butt cheeks. [Laughs] He was really shy too. I would see him at parties sometimes and I always kind of randomly talked to his brother [Dylan] but I never got a chance to talk to him because he was more to himself.
Cole always laughs when I tell him that because I remember meeting him on certain occasions and he doesn't. I'm always like, "Fine! Whatever! Sorry I'm not a child star!"
Follow Camila on her very popular Instagram, and check out the next episode of Riverdale on Thursday at 9/8c on The CW.
Portrait by Joshua Aronson
Styling by Caitlan Hickey
Makeup by Kayleen McAdams
Hair by Bridget Brager