Wet and Messy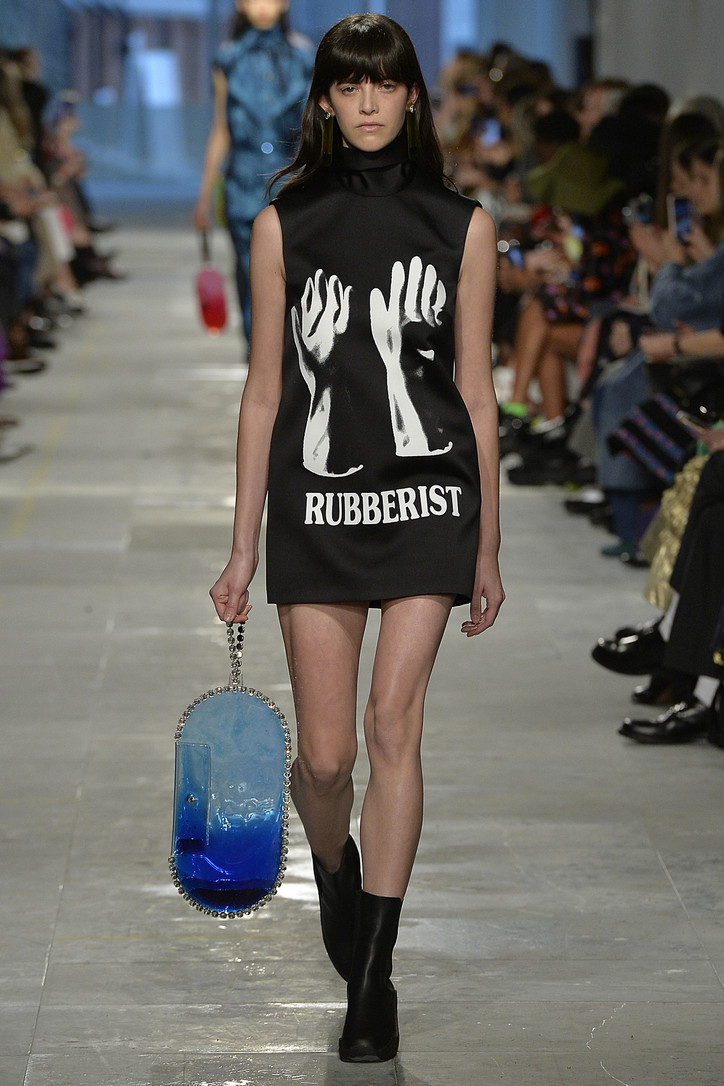 Kane's signature knitwear featured throughout, arriving in the form of a hot pink diamanté edged cardigan, a knitted shawl fastened with an enormous glittering brooch over a cable knit turtleneck, and a slouchy grey jumper paired with a sheer black skirt. Other Kane classics included the graphic printed pieces, two rubber gloves printed onto the front of dresses with the word "rubberist" written beneath, and a balloon bearing the slogan "looner"—two pieces that'll definitely be shooting to the top of must-have lists come Fall. As the show drew to a close, the previously frothy lace became more intricate; delicately panelled and paired with sparkling chainmail-style looks.
Color-wise, the palette focused on bright pinks, purples, blues and cold whites, along with lots of black. There was a sense of something chaotic, something sinister—the bright prints and colors seemed to nod to the ubiquitous horror film motif of clowns and balloons. This season, Kane seems to be creating a sartorial drama that reflects the frantic, frenetic nature of his current surroundings. The gel pockets now bring to mind last year's bizarre internet trend for ingesting tide laundry pods, evoking the manic banality of the internet age. Even the soundtrack walked a bombastic tightrope between annunciating horns and dark, throbbing bass beats.
Nevertheless, Kane brought it home with his usual panache. Fashion is an industry whose participants are more likely to play with their food than to actually eat it, so it felt apt that this idea translated into such covetable pieces. Desirable, yes, edible, no. These are clothes to smear over one's body instead.
View some of the collection highlights, below.
Photos courtesy of Christopher Kane.