Why Can't We Be Friends?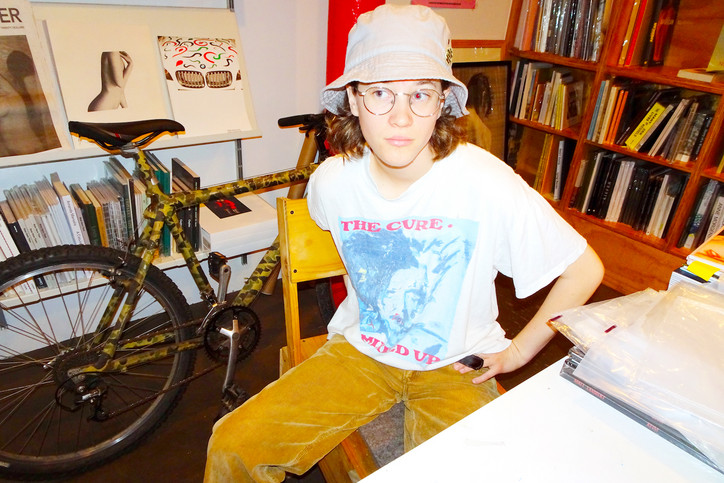 Grace's uniquely color-filled work — she often experiments while processing her color photos — candidly documents the youth and skate culture of which she's a part of.
So Why Can't We Be Friends? came about from you regularly bringing your zines into Dashwood and them eventually offering to publish something with your work?
I have been dropping off my books at Dashwood for a couple years now, which lead to me becoming a regular at the shop. David, the owner, and Kat, the zine curator, reached out to me recently about collaborating on a publication. I met with them in Dashwood with a stack of my past publications and a hard drive full of unpublished photographs. We put together a new collection of images from my travels around the world for the zine.
How do you find the subjects in your photos?
I meet my subjects from around the world through mutual friends and Instagram. I use my camera as an icebreaker like, "Hey, wanna hang out and shoot some photos this week?" Which naturally turns into like, "Let's get some food after this" or "let's go see a show tonight." These interactions always turn into a friendship. I was making friends with boys that I felt I needed a camera to access. Now they come and crash on my couch or vise versa, without a camera ever in sight.
Tell me about how you experiment with color processing.
I had eaten some mushrooms upstate and found myself freaking out at all of the possibilities of physically interacting with a chair. After flipping everything in the house upside down, interpreting mediums from all angles became clearer. I've applied this to my more experimental (painting with light) work from the color darkroom. My entire college career I was taught how to make the most impeccable color-correct c-print. Now I'm doing all things not permitted in the darkroom. I'm cutting pinholes out of cardboard and shining a flashlight through it for a fraction of a second or letting my iPhone ring brightly from my pant pockets.
In your exhibitions, you always showcase your photos in a way that isn't clean and nicely framed.
I want these specific photographs to only live in this zine. I'm more interested in my work always being tangible. These days, it is more difficult than ever to have someone take the time to travel to view and sit with your work since so much is accessible by the Internet. I like how publications and installations create an experience that you can't have through your screen. The atmosphere is created by using different textures and mediums that gives rise to a dimensionality that can't be understood through the Internet.
Additionally, it's cool how you use the space you're exhibiting in and try to make it all immersive and cohesive.
The installation usually corresponds with the content of the series. For the Paris Sexy exhibition at To_____Bridges_____ I printed varying images on a 24" x 30" poster paper stock and 8.5" x 10.75" magazine paper stock. Since I was inspired by a teenager's bedroom, I wanted to recreate the same visuals as band posters and magazine tear-outs you would find hanging from floor to ceiling. I also installed certain mediums like plaid carpet and crown molding, which gave a subliminal meaning to the viewer. I enjoy the production process of starting with an idea, photographing it, editing it, installing it, inviting my friends to come see it and then de-installing it.
So you're moving to California. What do you hope to accomplish with all the space you'll have now?
I'm moving to Los Angeles in hopes to create work in a more peaceful studio environment. I also find myself often getting stuck in a rut so it'll be good for me to break the routine. Most importantly, I'll have my car to drive to The Home Depot. Although, I'm sure I'll be back in New York City in no time.