Zarina Nares Is Onto Something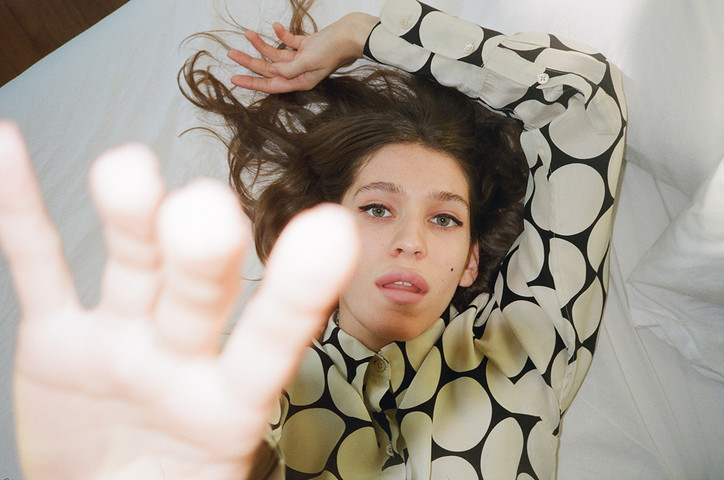 You're in LA right now?
Yes. Sunny California.
What part of LA do you live in?
I live by Larchmont.
I have a friend in LA who sat and drank coffee there every morning. He would say he was hanging on the Larch.
I do that, too!
How long have you lived in LA?
Almost four years.
Oh really? I know you grew up in New York. What brought you out there?
I grew up in Tribeca, and after I graduated high school I went on a trip with friends backpacking in Europe. I was supposed to go to Sarah Lawrence in the fall, but I didn't know what I wanted to do yet. I just knew I wasn't ready to go to school yet after being in school for what felt like fucking forever. I needed a break to figure out my life and what it is that I want to do. So I moved to LA to work on music and took a gap year from Sarah Lawrence. One gap year led to another.
I guess you have a bachelor's degree in gap years now.
Yeah. Super educated in the gap year.
You were just saying that you're around a bunch of little kids. Are they your roommates? 
My older half sister and her dad lived out in Los Angeles. I grew up coming to visit them. I'm part of this huge bizarre modern family where there are tons of dads, tons of siblings, everyone's friendly. I call them my step-siblings. They're my older sister's step-siblings. They live out here and I generally hang out with them on the weekends. They have a pool. 
Oh, nice. So in the time you've been out West, how are things going with the music? Do you like the scene out there?
I never worked on music professionally in New York. I was seventeen when I moved to LA so I only really know about the music industry here but I love it. I think there are so many different styles and types of bands and artists kind of all gravitating towards LA right now, which I find really interesting. I think it's really important whether you're a musician or an artist to be around people who aren't necessarily doing what you're doing in terms of style. There are so many types of musicians out here whether it's some branch of pop or rock. I do more jazz and blues. 
Jazz and blues seems like a unique direction—particularly in these times. What drew you to that style of music? 
I think I've always had a connection with older music. I definitely went through the thing where I was obsessed with Britney Spears, Backstreet Boys, that whole thingy, but my dad was always listening to Jim Hendrix or a lot of older blues musicians like Muddy Waters and Howlin Wolf. My dad would also play a lot of sixties girl groups like the Shirelles, The Shangri-Las, and Diana Ross and The Supremes. I just became obsessed with girl groups. I still am. The jazz aspect came when I was in high school. We were studying poetry in English class and my teacher during the first lesson played You Don't Know What Love Is by Billie Holliday. I think it was the first time I had an emotional reaction to a song, and it hit me in a way where I felt how powerful music can be. I had never understood before this how music could make you feel this way on such a deep level. That was the moment where things started to shift for me. I realized that this is what I'm meant to do. I'm here to make people have an emotional reaction through music. I don't feel like I picked the genre- I do feel like it picked me.
It sounds like it. 
Something else I like about that world of music is because it's an older genre, a lot of the songs that I listen to are not socially relevant anymore. The subject matter is so dated. I think that really interested me. I was like, could I take this genre that I was so obsessed with, but write about modern day things. Primarily about being a woman, because these songs that I love so much, whether they're blues songs, or female jazz singers, or female girl groups, they're still so sexist. It's interesting going back as an adult—listening to all these songs I loved as a kid—going, "Oh my God"—I sang along to that? It's so depressing! I do think it's important to not be stuck in the past. I'm not trying to do old music, because I don't see the point in that. I think it's more about trying to reinvent something. 
Absolutely. Like making something relevant and vital again? 
Yeah.
It sounds like an interesting approach and worldview—one that puts you in a state of reflection, which doesn't seem to happen a whole lot right now in our society. Do you have a band you play with? 
I'm a solo artist, but I work with a lot of people. I put out an EP last May called Songs To Sway To that I did with a musician named Joe Garside. We met playing shows together around LA. After playing around for a few months, he asked if I wanted to record an acoustic album of songs I had previously written. We did that, but it was never released because it seemed like the songs were already so old—I wanted to write some new stuff. We ended up making the EP in which we did everything—writing, recording, production, and mastering. We didn't know what we were doing half the time. We're both 21. It was a very raw and cheaply made album. I think it was such an honest representation of who I am—not that I'm cheap! It's just very raw and not overly produced which I think is so important because we didn't take the "fake it til you make it" approach. We were just like, "This is the money we have, these are the tools we have, let's just make the best thing with what we've got." It's just an honest collection of songs. We released it on Bandcamp. 
What are some of the venues you're playing in LA?
We recently played at The Viper Room, which was really cool. The place has so much history as a venue. The Mint is also a really cool place, and Molly Malone's. 
The place on Fairfax? 
Yeah. It was an amazing place to play. They have a guy there who is an incredible sound guy. The sound quality is really nice. 
Have you played outside of LA?
I've only played in LA. My goal is to do some touring later. Right now I'm in the stage of talking to some labels—so we shall see. 
As far as writing, do you do it yourself or write with others? 
The EP was collaboration. The melody and lyrics are mine. Lyrics are a huge part of my contribution. I read and write a lot of poetry. A lot of the songs start as poems. 
What are you reading lately?
I've been reading a lot of Patti Smith's poems. I also have a practice of mind where I really study and read the lyrics of songs that I like, and take the time to read them on their own and dissect them. I've listened to and read every song Billie Holliday has ever recorded, which is a lot of songs. I have this book that I call my song dictionary where I write down my thoughts on songs that I listen to and read. It's a time consuming habit. 
It sounds like an important part of your process. 
My biggest inspiration is other music. When I hear a song I find interesting, I think about what my response to it is. My songwriting is based on my life but I also like to think that it's a response back to this time that I really idolize, but also feel disappointed by. 
Absolutely. I noticed that you are involved with modeling right now. Does that keep you traveling? 
Modeling is actually pretty new for me. I've only been doing it a little over a year. It's been great. Mostly with traveling between New York and LA, though I've signed with an agency in Europe, so I might be doing things over there. I see music as the long-term thing that I'm supposed to do. 
Do you return to New York frequently? 
Yeah. I've been working with an agency in New York, and of course my parents are there so I go to see them as well. I still consider it home even though I'm very happy in LA right now. I'm really interested in the changes that are happening here. I had a totally different idea of LA when I was a kid. A lot of creative collaboration is happening here. 
Yeah. I think LA has always had a stereotypical reputation that it doesn't really deserve. I think it has always depended on where you are and what you're doing there. The corny Hollywood thing is really over-observed and just a small part of the whole city. What plans do you have for the autumn? 
I will be recording and releasing a second EP with Joe Garside. Next year my dad and I are going to be working on a music project. 
What kind of project is that going to be? 
Well, he's a painter and a filmmaker… 
He's a musician too right? He played in The Contortions? 
Yes. He did. My dad, he's my best friend. We've always wanted to do something together. It started as a conversation. Now we're going to hopefully do an album or an EP together. We have a lot of the same musical influences and interests.
Get into Zarina's music here.