24Bottles x Vivienne Westwood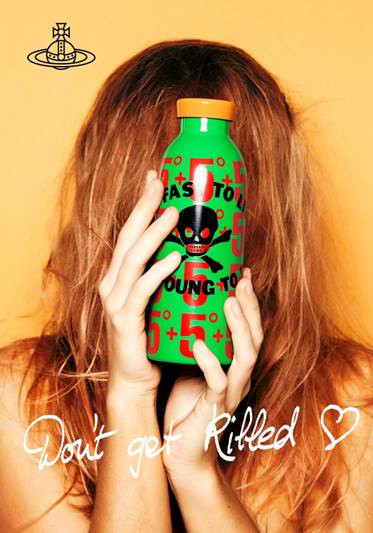 The special edition bottles, which come in bright green and burgundy red, are emblazoned with Westwood's famous "Too fast to live, too young to die" slogan from her days running the iconic London punk boutique, SEX, alongside an archival skull and crossbones print and her +5 degrees graphic. An obvious nod to the designer's background, the imagery also suggest that if we care about our lives, we need to start thinking sustainably. As an alternative to disposable plastic, the new Clima bottles save about 0.08kg of C02 from the atmosphere each time one is used. While it may be a small step, it's a step in the right direction: sustainability and salvation.
The 24Bottles x Vivienne Westwood collab is out now, available at Vivienne Westwood boutiques worldwide, and on both brands' websites.