Aggressively Delicate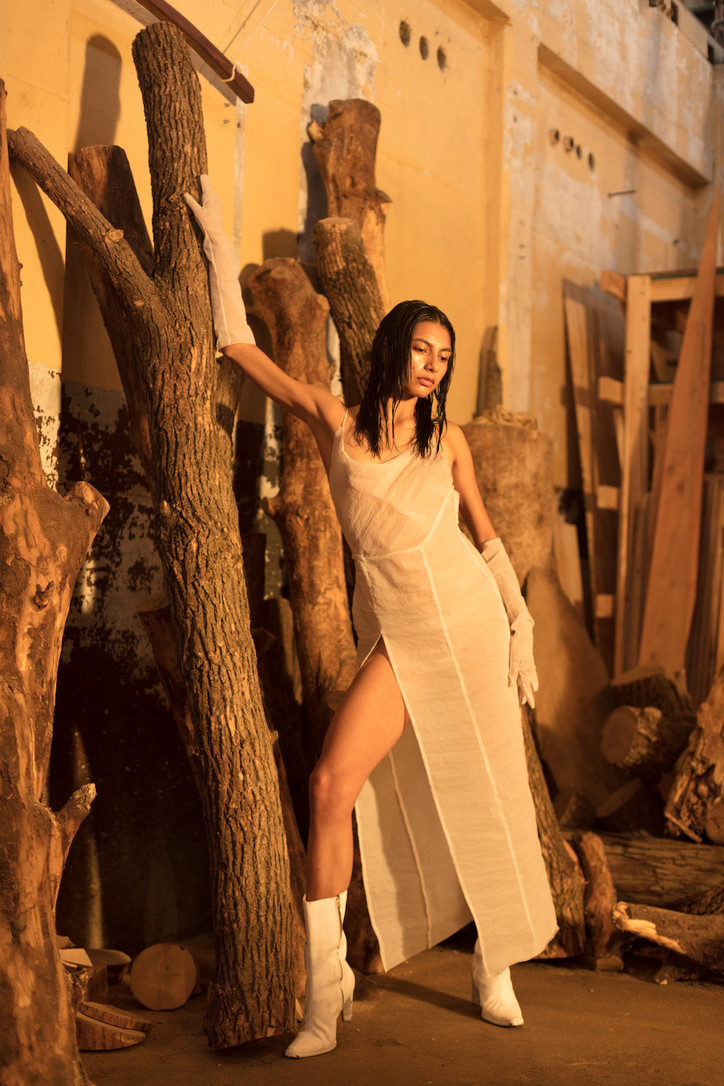 It's an equilibrium Velez recognizes as "a reconciliation between my working class upbringing and adolescent fantasies of dystopian princesses." Each look comes across as just that—worthy of any of the Mad Max princess wives, which Velez says she would, in a world of fantasy, love to dress.
We sat down with the rising designer to hear more about Homecoming, her ethic of sustainability, and what it was like to style Solange. 
What does home mean to you and what role does it play in the latest lookbook? What does your mom think about the collection?
The idea of home to me is so essential in my work. It's the origin of my design identity and the contextual framing device that I use to tell all of my stories from. Being from the corn country Midwest and believing in my youth that success in an industry like fashion would require concealing that fact led me to tell inauthentic narratives that just didn't connect.
I think socially, politically, and creatively, it's a critical time to connect with artists outside of the traditionally established conventions and democratize the American fashion narrative. An important mission of my brand centers on making my passion for design more accessible in my community, specifically for young people who aspire to a similar path in fashion, and I see projects like this as an opportunity to practice what I preach.
The S/S '20 Homecoming lookbook was produced, cast, and shot entirely with local talent in Milwaukee, Wisconsin as a chance to celebrate the many collaborators, local businesses and supporters who have lent a hand to make the work a success.
My mom, the ship captain, doesn't always get the more conceptual pieces but loves to be a part of the action and do what she does best—delegate the crew.
You play a lot with shape and texture to question femininity, fragility, and utility. What are your intentions with Homecoming?
I like to call my aesthetic "aggressively delicate," and I think it's a good synthesis for the way I respond to my work and my philosophies of womanhood as I understand it to be currently. I love the idea of functional rawness and of violent sensitivity—a maker or a wearer with a romantic heart but a job to do. Chiffon and steel. I think it's a reconciliation between my working class upbringing and adolescent fantasies of dystopian princesses. S/S '20 is also composed of lots of textile artifacts that build up my tactile reality: Milwaukee steel, sails from my mother's shipyard, and repurposed leather from the metal shop.
You also seem interested in creating a sustainable or eco-conscious brand. Why is that important to you, and how do you carry that out?
The sustainability component of my brand is an essential, non-negotiable reality of creating a product in the world today. Creatives can leverage constraints and ethical considerations to stand apart, which is what I try my best to aspire to achieve.
We work with sourced, salvaged, and/or site-specific material wherever possible, and the prioritization of people is another component of a conscious label that I'm really proud of. I think that through mentorship, collaboration, accessibility, and skill-sharing, we can bring about necessary change both within the industry and our social networks.
Altruism aside, fashion is a great place to initiate change, and a good place to begin is with a rejection of the current conventions of excess and exclusion, instead proposing authentic process, community engagement and compelling storytelling as the ultimate remedy.  
You've styled Solange, Grimes, Charli XCX, Brooke Candy, Kali Uchis, Ariana Grande and Halsey. Who's been your favorite person to see your looks on, and if you could dress anyone, who would it be?
I'm always so appreciative when artists like these respond to my work and see themselves in my universe, but in all honesty, dressing celebrities is such an afterthought. My love for fashion is entirely craft-based. It's totally uncanny to see a musician wearing a garment whose music you listened to while making it, but I'm very careful not to get too addicted to the thrill of stardust lest it compromises the process.
That being said, I'd still love to work with the distinct female voices whose works, real or fictive, have influenced me over the years, like Joanna Newsom, Cherie Currie, Mattie Ross from True Grit, Anna Khachiyan, Naomi Parker Fraley, Audrey Ramirez from Atlantis, and any, slash all, of the wives from Mad Max.
I love the idea of functional rawness and of violent sensitivity—a maker or a wearer with a romantic heart but a job to do.
Can you remember a first moment when you became interested in fashion design?
Since the age of around five or six, I was consistently drawing bodies and shapes together. I was compelled somehow by the relationship between forms and figures before I was even aware fashion was something I could consider as a profession.
I hit 12 around the era of Project Runway, learned about Parsons and found my singular focus. My interest in fashion is pretty self-fueled. I didn't have much access to the industry outside of magazines, but I never really took to Fashion™ much anyways. Once I hit college and learned to explore a more conceptual process, I became reaffirmed.
What's your full process for putting together a lookbook like this one?
Upon completion of the garments, I feel very strongly that my work is done and that whatever comes next is best left to other professionals. As a custodian of my brand universe, I always have a vision for how I hope projects like this will turn out, but at the end of the day a lookbook shoot is always a bit of a jam session.
Planning every detail ahead versus enjoying the fluidity of what feels right in the moment rarely compare, and I'm really lucky to get to work with stylist Joe Van O, who I flew out to manage the shoot and who brings a freeform genius to the composition that I sometimes lack in my technical virgo scrutiny. For this particular set, we were also spoiled with a quintessentially Milwaukeean venue which was a 20th century power manufactory-turned-artist collective—20 Ton Studios. 
How do you want someone wearing your clothes to feel?
Chaotic feminine philosophers with sheer trains and soot-smudged boots. Living in the tension between sensitive, fragile, and delicate, versus dexterous, gladiatorial, and unapologetically real.
What's next for Elena Velez?
I'm in the process of completing a post-graduate program at Central Saint Martins in London and then headed back to New York to really dig in and get back to more consistent collections. This year abroad has been one of soul-searching and introspection with the intention of coming back to my network in the city with more intelligent work and a more assertive aesthetic signature. I'm also setting my intentions towards becoming more familiar with the business vocabulary needed to run an operation like this so I can hit the ground running this next season.