Art as Science, Science as Art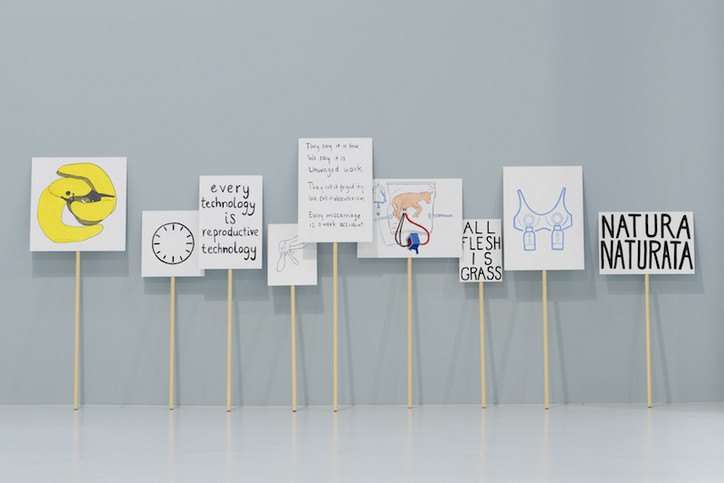 The current show, by artist Michala Paludan, Life Without, is an abstracted, collage contemplation of the nature of cyberspace, molecular biology, and work. The placement of the artwork among the offices and laboratories of the plant is a stroke of conceptual genius in and of itself — something akin to Michael Asher's coy deconstructions of gallery spaces. 
Paludan plays into this with a sparkling dry wit: a life-size illusionist painting sucks the viewer into a hallway of processors; jumpsuits hanging on a white grid wall could easily be mistaken for workers' hazmat gear; a glass table with an unsigned artist fellowship contract from Artist Placement Group blurs ideas of art and reality, information and image, object and intention. Workers in lab coats become apart of the spectacle as seen through windows and doors, adding harmonic synergy to the ultimate goal of the project: to allow cross-pollination between art and science.
The best pieces depict an anonymous human form caught in various states of imagistic flux, be it amid the waves of information flowing through the very air we breathe, or the figure as metaphor for cell membrane. Art is like water: fundamental, and always trying to break through. The question becomes how best to let it in.
'Life Without' will be on view through June 3rd, 2018, at the Primer Space in Aquaporin, Nymøllevej.  Collages by Susanne Ussing and Carsten Hoff